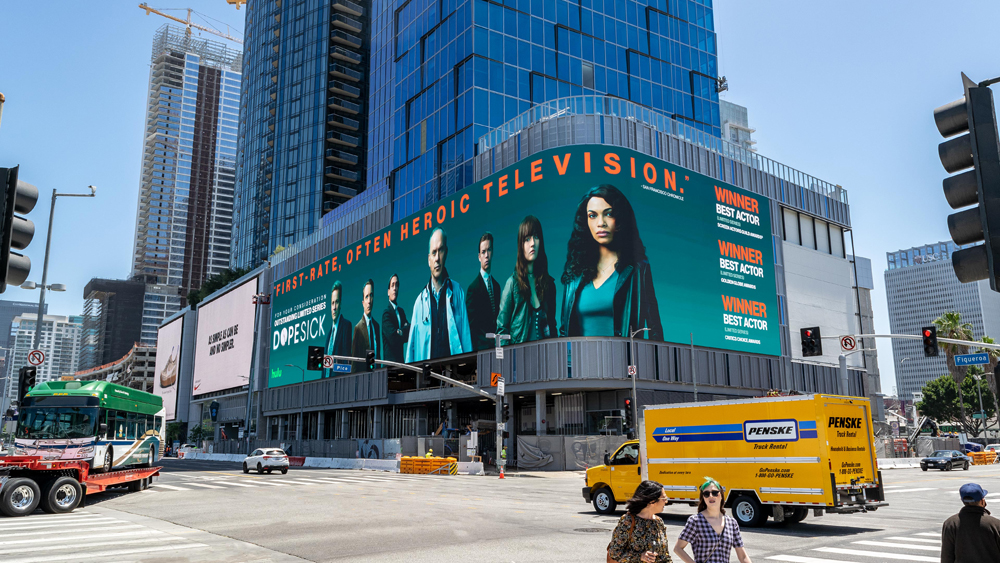 Installation of a massive exterior video display in the heart of downtown Los Angeles (DTLA) was recently completed at the intersection of S Figueroa St. and W Pico Blvd. The continuous LED video façade at Moxy and AC Hotel Downtown Los Angeles is located across from the LA Convention Center, L.A. LIVE, and Crypto.com Arena and extends about the length of a football field.
Premier out-of-home media company Branded Cities owns exclusive rights to market and sell premium advertising on the curved video screen, which will be marketed as "The Moxy" and is now the largest continuous digital canvas in the highly coveted DTLA neighborhood.
"Branded Cities is known for its iconic signage in the most highly demanded areas throughout North America, and the signage being deployed at the Moxy and AC Hotel Downtown Los Angeles will be the most sought-after digital experience in the downtown Los Angeles central core," said Steven Ellman, chairman and chief executive officer of Branded Cities.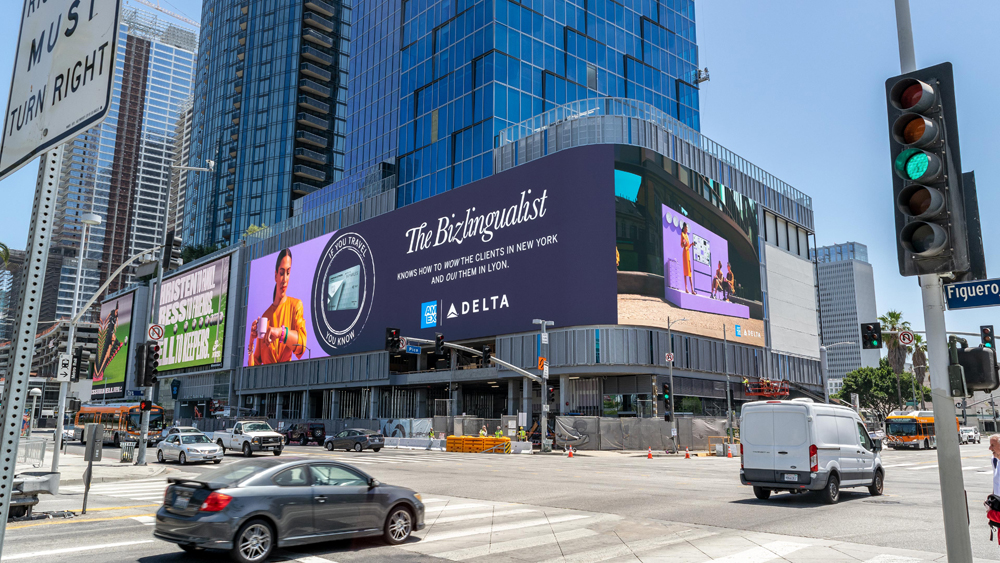 Unlike other digital out-of-home (DOOH) units in direct proximity that have category exclusions due to existing Crypto.com (formerly the STAPLES Center) partnerships, The Moxy is free of any advertising restrictions.
The new LED mega-spectacular is a 15,000-square-foot video wall built from SNA Displays' EMPIRE

Exterior line of LED display technology and boasts a resolution of 1,890-by-11,480 pixels. The mammoth screen, about fifty feet tall, extends along S Figueroa and wraps the corner of a six-level parking structure at W Pico, providing extended viewing and long read times for pedestrian and auto traffic.
Consumer Experience Group (CEG), a Los Angeles-based consultancy for experiential display projects, managed the large development's digital and static signage elements on behalf of property owner Lightstone, a New York-based real estate investment firm.
"Finally going live with the one of the largest signage developments the LA area has ever seen has been extremely rewarding," said Jeremy Kolieb, principal at CEG, which managed the project from design and placement to vendor selection to entitlements with the City of Los Angeles. "We've worked with wonderful partners for the better part of six years on this development, and I couldn't be prouder of what we've accomplished. Give the size and placement, the signage is instantly iconic and impacts all of downtown L.A."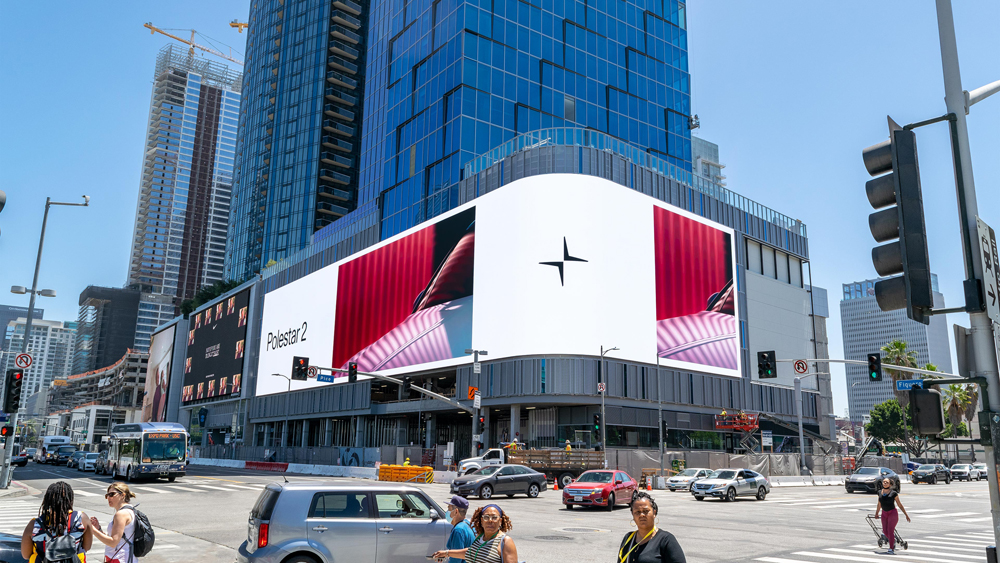 SNA Displays engineered custom LED cabinets to accommodate a seamless turn of 82.5 degrees. The digital display employs 8.0 mm pixel pitch technology, tighter than other large-format exterior LED installations in Los Angeles, giving the video screen almost 22 million pixels.
The Moxy adds to a growing footprint for SNA Displays, which had previously installed more than 100,000 square feet of digital canvas in the Los Angeles area.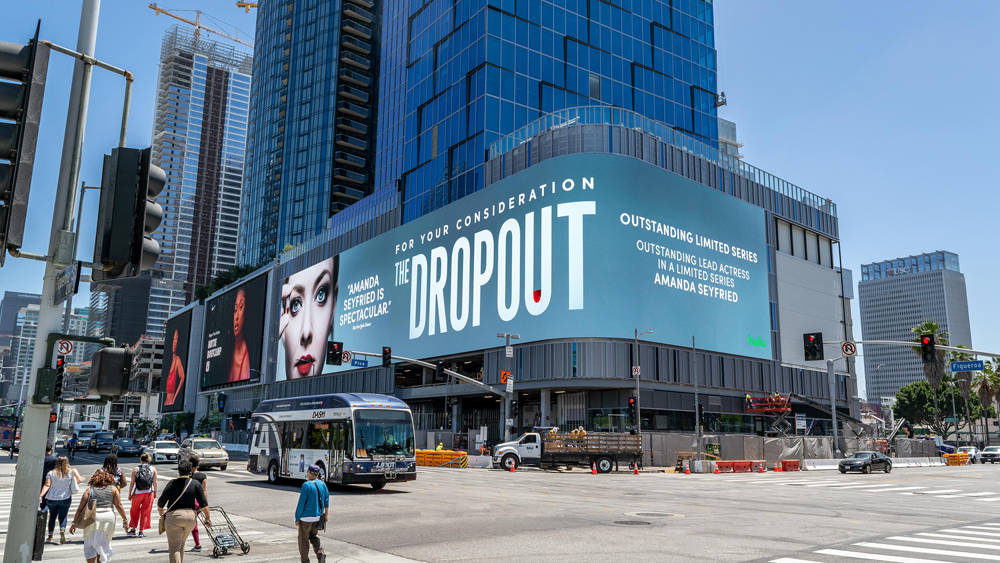 "With the sheer size and complexity, this has been an incredible project," said Rasool Sayed, a Los Angeles-based senior project manager for SNA Displays. "These massive, new-development projects have become a specialty for us—coordinating multiple partners and trades, engineering and fabricating custom technology to meet strict guidelines, and performing extremely intricate planning. The Moxy and AC mega-spectacular is another great installation for SNA Displays and our partners."
With two unique experiences under one roof, Moxy Downtown Los Angeles and AC Hotel Downtown Los Angeles is the city's new destination for visitors and locals alike. The dual-branded hotel offers 727 guestrooms; 12 restaurants, bars, and lounges; four large outdoor terraces including a Miami-meets-Copacabana pool deck; and 10,000 square feet of flexible meeting and social events space.
YESCO fabricated and installed more than 225,000 pounds of structural steel for the LED mega-spectacular and provided over 7,200 square feet of static signage for the project.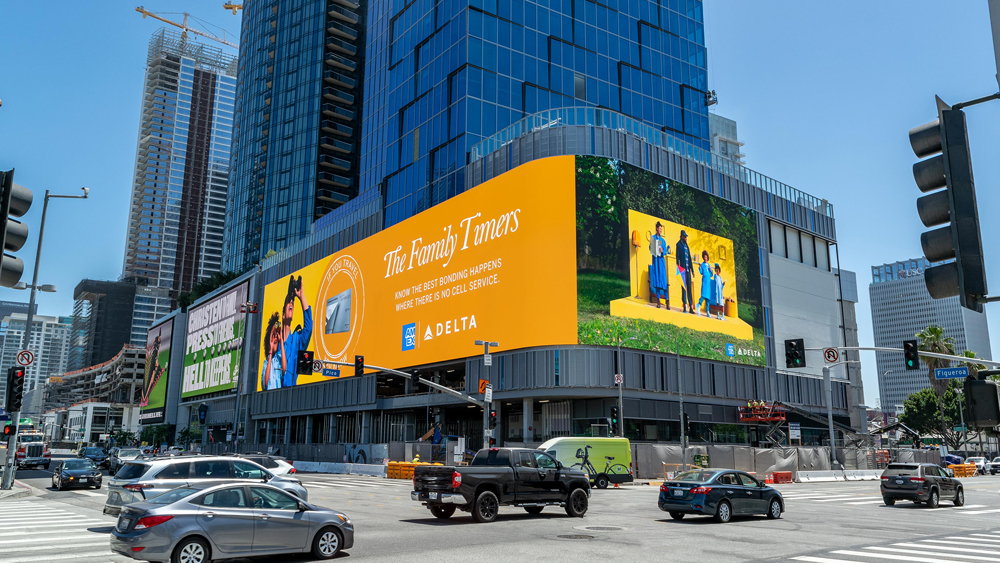 —Press Release
The post Moxy and AC Hotels Downtown Los Angeles Unveils LED Mega-Spectacular appeared first on Sign Builder Illustrated, The How-To Sign Industry Magazine.
Published first here: https://www.signshop.com/lighting-electric/digital-signage/moxy-ac-hotels-dtla-unveils-led-mega-spectacular/