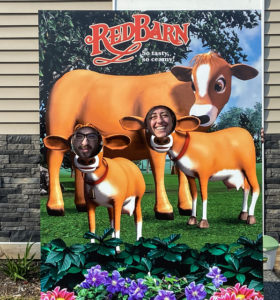 Picking up the pieces of someone else's struggling sign business is never an easy process. But that was the situation Nichole Loati found herself in ten years ago when the owner of Great Big Graphics in Morristown, Vermont asked if she'd be interested in buying her company.
Great Big Graphics had been a very successful company for twenty-five years before the then-owner bought it. But mismanagement cost it (no pun intended) big time. "In the five years since, the shop had undergone several restructurings, lost 75 percent of its staff, and even lost the building that the company had owned," explains Loati.
The timing of this offer was interesting. Loati has always been "very artistic." In fact, she had been either making temporary signs, planning ad campaigns, and doing publicity for various employers ever since she was fourteen. But when she met with the owner, Loati was unemployed for the first time in her life and raising three toddlers as a single mom. She had started her own home-based marketing company but was barely making ends meet. "I like to think she thought me qualified and having the right personality," says Loati.
Loati realized that she had the talents to turn this floundering business around and make it even better. "I ended up cashing in my retirement and mortgaging my house, because I had a feeling about the place," she says.
Her feeling has really paid off, as four years of ownership later, Loati has more than doubled the size of the business and grown profits significantly (with 2021 being their highest grossing year yet)!
"We now have three full-time employees and two vehicle bays capable of holding vehicles up to sixty feet long and fourteen feet high," says Loati. "Northern Vermont experiences long, cold winters, which often limits the types of projects other graphics companies can take on. Our large, heated space enables us to work on vehicle projects of any size year round."
Another reason for this financial turnaround is that the company has welcomed bringing new offerings onboard.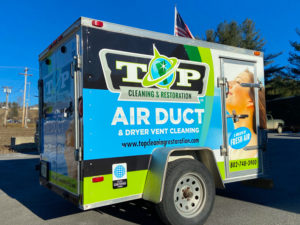 When Loati purchased Great Big Graphics, it sold graphic design and simple vehicle graphics. Today they've expanded their service portfolio to include full vehicle wraps, laser engraving, and CNC carving.
The company's dedicated investment in new equipment has really paid off. Loati inherited older inkjets and plotters when she took over. Her first major purchase was a Roland DG fifty-four-inch printer/cutter. Three years ago, she added a Roland DG TrueVIS VG2-540 with orange ink, as well as a Roland DG CAMM-1 GR-540 cutter.
Doing so has allowed her shop to extend the length they could comfortably print in-shop from four or five feet to thirty feet. "The issue then became where to put the print to dry and cure," says Loati. "We've since mounted hanging brackets high on the walls in our (thankfully) huge industrial space and can hang up to three, thirty-foot panels of continuous print to dry."
Loati says that many of her company's local competitors are still primarily doing hand-painted carved signs. In fact, when she took over, many clients came to her looking for hand-carved, hand-painted, wooden signs. "All of these projects are very labor-intensive, slow jobs," she says. "I have been promoting more printed work and maintenance-free materials such as PVC and ACM."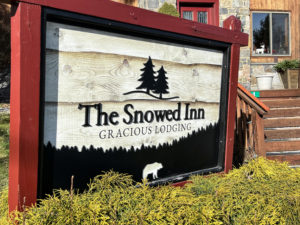 Great Big Graphics also happens to be the only shop equipped with a CNC router within a couple hours' drive of their location. Because of this, they've also found themselves handling the carving work for several other sign shops. "I get to see firsthand what they're selling," says Loati. "We still sell hand-painted carved signs, but whereas a nearby shop might be selling this type of sign exclusively, I sell maybe a half-dozen a year."
Loati explains that the price point of their signs is considerably lower because of the materials they use and their print capability. "We're able to turn around thirty signs in the same amount of time that other shops take to make one sign," she says. "That is definitely the direction I want to continue going in."
Over the next ten years, Loati wants to continue to grow Great Big Graphics by adding additional equipment. For example, she is exploring the opportunity to invest in a flatbed printer. "The additional versatility of UV and its ability to print on a variety of surfaces is really appealing to me," she says.
Great Big Graphics has already printed plenty of coroplast yard signs but do so either by printing on vinyl and mounting to the coroplast or subbing the work out to another printer. "[With a flatbed printer], I'd like to be able to increase my sales in these by dropping my rates," says Loati. "Campaign signs are one area where I lose a lot of business due to being too expensive with the way I'm doing them now."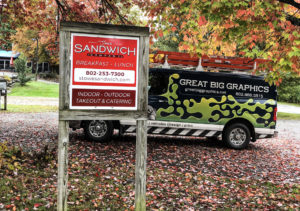 Even though Loati recognizes she has a small team on staff, she cites that this has never been a concern. "They're fantastic! My graphic designer, Ray, has been with this company before I took over," she says. "He was an unpaid intern when I purchased the company, and I brought him on first as a part-time and then a full-time employee. In 2016, my husband joined as our full-time sign maker and installer. He primarily works with the printer and plotters, on the CNC router, and in the field installing signs and graphics." (Note: Back in 2014, Loati was jokingly endowed with the title "Queen Bee" because of her exacting nature by one of her vendor reps that she counts as a friend and has never looked back, citing that lots of folks like this moniker.)
Because they're a small team, everyone has their hands in all projects. "[This] is nice for keeping the workday interesting," says Loati. "One moment I'll be answering the phone and emails or laying out and quoting jobs. Then the next I'll be weeding graphics, painting a sign, or installing a wrap."
Of course, sometimes the biggest hurdles to building back a flailing business can be overcoming the bad juju it has developed over time. Loati says that one reason she was able to grow Great Big Graphics whereas the previous owner could not is that she and her staff see things differently.
"I look at my customer and think, 'If I do right by them, they're more likely to succeed. And if they succeed, they're more likely to come back and buy more,'" says Loati. "My predecessor unfortunately didn't share this mentality and their reputation suffered because of it. 'Great Big Rip-off' had become a common phrase around town, and there was a period of time where I had to work extra hard to build that reputation back."
When it comes to clients, Great Big Graphics handles all types of small- and medium-sized businesses, municipalities, state departments, and schools, but Loati says that her favorite clients are the tradespeople. "Probably half of the customers who walk through our door work as a carpenter, electrician, landscaper, plumber, or HVAC," she says. "These guys are often starting out as one-man or a married couple and have no real understanding of how advertising works. These customers tend to give us their trust and let us take the reins.
"Often we handle our clients' marketing projects from start to finish, as they're looking for help with the whole spectrum of advertising."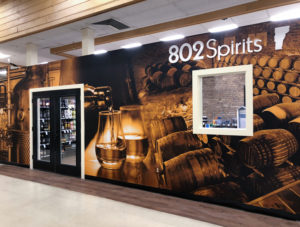 Great Big Graphics also handles large-scale rebranding campaigns for a limited number of larger companies, including Gills Point S, Keurig Dr. Pepper, Union Bank, and 802 Spirits. "With these projects, we generally handle everything within driving distance of our shop and then design, print, and ship to third-party installers for anything outside our service area," says Loati, noting these relationships can also lead to new or updated signage requests down the road.
They've also partnered with a Vermont-based label printer to provide graphic design and label printing for all types of refrigerated and shelf-stable products. This has led to designing for food producers all over the country. "They sometimes resell our design, and sometimes it's just simpler for them to introduce the client directly to my company," says Loati. "We've not only been able to gain a competitive edge in label printing that we previously didn't have, but we've been able to gain new design customers from all over the United States."
Loati attributes some of her success to her business philosophy of all projects start with a strong design.
"The fact is many folks who fancy themselves graphic designers have never visualized their art on a three-dimensional object," she explains. "So the starting point with any project is having a logo and brand art to work with that is not only clear and easy to understand and read, but also versatile enough to be used in three-dimensional applications. This holds true whether we're printing graphics that will be applied to the side of a bus, wrapped on the hood of a truck, or installed standing off a building as a dimensional sign.
"I'm blessed to have a team who has that magic eye to do this."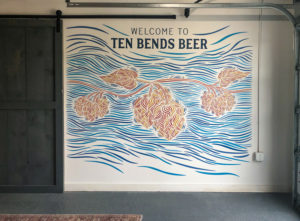 Until 2015, the only advertising Great Big Graphics ever undertook was having a static website and relying on word-of-mouth referrals. "At that point, I stepped into television advertising, then expanded our online presence to include display ads, social media management, and a blog," says Loati.
Today she is in the process of transforming her information-only website into an interactive e-commerce website offering products, simple signage, and print-and-ship vehicle graphics.
"I'd like to grow this company beyond just the three of us by continuing to sell long-lasting creative business signage made from modern materials and manufactured using advanced printing equipment," says Loati. "With the right setup and an e-commerce sales-tool, we can increase sales without drastically increasing overhead."
Note: Additional reporting provided by Ginny Mumm.
The post A Great Big Graphics Success Story appeared first on Sign Builder Illustrated, The How-To Sign Industry Magazine.
Published first here: https://www.signshop.com/graphic/digital-printing/great-big-graphics-success-story/