Global technology, software, and engineering leader Emerson Automation Solutions recently added a pair of experiential LED display systems to its Rogerdale facility in west Houston. Emerson hired audiovisual solutions company AVI Systems to design and manage installation of the new high-end video display systems to replace an outdated LCD and rear-screen projection setup.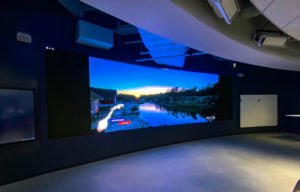 Emerson's new visual technology will serve as high-tech, interactive digital showcases for customers and other visitors to the facility.
The first LED display system replaced aging LCDs in the building's Immersive Theater. The new setup includes three adjacent video walls set at 90-degree angles to create a highly immersive viewer experience. Each BRILLIANT

Interior LED display employs an extremely tight 1.04 mm pixel pitch for ultra-high resolution. The Immersive Theater features an interactive touch-panel table equipped with MultiTaction software that allows users to share their presentation to the large LED wall.
The 7-foot-tall screens wrap around the room approximately 31 feet 6 inches long. With a resolution of 2,160 x 9,216, the new interactive video walls include just under 20 million total pixels.
"The processing and control systems used on these displays make this interface user-friendly while providing a dynamic interface," said Mark Warren, executive account manager for AVI Systems. "Thank you to the AVI Systems team and partners that worked countless overtime hours to see this through."
AVI Systems designs, integrates, and services various types of audiovisual systems and has the largest global footprint of audiovisual, unified collaboration, digital media, and managed services technology.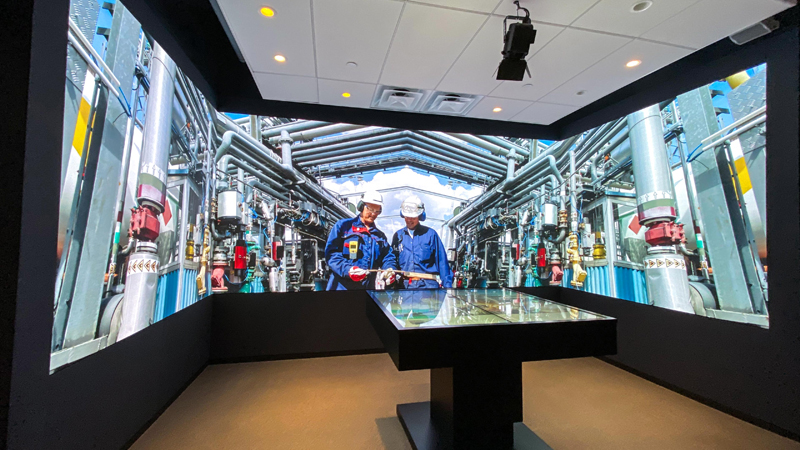 The second direct-view LED is part of the Solutions Center and replaced a video wall of aging 70-inch rear-screen-projection monitors. The new wall, located next to the Immersive Theater, is 7'4″ tall and 26'3" long and has a slight concave curve. Powered by VuWall and a Crestron control system, the BRILLIANT

Interior display features a 1.25 mm pixel pitch. With a resolution of 1,800 x 6,400, the screen contains more than 11.5 million pixels.
Both of Emerson's new LED display systems include PTZ HD cameras and Cisco video teleconference capabilities.
"As fine-pitch direct-view LEDs are becoming increasingly cost effective, more of our clients are able to enjoy the crisp, clear images they offer," said Tony Kaiser, project manager for SNA Displays. "It's rewarding to put extensive engineering resources to use for custom-designed video display systems that really stand out. What Emerson has created here is a great example of how solid design and high-end hardware can truly transform a space."
RP Visual Solutions provided mounting systems for the project, including custom floor stands for both display systems.
For more information, visit the Emerson Automation Solutions portfolio page on SNA Displays' website.
The post Emerson Automation Solutions Upgrades Houston Facility with Interactive LED Video appeared first on Sign Builder Illustrated, The How-To Sign Industry Magazine.
Published first here: https://www.signshop.com/lighting-electric/digital-signage/emerson-automation-solutions-upgrades-houston-facility-with-interactive-led-video/