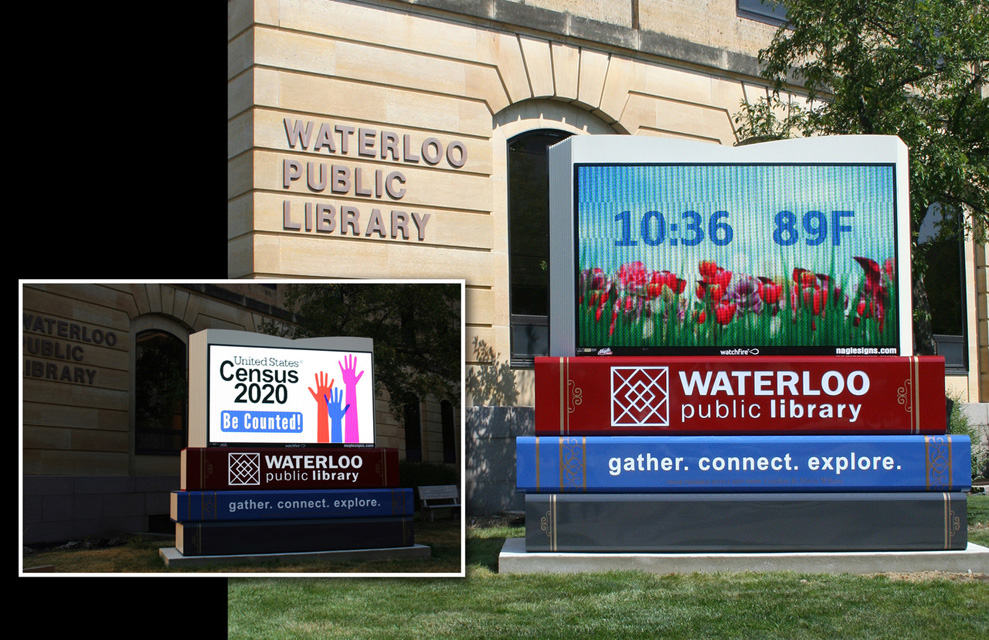 When a sign shop gets involved with digital signage, it's important to understand that there's still a lot more work to consider beyond just successfully selling the display in order to make sure your customer is happy—factors like placement, resolution, and content management.
Let's take an in-depth look at some of the additional questions that need to be addressed between the sign integrator/installer and the end-user, as well as the answers to them that will help shine a light on getting the most out of an outdoor dynamic digital display for both parties.
What factors should be considered when determining the best exterior location for a client's digital sign?
According to David Watson, director of Corporate Programs at Watchfire Signs, the first thing to do is check local sign codes to see if any restrictions might prevent your customers from advertising on a display in the proposed area.
"A sign code could be written that does not allow animated messages or video content," he says. "It may restrict a message to display or hold for a specific amount of time (such as eight seconds or one hour). Or it might not permit exterior digital signage at all."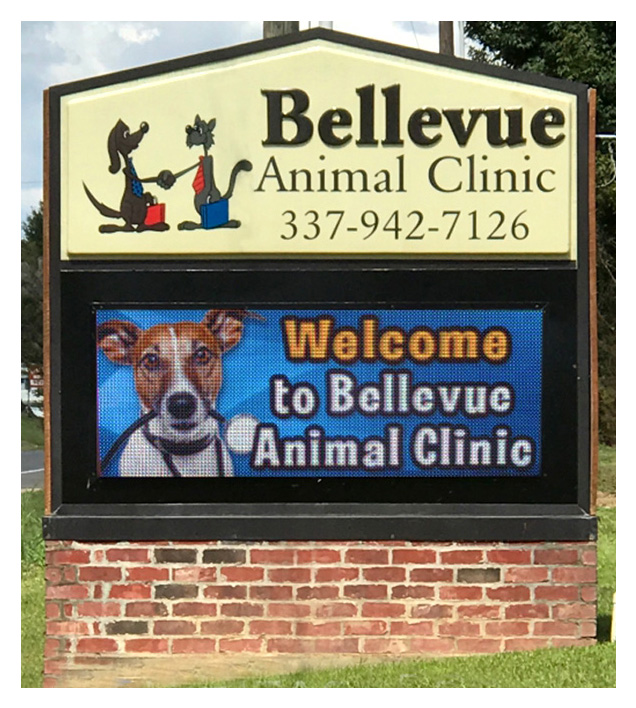 The next step involves identifying the best location on the property for setting up a client's proposed display. Taylor Nilson, market manager, On-Premise-Commercial Reseller & National Accounts at Daktronics, says generating the most exposure is extremely important when it comes to the placement of a digital sign.
"It all comes down to what they say in real estate: 'Location! Location! Location!'" he says. "Identifying the focal point of entry onto the property will be key when it comes to a freestanding digital sign and assist a potential customer/patron/member/patient in finding entry to the property."
Chris Wilson, digital billboard manager/sign sales at ESCO Manufacturing, adds, "If your client has two frontages and will only be using one display, they'll obviously want to place it at the frontage with the most traffic," he comments.
Blockage is another factor to consider when it comes to choosing an ideal spot for a digital display. Potential obstructions to pay attention to include trees, other signs, and large vehicle parking, any of which might cover the display. "We also like to make sure we stay as far away from power lines as possible, as those can be a real nightmare for installers," says Wilson.
After picking a site on the property, make sure to examine it closely.
"If the plan is to add the display to an existing structure, then the existing structure needs to be reviewed to ensure that adding the additional wind load falls within the limits of the original engineering design," advises Watson. "If a new digital sign is simply replacing an existing sign, the assumption is that you can replace it with a sign that has the same square footage at the same height or lower on the structure."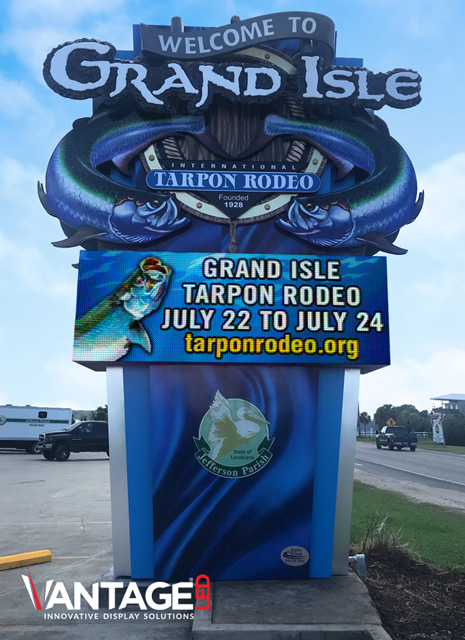 If your customer does not own the property where the sign will be located, Watson suggests checking in with the landlord to determine if there are any property restrictions. Another thing you need to do is call 4-1-1 to locate any underground utilities and verify that the foundation of the new structure will not interfere with any existing utilities.
"As a final step, pay attention to the business's intended audience. This will help you determine the appropriate size and resolution of a new digital sign," says Watson. "Walk-up traffic and up-close viewing may require a higher resolution. Areas with high traffic where vehicles pass by at a distance will require a larger display that can use a lower resolution. This is best determined by scheduling an onsite demonstration with the manufacturer's representative."
According to Deacon Wardlow, continuous improvement manager at Vantage LED USA, the type of traffic that will be regularly passing the sign needs to be factored. "Is it vehicular only or a mix of pedestrian and vehicular? Or will it be primarily pedestrian?" he suggests asking. "These answers will help you determine the ideal size, pixel pitch, and overall resolution required to best present the system."
Are there any tips a sign shop should consider when it comes to installing exterior digital signage on-site?
Sometimes the best steps to address are the precautionary ones that take place before actually setting up the digital display out at a site.
For instance, after the manufactured digital signage system arrives at your facility, always test it whenever possible before transporting the unit to its destination. "It's important to find any possible faults or issues with it prior to any installation," advises Wardlow. "After all, it's a lot easier to fix a problem at the shop than it is out at the installation site."
Wardlow recommends having the end-user upload the content for the system prior to your installing it. "Sometimes communication isn't immediately available," he says, "and whatever is pre-loaded onto the display is what's going to be played until proper communication with the system is established."
Wardlow confirms that standard sign installation rules apply with regard to proper structure and support. "Additionally it helps to check to verify that power and data will be available at the install location," he says. "If not, make sure to coordinate communication and have the client's electrician ensure that the electrical is available and ready to be connected."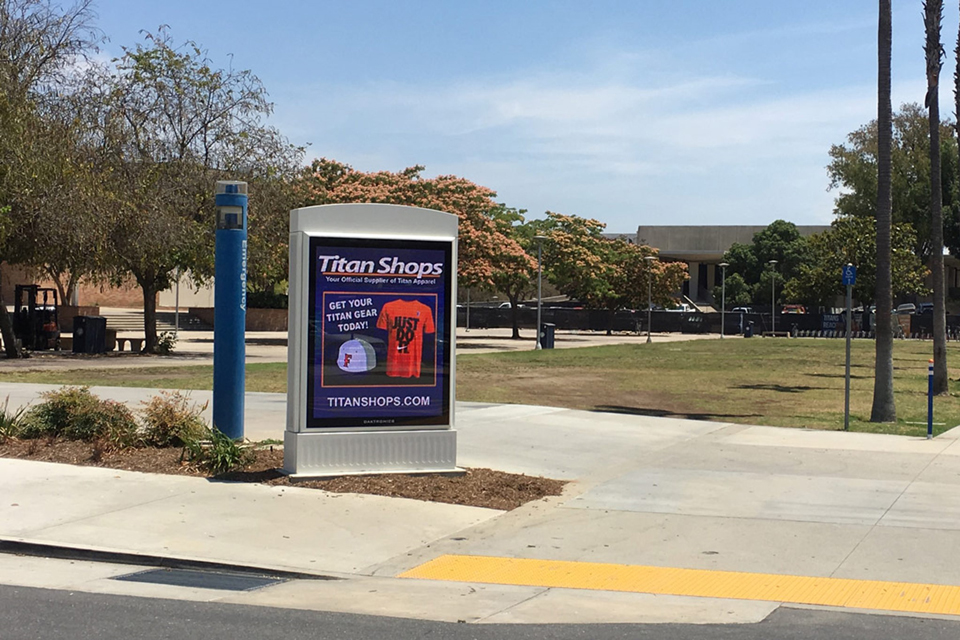 Watson has found that leaving the jobsite without confirming connectivity and communication is one of the most common mistakes made by installers that are new to the digital game.
"This step can be missed because there is often a test message preloaded on the sign before it is shipped," he says. "This message displays when the sign is powered on and may lead installers to determine that the message was sent to the display as it went live.
"Ask the sign owner to send a message to the display while your installers are still on-site to confirm that sign communication is working. If the sign owner isn't available, you should be able to call the manufacturer's help desk and ask for help in confirming that sign communication is active."
When it comes to tools that can aid you in a digital display install, Wilson recommends using a hammer drill with a driving tip. "This tool is very useful when installing a six-foot-long ground rod for proper electrical grounding," he says.
Are there any common mistakes installers should avoid when putting up exterior digital signage?
Wilson finds one of the big mistakes he's noticed in this area involves double-sided signs attached to a v-shaped structure. "If this is the scenario, one side should always be installed perpendicular to the closest lane of traffic," he advises. "Then the back side of that 'V' would have a better viewing angle from the furthest lane of traffic."
The reality is that orders for many digital signage systems are not placed with brand new companies, but rather they're purchased for an existing business. Because of this, there is a temptation to use the existing structure versus a new installation to cut costs, material, and time from a job.
"Always check to ensure the structure is rated and sound for the weight and size system being installed," says Wardlow. "Taking steps to protect the structure and being proactive is worth the extra time and cost for long-term performance and durability of the system (such as grease or protectant/sealant on the structure base to avoid corrosion/ damage below ground level)."
If purchasing a system that is modular (i.e., modules get inserted into a support frame versus a fully completed cabinet), Wardlow stresses to make sure that the support frame is set prior.
Wardlow circles back around again to precaution and checking with the display manufacturer ahead of time regarding any special needs for the system, particularly when it comes to proper airflow and ventilation. "Often ventilation is not taken into consideration and that will damage the long-term performance of a display," he says.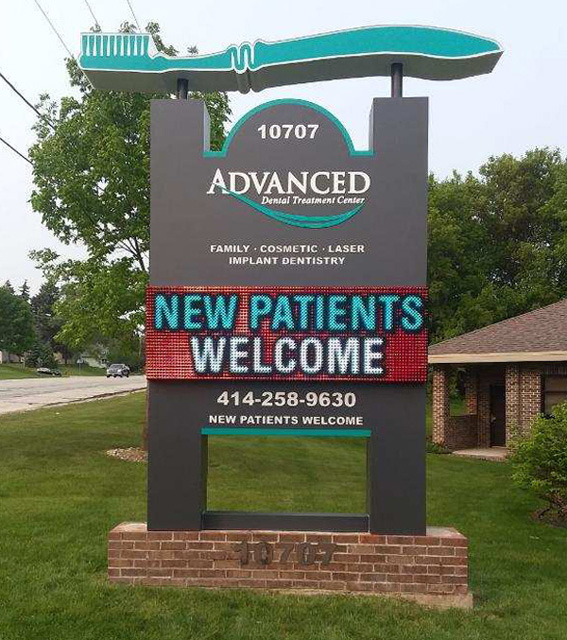 When installing a digital signage system, Wardlow says to check power (ideally using a Fluke meter) and, if possible, ask the power to be metered for a few days/week to ensure there is no sag (voltage drop) nor spikes (excess voltage). "Power issues will have a negative effect on system performance," he says.
If using wireless Ethernet, Wardlow stresses to make sure that both radios are physically visible to each other and not hidden behind a structure.
Forgetting to install the aforementioned ground rods is another common mistake made during digital signage installations. "Often times, this step gets overlooked when determining who will be responsible for electrical hookups," says Nilson.
Wardlow says that there is a temptation to use power tools with the actual digital sign itself (especially LED modules) but to avoid using these, if possible. "It's best to use hand tools, as it's possible to strip locking mechanisms and/or damage components when too much pressure is applied," he says.
Is there any advice for protecting exterior digital signs that are placed near roadways or at ground level?
Nilson describes digital signs as a true "windshield product," as these types of signs are meant to be seen, so installing on or near roadways is a primary objective. "Avoid placing a cover over a digital sign, as it creates additional heat and can reduce the viewing angle of the product," he advises.
Taking the "windshield" approach a little further, Wardlow advises to make sure that there are no lawn sprinklers aimed at a digital sign display that has been installed at ground level. "Hard water can lead to mineral buildup and deposits on the system," he says. "Displays in close proximity to heavy traffic should be checked annually and serviced against carbon buildup on the system and cleaning/changing filters."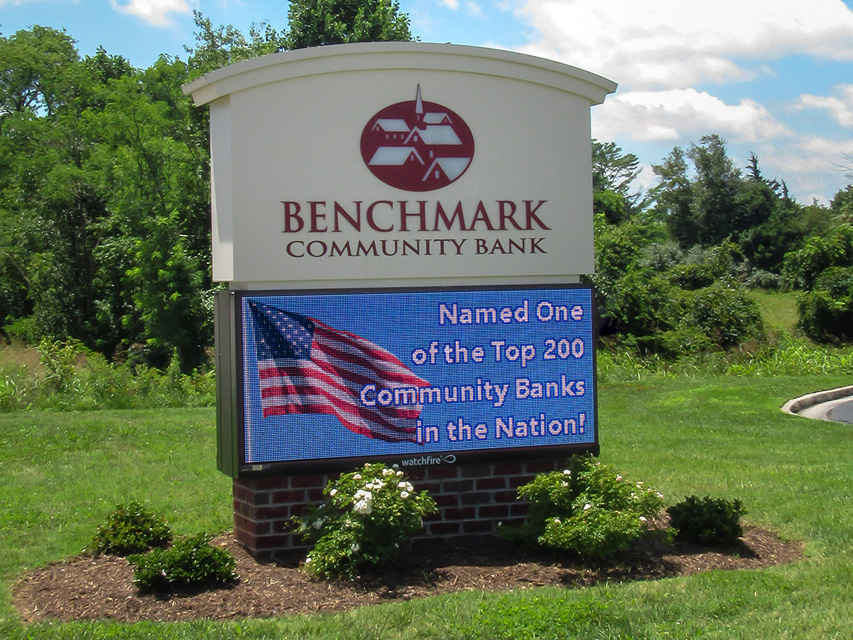 Monument signs and lower ground-level signs can sometimes be subjected to vandalism or impact from foreign objects (even vehicles). "Manufacturers of reliable displays use plastic louvers to cover display modules and provide impact protection for the LEDs," says Watson. "Planting shrubs and creative landscaping around a monument sign can provide additional protection. Shrubs and bushes can also provide an attractive screen for hiding concrete or steel pylons hosting the display."
Meanwhile Wardlow adds, "Control elements and/or electrical switches should be secured from direct access whenever possible."
All displays should have a light sensor embedded in them that dims the system appropriately by taking ambient lighting conditions into consideration. However try not to forget about the "scheduled" systems. "This can result in a display that's too bright at night or too dim in the daylight," says Wardlow.
Are there any protection measures for exterior digital signs when it comes to extreme weather (hurricanes, blizzards, etc.) or other environmental issues?
The quick answer here is…there really is no quick answer here. In fact, your mileage may vary. "I've seen systems hit by a hurricane and tornadoes without an issue and others get destroyed in a dust storm," says Wardlow.
He does recommend, at the time of installation, to ensure that the structure is sound and solid. "If using an existing structure, have a survey of the installation and material run to inspect the structure to ensure there isn't rust/damage or other factors which would be cause for concern," says Wardlow.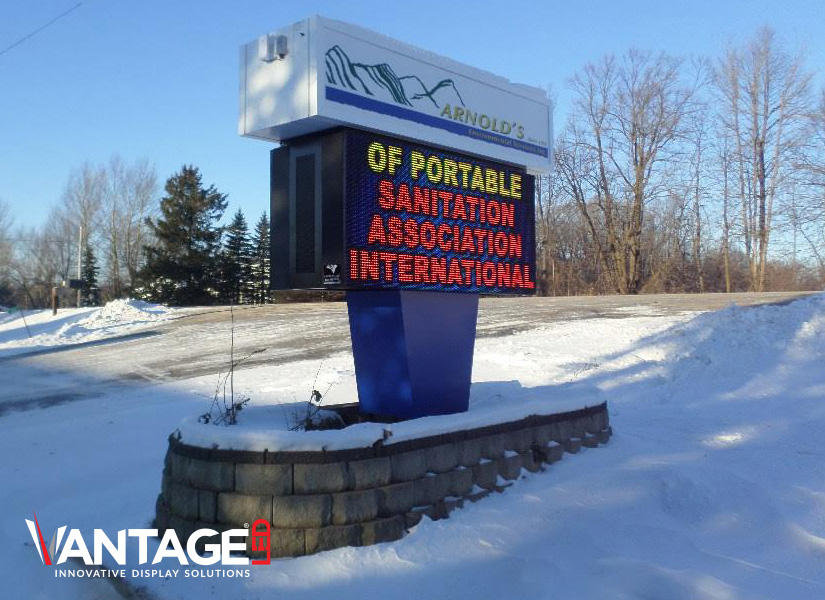 Wilson says common sense should be employed when taking care of a digital display due to extreme weather or other environmental issues. "If the sign is in a low spot on the property—and is a monument-style sign—we just caution the owner to be careful when they are performing snow removal," he says.
Longevity of a sign is based on the manufacturer's ability to provide a solution that can withstand all types of weather conditions. Because of this, Nilson stresses that it is important to ask your chosen supplier if the digital sign has been tested for conditions where the customer is located. He suggests asking questions like: How does your sign perform with torrential rain, and can your sign withstand large temperature swings due to seasons changing?
"Ask them if the sign cabinet is fully sealed?" he adds. "If water finds its way inside the cabinet, will the components fail? Will your company have parts available for any damages? If so, how long will you have parts available for support?"
Wardlow advises you to tell your clients to shut down the system prior to any serious, heavy storms approaching. "Power may fluctuate, and there's a greater likelihood of surges," he explains. "If the storm isn't going to include forces that could damage the display, check to see if the display can be connected to FEMA's Integrated Public Alert Warning System (IPAWS), as digital signage can help redirect people from dangerous areas, inform them of evacuation protocols, and help with early danger warnings."
—Jeff Wooten
The post Digital Signage: Answers on Display appeared first on Sign Builder Illustrated, The How-To Sign Industry Magazine.
Published first here: https://signshop.com/lighting-electric/digital-signage/digital-signage-answers-on-display/