CCO is preparing to release new certifications for operators of rotating and fixed telehandlers. As the Telehandler Task Force puts the final touches on the written and practical exams that will be required for CCO certification, CCO sat down with the Task Force Chair Tony Dotto, general manager at The Crane School near Tampa, Florida, to discuss why and how this new certification was developed.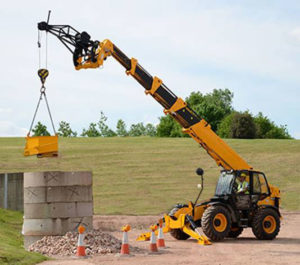 Tony lives and breathes training, testing, certification, and qualification. He has participated on four previous CCO task forces, and he understands the process and rigor that CCO certification goes through when being developed and maintained. He has worked in the heavy equipment industry for 45 years, so he is passionate about all types of heavy equipment including telehandlers. He firmly believes that all employees working in industry (construction, general industry, shipyards, railroads, etc.) need to receive proper and thorough training with applicable testing.
Telehandlers come in both traditional "fixed" versions as well as newer "rotating" versions, Tony explained. "While standard telescopic handlers have boom sections to lift and extend materials for placement, rotating telehandlers can lift, extend, and swing. So, rotating telehandlers provide an additional dimension of operation," he said. "Currently there are many more fixed models in the field than rotating models, but rotating versions have significantly enhanced capabilities, so they are rapidly gaining favor over the legacy models. Rotating telehandlers also have additional crane-like capabilities that make them more likely to require certification."
Dotto explained that the recent OSHA Compliance Directive to the crane rule (1926 Subpart CC) indicates that OSHA intends to enforce operator certification when forklifts have a boom/jib and a hoist. Additionally, under OSHA 1910.178, evaluation requirements already exist. ANSI/ITSDF B56.6 has requirements for the operator as well. CCO's new telehandler operator certification will be the first certification available in the U.S. that meets all three standards. This provides the highest level of compliance for employers as well as the greatest flexibility for employees.
Tony concluded, "In addition, there are many times when telehandlers do lift a suspended load, but they are not using proper techniques or proper attachments to do so; the operators simply wrap a sling around the forks. These unsafe operations must stop, and formal certification goes a long way to ensure these bad habits are discontinued." Dotto noted the many benefits to certifying personnel aside from OSHA compliance, including reducing injury and fatalities, less damage to equipment, and a more knowledgeable and skilled workforce.
He explained that the task force of 26 industry experts from telehandler users, owners, training professionals, rental companies, suppliers, and safety professionals was established in October 2020. It has spent the last nearly two years designing and developing a robust certification requiring both written and practical exams. This certification will require a practical exam (not a written) for recertification on a three-year cycle to meet OSHA 1910 requirements.
As with other CCO certification programs, the task force first performed a job task analysis to identify the knowledge necessary for safe operations, then it created an exam blueprint that outlines the exam content, and finally subject matter experts wrote the actual exam questions. Numerous meetings were also held to develop the practical exams, which are still being refined.
There will be a single written exam for both rotating and fixed telehandlers, and separate practical exams for each certification designation. Because of rotating units' enhanced capabilities, those who pass the Rotating Telehandler Practical Exam will be certified to use both rotating and fixed telehandlers; however, those who take and pass only the Fixed Telehandler Practical Exam will only be certified on fixed telehandlers.
Tony sees that a major benefit of the new certification is that it will place all operators on the same playing field. Everyone will need to take the same written exams and practical exams to be certified. Operators may opt to participate in formal training to learn the various operational aspects and safety rules and regulations that apply to telehandlers, then practice will be required using the equipment to improve safety and efficiency before the taking certification exams. All of this will improve the operators' safety, professionalism, and efficacy.
As with other CCO certifications, telehandler operator certification will likely lead to better insurance rates and compliance with insurance company directives. His experience—as well as CCO's—has shown that accidents, injuries, and fatalities are down since CCO load handling equipment operator certification began. He explained, "There was a time in industry not too long ago when a person applying for a job to operate heavy equipment was asked, 'Can you run that equipment?' and that was the interview. Today they ask for a full resume and then ask, 'Do you have your CCO certification?'"
"Given the sheer volume of telehandlers in the field today—easily topping 280,000 currently in the U.S. and rising fast—the CCO Telehandler Operator certifications could easily surpass some of CCO's more established credentials," Dotto concluded. "Thanks to all the task force members that contributed their time and efforts to make this happen."
The CCO Telehandler Certification is expected to become available by the end of 2022.
The post Discussing the New CCO Telehandler Operator Certification appeared first on Sign Builder Illustrated, The How-To Sign Industry Magazine.
Published first here: https://www.signshop.com/installation/service-equipment/discussing-the-new-cco-telehandler-operator-certification/