The 2022 ISA International Sign Expo is a reflection in our rear-view mirror now, having been held May 4-6 in Atlanta (with pre-convention, educational events also held May 3). By all accounts directly reported to the Signs of the Times staff in attendance at the expo, the show was a complete success for both exhibitors and attendees, and surpassed the expectations of all of the participants we spoke to.
Manufacturers that we met tended to say the same thing: The show was busy and the attendees were as engaging or more than they ever had been. Many manufacturers and suppliers did excellent business right there on the expo floor and one enthusiastically stated that his company would have to hire three more employees based on the number of orders placed at the show for his product.
Signs of the Times enjoyed similar energy and enthusiasm, hosting the 2022 Women in Signs award recipients at our booth near the end of the second day of the show. Four of the five award winners, Bobbi Baker, Dawn Homa, Jenn-Jenn Marshall and Shokouh Shafiei, were present to receive their awards; Allison Moz was unable to attend. Signs' Managing Editor Christina Green emceed the event and the reception speeches by the winners both moved and inspired those in attendance.
Women in Signs 2022 winners Jenn-Jenn Marshall, Bobbi Baker, Shokouh Shafiei and Dawn Homa after the awards ceremony at the ISA International Sign Expo in Atlanta.
Our sister publication, Big Picture, hosted a memorable reception for their 2022 Best of Wide Format awards, near the end of the first day of the show.
Also on the first day of the show, Signs' Editor-in-Chief Mark Kissling led an ISA Educational Seminar entitled "When Do You Start Charging for Design?" Mark was joined by experts Russell Toynes, co-owner and creative director of Studio Dzo (Austin, TX) and Earl Walker, president of Image360 Tucker (Tucker, GA). Everyone in the seminar was encouraged to recognize the value of design in the process of making and selling signs, and to charge (or charge more) for it.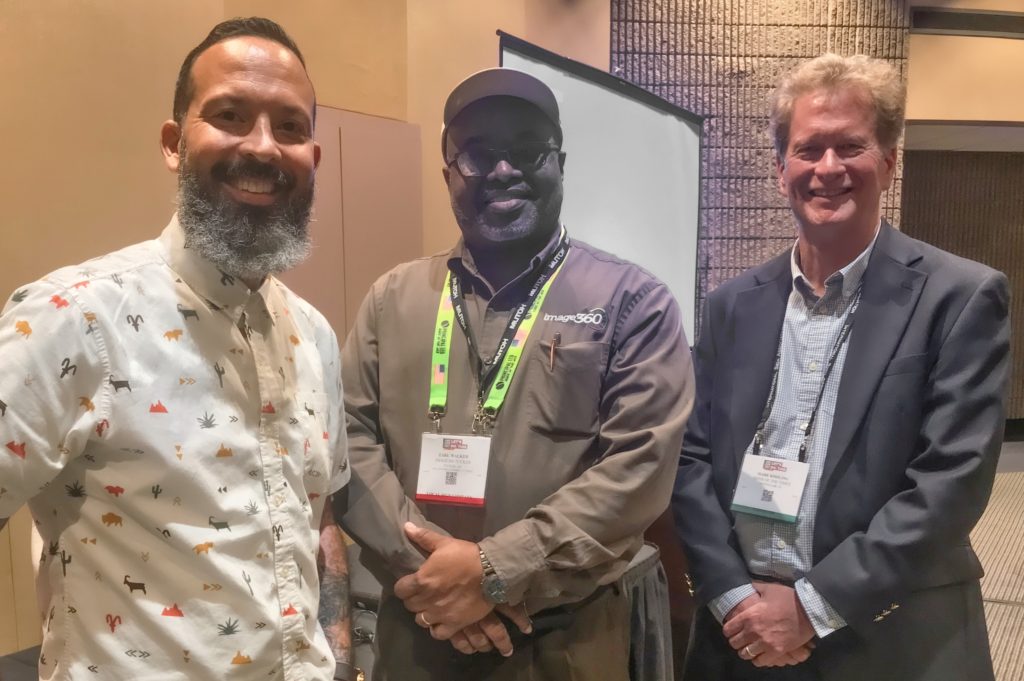 Russell Toynes, Earl Walker and Mark Kissling after the ISA Educational Seminar, "When Do You Start Charging for Design?"
All told, we can report that ISA pulled off the show with aplomb, despite the vast number of registrations being made during the final two weeks before the expo began, according to a source from ISA. Congratulations to them and to all exhibitors and attendees who benefited from the first such show since 2019.
For more information, visit signs.org.
The post 2022 ISA International Sign Expo Recap appeared first on Signs of the Times.
Published first here: https://signsofthetimes.com/2022-isa-international-sign-expo-recap/