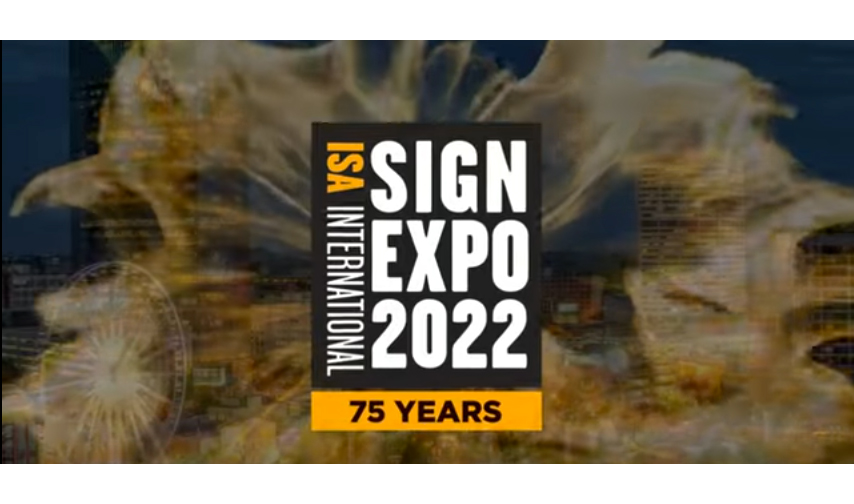 Admit it: Three years after the last in-person ISA International Sign Expo, we're all a bit out of practice. For some, this may be the first time to attend the sign and graphics industry's biggest tradeshow.
Whether a veteran or a newcomer, making the most of the event means having a plan. Several long-time attendees share how they prepare for, tackle, and extend the benefits of ISA International Sign Expo well beyond the gathering.
ISA International Sign Expo 2022 is May 4-6 in Atlanta. Learn more at www.signexpo.org and consider these tips in the meantime.
1. Reconnect with old friends and make new ones.
With so many new exhibitors on the tradeshow floor, ISA International Sign Expo 2022 offers opportunities to explore new products and new-to-you suppliers. The combination of meeting those new companies and reconnecting with existing suppliers is important.
"There are several suppliers that we have a key strategic relationship with. I find ISA a great opportunity to connect with them," said Jeff Young, senior vice president of YESCO in Salt Lake City, Utah. "The balance of my time, I stroll around to see what's going on and to find the best technologies that are out there. We can get a lot done in one place. If I were to get on the road or a plane or the phone, it would take significantly longer time and more money to do what I can do in a short amount of time there."
2. Bring a shopping list—but be open to new ideas.
Amber Hamilton, director of project management at Gator Sign Company in McComb, Miss., says her company is looking "mostly for new products that we don't yet know about." One year, for example, she went looking specifically for simulated neon and another for post and panel options. "We go with our eyes wide open, for things we don't know are possible, but we always have a goal in mind."
That may not be a specific product, but more of a solution to a problem.
3. Don't go it alone.
Consider which employees might benefit from specific education sessions, or just by having their eyes opened to the industry. "It's so impactful," said Mike Lev, VP of innovation and industry of Harbinger Sign in Jacksonville, Fla. "They get drenched with all this information, and they come back and are suddenly leading the effort of process improvement. It changes them. They're empowered in a new way and they're able to think outside the box of this building that we're in."
When considering a specific type of equipment, Jason Buxton, president of Midwest Light & Sign in Farmington, Mo., likes to take the employee who will be operating it. When purchasing a truck a few years back, he took the installer. This time around, it is the person who will be running the router that he's looking for. "They need to be able to pick out the machine they're going to operate."
4. Make a plan.
Everyone has their own strategy for approaching the massive tradeshow floor. Vince Williamson, chief operating officer of Identity Resources in Chicago, starts with a pre-Expo meeting where those attending decide how to "attack the event." There are three areas of focus: "To enhance the relationships we have, to obtain new relationships with people that we may not know, and to educate ourselves on the industry, with new and upcoming technology, new rules and regulations."
Williamson divides the tradeshow floor into different sections, often setting meetings with exhibitors in advance. While on the tradeshow floor, his eyes are always open, looking for what he calls "those a-ha moments." And he makes sure to leave time to explore those showstoppers more extensively.
5. Share what is learned back at the office.
Tim Cambron, president of Ruggles Sign Company in Versailles, Ky., brings key team members together for a post-event pizza party, where those who attended share what they saw. "Everyone brings their goodie bags and samples they collected. We share what we learned. We can collaborate and make a decision about what we want to buy."
Buying, learning, and connecting all will be on the table—and not just for a few days in May. Kick off the rest of a successful 2022 by attending!
The post 5 Steps to Prepare for ISA International Sign Expo 2022 appeared first on Sign Builder Illustrated, The How-To Sign Industry Magazine.
Published first here: https://www.signshop.com/business-mgmt/trade-associations/5-steps-to-prepare-for-isa-international-sign-expo-2022/