Ahead of its UV Live event on October 21, Mimaki USA made a number of announcements about new printers, lower prices, and a continued commitment to its customers despite continued pandemic and supply chain issues.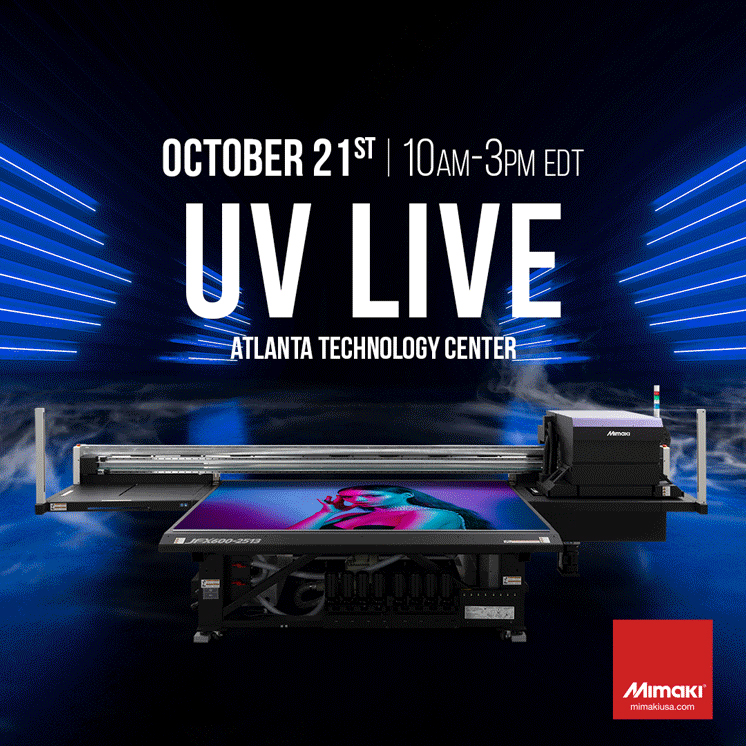 Pricing
Mimaki USA announced that it's lowering prices on its most popular printers—separating itself at a time when many manufacturers are doing the opposite and raising prices.
Michael Maxwell, senior manager of Corporate Strategic Development for Mimaki USA, explained that by tightening up its manufacturing process and reusing components like stands across new printer models, the company was able to pass on the savings to its customers through price reductions.
In a press release, Mimaki USA said, "We know you count on our printers to get the job done with quality, speed, and precision, and we want to ensure that affordability is something you can count on as well. This isn't a sale or a promotion, it's the best possible prices we can offer, and they're here to stay. With instability and prices seemingly rising all around us, we are glad to have an opportunity to offer savings and certainty instead."
New Printers
During its virtual press conference, Mimaki USA announced a number of new printers.
New UJF Printers
Mimaki USA launched four new UJF Series printers. These new direct-to-object inkjet printers are designed for high-quality output, improved productivity, and efficient production. Sales are scheduled to start in October 2021.
The new printers include the UJF-7151 plus II, and three new UJF-MkII e Series models, offering unrivaled printing quality and stability. They feature an array of new capabilities designed to deliver significant quality and performance benefits, enabling users to explore new applications and increase productivity.
Mimaki's UV-LED inkjet printers use UV irradiation, rather than heat, to cure ink and do not require the preparation of plates (as in screen printing). This immensely reduces the time and cost of production.
UJF-7151 plus II: The UJF-7151 plus II model incorporates eight print heads, two more than the previous model, enabling configurations that suit any application. It includes eight ink slots, which can be configured for a four color setup or up to eight inks including light color inks (Light Cyan and Light Magenta), white, clear, and primer. It achieves print speeds up to 190% faster than the previous model.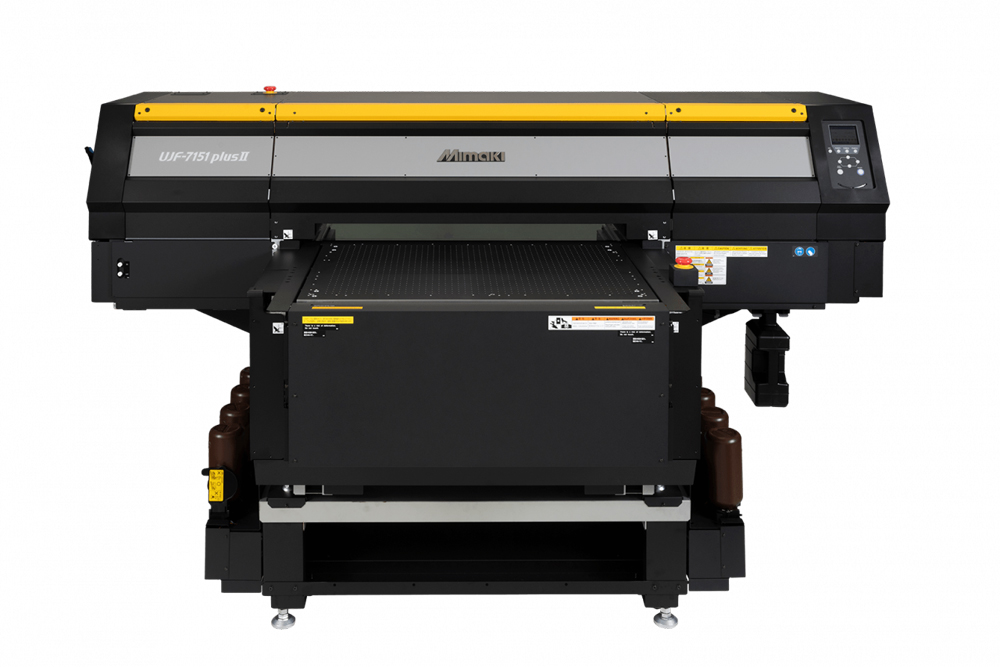 This printer is capable of printing up to 1800 dpi, compared to the 1200 dpi of the previous model, allowing users to experience high-definition quality with less graininess and color irregularities. The strengthened structure of the printer body and enhancements to the print table reduces shaking during printing, allowing precise positioning of ink droplets. Load capacity has been increased from 22lbs to 66lbs (10 to 30 kg), allowing users to print on heavier metal jigs and other equipment, while maintaining accurate positioning.
A key feature is the new UV Color Gloss function, which enables a glossy finish on color UV inks without the need for clear ink.  This new feature increases value and profitability on a variety of applications.
UJF-MkII e Series: The new UJF-MkII e Series models include the UJF-3042 MkII e, UJF-3042 MkII Ex e, and the UJF-6042 MkII e. These printers offer improvements to image quality and stability, and enhanced operational performance over their predecessors.
The printing area of the UJF-3042 MkII e and UJF-3042 MkII Ex e measures 16.5 X 11.8 inches (420 X 300mm); and the UJF-6042 MkII e measures 16.5 X 24 inches (420 X 610mm).
All of the announced models include the new Mimaki Fine Diffusion (MFD2) core technology for half-toning that processes and precisely controls the placement of ink dots. The following proprietary core technologies are also incorporated: Nozzle Check Unit (NCU[1]), Nozzle Recovery System (NRS[2]), and Mimaki Advanced Pass Systems 4 (MAPS4[3]). These functions enable stable output of high-quality prints
The announced models come equipped with Mimaki RasterLink7 software, which facilitates numbering and variable printing functionality, along with MDL command sets which enable integration with production systems and peripheral devices for automated workflows. These commands enable users to adjust the height of the printing table, start time, and other operations remotely. Ink levels and errors can also be checked from connected peripheral devices.
These printers are compatible with various ink types, suitable for a variety of uses which allow direct printing on a wide array of media, including acrylic, resins, glass, metal, and even leather. This allows them to be used in the production of industrial printing up to 153mm thick such as nameplates, home appliances, information boards, indoor molded signs, custom goods, flexible media, and more.
The UV-LED curable inks are available in rigid or flexible formulations. Also available is Mimaki inkjet primer PR-200, designed to improve the adhesion of Mimaki UV-LED inks on certain media. As a result, they are the ideal solution for print providers looking to diversify their offerings.
The UV-LED curable inks LH-100, LUS-120, and LUS-150 received GREENGUARD Gold certification by UL, meeting the standards for chemical substance emission specified by this third-party safety science organization. This certification is recognized for its personal and environmental safety.
[1] NCU: Automatically detects the status of nozzles using the sensor, and performs auto-cleaning when a missing nozzle is found. Optional for "UJF-3042MkII e".
[2] NRS: Automatically replaces defective nozzles with other nozzles if there is a problem left unsolved by the nozzle cleaning, and ensures uninterrupted printing with stable image quality.
[3] MAPS4: Prints pass boundaries fading in gradation to reduce banding (horizontal stripes), uneven color, and glossy streaks.
JFX600-2513
The new JFX600-2513 large flatbed UV inkjet printer is a successor to the JFX500-2131 and is three times faster with a dramatically increased number of printheads—sixteen.
In addition, the number of colors that can be installed has been increased from four colors in the previous JFX500-2131 to now six colors in the new JFX600-2513. A wide variety of ink sets can be selected to lead printing with vivid colors and higher expressive power. It results in more eye-catching signage graphics at higher speeds than ever before. In four-color mode, the printer can produce 2,152 square feet/hour. With six colors or specialty inks, the printer products 1,292 square feet/hour.
Aside from the basic CMYK, the printer supports light cyan, light magenta, primer, white, and clear ink. Three variable drop sizes are available, and the low-VOC inks have been certified as GREENGUARD Gold.
Other features include the Mimaki Print Controller system, bulk ink system, Mimaki Advanced Pass System (MAPS) function, and MDL command. With MDL command, shops can connect inkjet printers to peripheral devices such as robots, conveyor belts, inspection equipment, various sensors, and pre- and post-processing systems through intercommunication to enable integration into production lines, unattended on-demand production, and mass customization. Features like this are in demand due to the increased interest in automation and workflow.
To learn more, be sure to tune in to Mimaki's UV Live Event tomorrow!
The post Mimaki USA Announces New Printers and Lower Prices appeared first on Sign Builder Illustrated, The How-To Sign Industry Magazine.
Published first here: https://www.signshop.com/graphic/digital-printing/mimaki-usa-announces-new-printers-and-lower-prices/