(DSGN)CLLCTV (Cincinnati) will soon host a roster of events and exhibitions to honor the life and artistic legacy of Justin Green,  who among other things, was the "Sign Game" cartoonist for Signs of the Times for many years.
Justin, whose alter ego in his comics went by Binky Brown, created the title and artwork for his own funeral service, a testimony to his humor.
The events begin on Oct. 6 at 6 p.m. at (DSGN)CLLCTV's Studio — where Justin's youngest daughter Julia Green is CEO/principal — with a memorial service and the opening of the art exhibition of Justin's work for family and friends. This event is RSVP only.
The public memorial and exhibition, entitled "Binky Brown's Funeral Pyre" by the deceased, will run Oct. 7 through Dec. 31 at (DSGN)CLLCTV, 4150 Hamilton Ave., Cincinnati, OH 45223.
The comprehensive exhibition will feature Justin's comics, signs, sketchbooks, painting, sculpture and original art, including Binky Brown Meets the Holy Virgin Mary, Justin's first book publication. 
"Designed to be an immersive experience, the exhibit includes his drawing space, signshop, personal shrines and many other surprises," reads a portion of the description on the (DSGN)CLLCTV website.
Justin's widow and fellow cartoonist Carol Tyler is involved with the events and exhibition along with his daughters Julia and Catlin Wulferdingen. Donations are now being accepted to help cover the cost of materials and preservation/presentation of the work. For more information, email julia@dsgncllctv.com.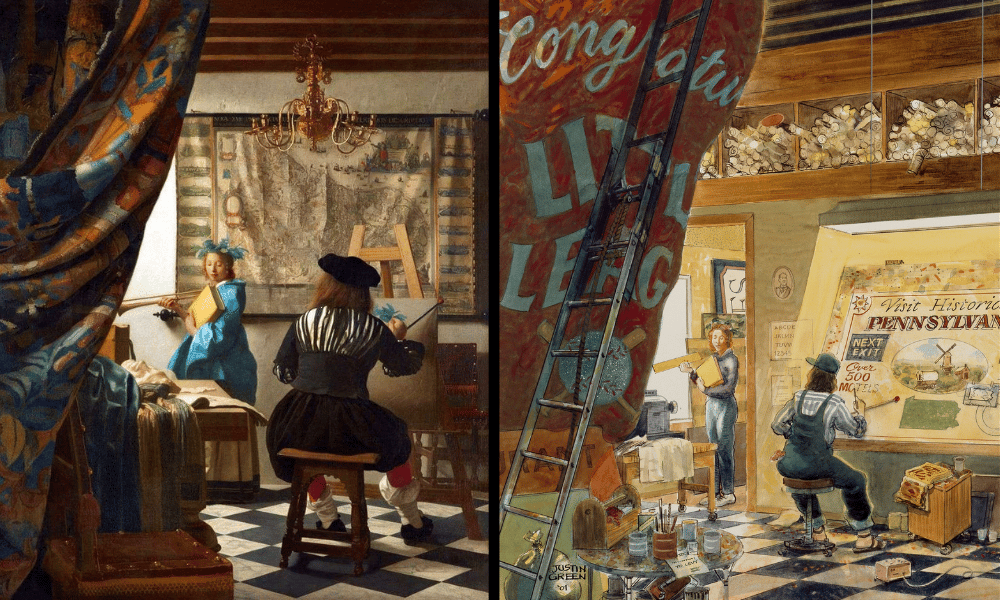 The painting on the right by Justin, an imitation of Jan Vermeer's "The Artist's Studio" (on the left), used for a cover of Signs of the Times, displays Justin's warmth, talent, appreciation for classic art and more.
For more information on the services and exhibition, click here.
For more on Justin's life, click here.
The post Justin Green Memorial Service and Art Exhibition to Begin Oct. 7 appeared first on Signs of the Times.
Published first here: https://signsofthetimes.com/justin-green-memorial-service-and-art-exhibition/