For more than seventy years and three generations, the Stade family has been creating memorable and impactful signage for companies and businesses dotting the East Coast.
Located in the Moosehead Lake area of Maine, Harold Stade established this sign-making legacy after serving in the 82nd Airborne during WWII. He started painting signs and even attended the New York City Trade School for sign painting, fine lettering, and showcard artistry.
Harold earned his reputation as a sign painter in northern New Jersey until 1965 when he moved with his wife, Betty, and their children to the Moosehead Lake area where he continued lettering until he was ninety years old.
Harold's son, Tom, followed in his father's footsteps, honing his sign skills and eventually owning a commercial sign shop in northern New Jersey.
In 1997, Tom moved back to Maine and eventually relocated to the Moosehead Lake area in 2008 where he continues his father's legacy by operating Moosehead Signs, a shop that specializes in finely crafted signage and lettering, alongside his son, Micah.
Today Harold's dedicated spirit rings true through his son and grandson's ongoing efforts in dedicating themselves to delivering superior quality and creative hand craftsmanship in every sign they create.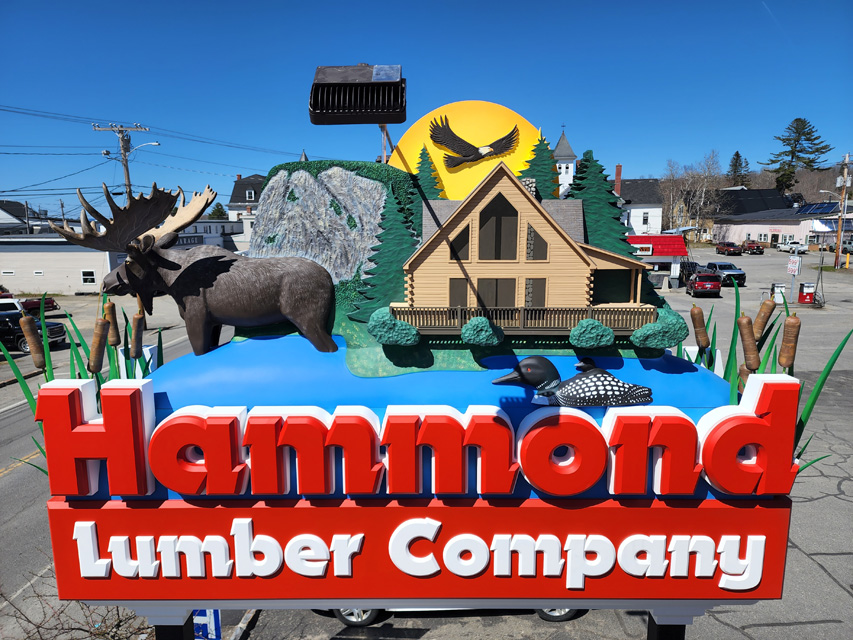 The Design Comes Together
Recently Hammond Lumber Company, a lumber and building materials retailer with twenty-one locations in Maine, turned to Moosehead Signs to create a one-of-a-kind, three-dimensional identity sign sculpted out of high-density urethane (HDU) for their Greenville, Maine store.
"Hammond Lumber Company wanted sort of a landmark for their sign," says Tom Stade. "They wanted a sign of a similar character to an earlier sign made for another company in the area and also something to mirror the beauty of the Moosehead Lake area."
The Moosehead Signs team used a real moose antler as guidance for the carving and coloring of that part of the sign. In addition, the client requested that one of their log homes be incorporated into the sign's design.
"Hammond Lumber Company contacted us because of the sign we did years earlier for Indian Hill Trading Post," says Tom.
For that sign, Moosehead Signs crafted all the sign components for it out of multiple sizes and thicknesses of HDU and featured a variety of elements, including logs, a canoe, a loon, a chickadee, and water.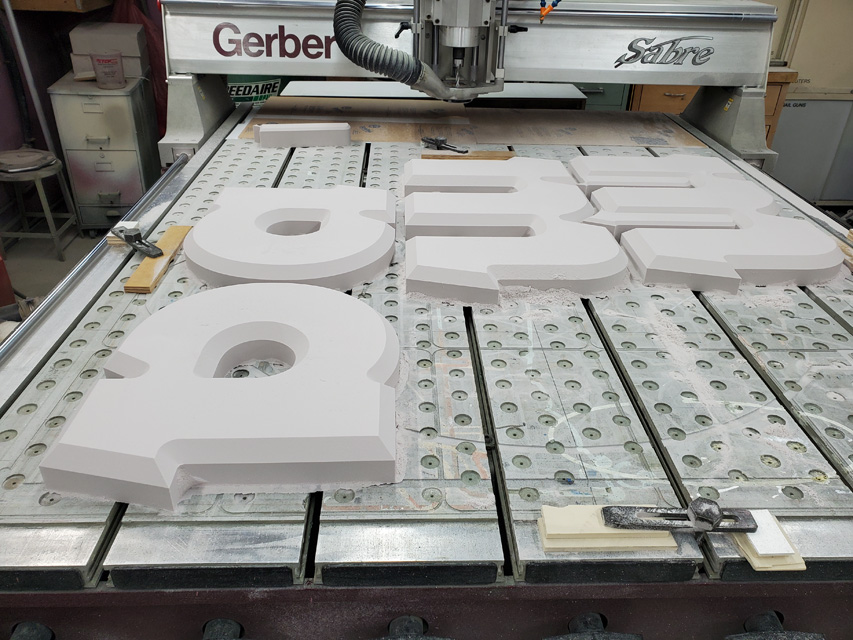 The Stades pride themselves on taking the time needed to design and create handmade signs that reflect a quality image for each client's business.
"I spend quite a bit of time sketching out concepts and then recreating rough designs in the graphics software," says Tom.
For the new Hammond Lumber Company sign, the renderings were created in CorelDRAW® Graphics Suite and submitted to the customer via email for review and approvals.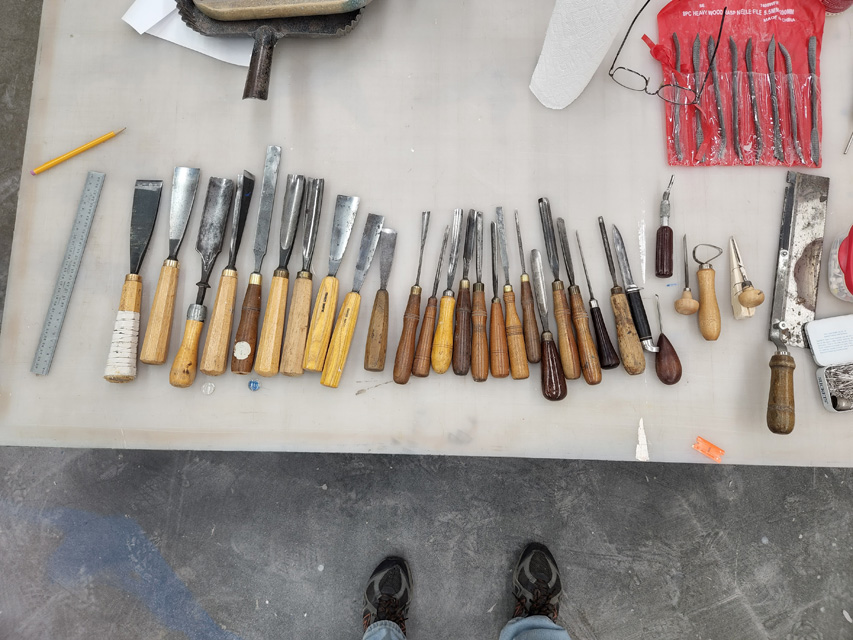 Although Moosehead Signs embraces the classic hand-carved and hand-created components that have earned them a solid reputation in the industry, they also embrace state-of-the-art technology that creates a quality product as their signs come to fruition.
In order to create the Hammond Lumber Company sign, the following tools were used:
Gerber 408 Saber CNC router;
Chisels;
A grinder featuring a variety of attachments;
Custom jigs, patterns & templates;
Graphtec 7200 plotter;
Graco FinishPro HVLP 9.5 ProComp sprayer;
Hand routers;
Skilsaw SPT70V-11 16-5/16-inch circular saw;
Vulcan OmniPro 220 welder;
Delta 28-203 14-inch band saw;
Delta Model 10 contractor saw;
Sun Joe 18-inch chainsaw; and
A variety of carving tools.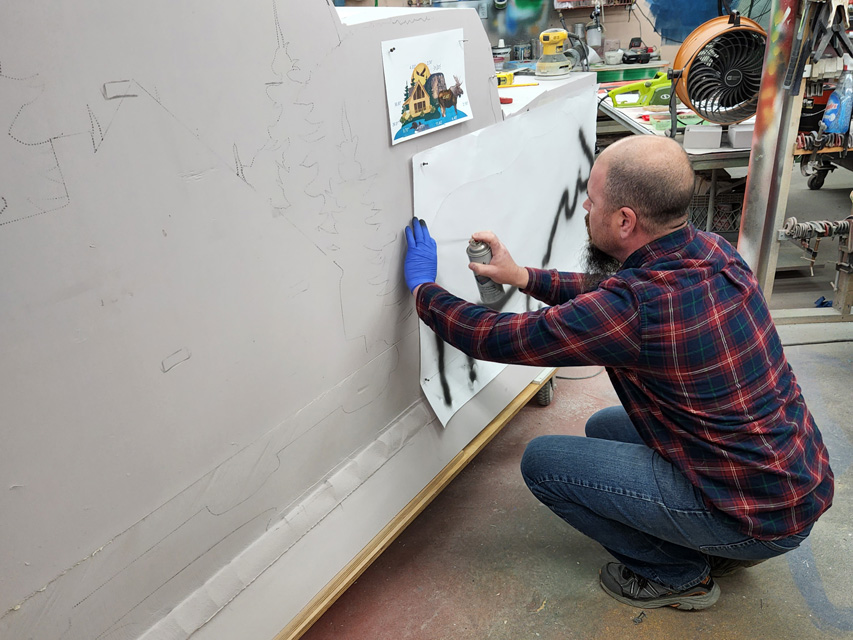 As Tom explains, this particular sign was made mostly of a variety of 10# to 30# DUNA-USA CORAFOAM® HDU with a welded aluminum framework for structural support.
"We used T6 Aluminum for the cattail reeds cut out on the CNC and then hand-hammered into a V-grove template to shape them," he says. "These were assembled with Gorilla® Glue products, and they were finished with Behr Premium Plus Exterior paints, as well as a digital print."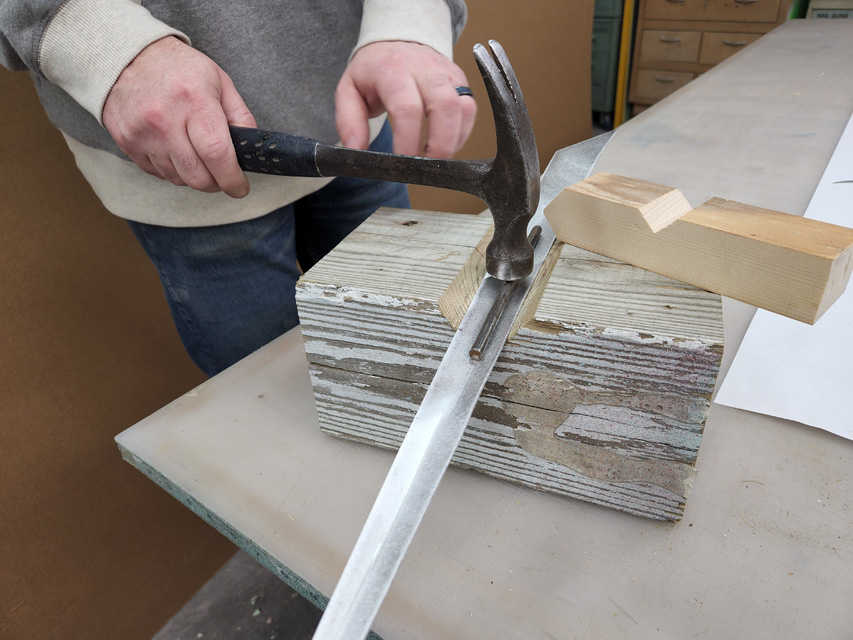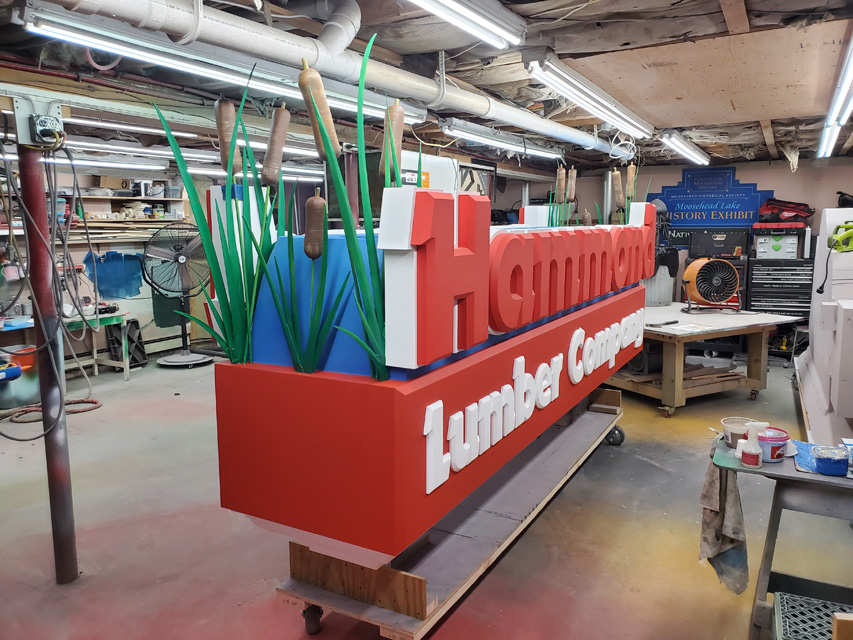 Solving Lumbering Challenges
Designing, creating, and modifying a sign of this caliber comes with its fair share of challenges.
For instance, according to the team, their shop setup is not exactly ideal for doing some of the bigger signs that they find themselves tackling.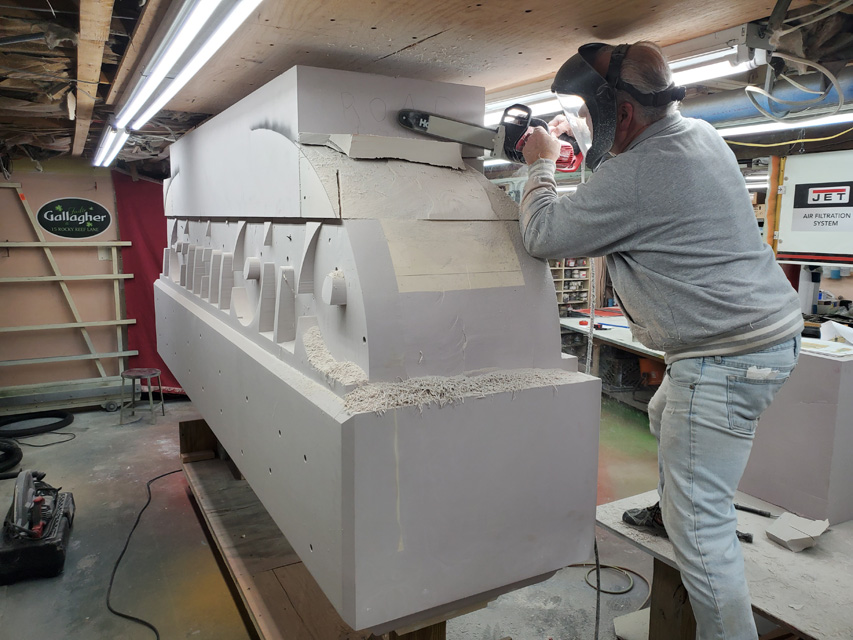 "We would love to have more room," says Tom. "There were many challenges throughout this job, but the biggest was our limited space. We had to design the sign in a way that we could keep it mobile in the shop while we were building and working on it—hence the two-piece design."
As he further explains, the sign's lower and upper portions were designed to precisely join each other during the installation process.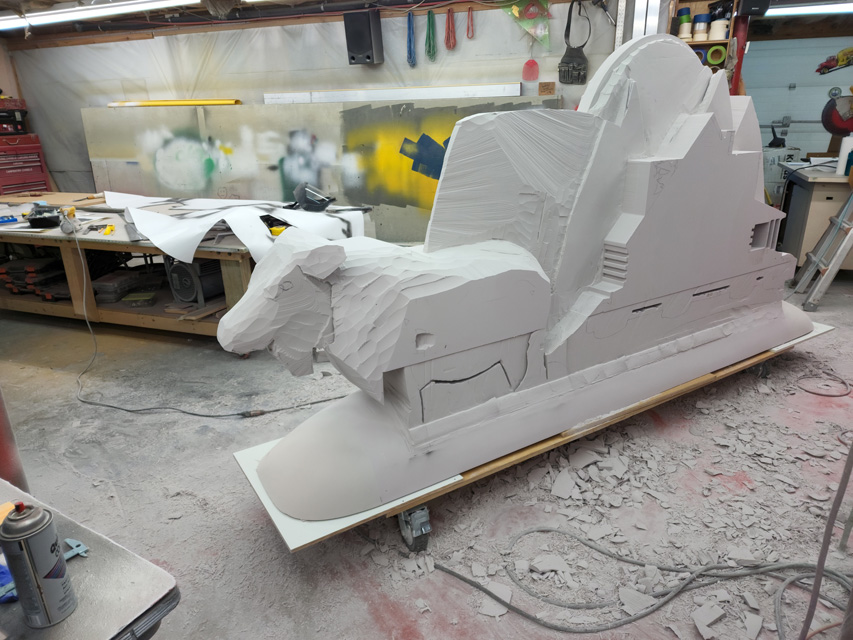 Another challenging aspect was carving the dimensional upper portion. This was done out of large blocks of 10# DUNA-USA sign foam. "The process of removing what doesn't belong and leaving the final product was quite time-consuming," says Tom.
Other challenges included installing the conduit and lighting through the sign, figuring out how to best incorporate a lifting system for installation, lifting and moving the heavy material, making sure the joint between two pieces was very smooth and unnoticeable, and juggling things around to complete both signs in the Moosehead Signs shop.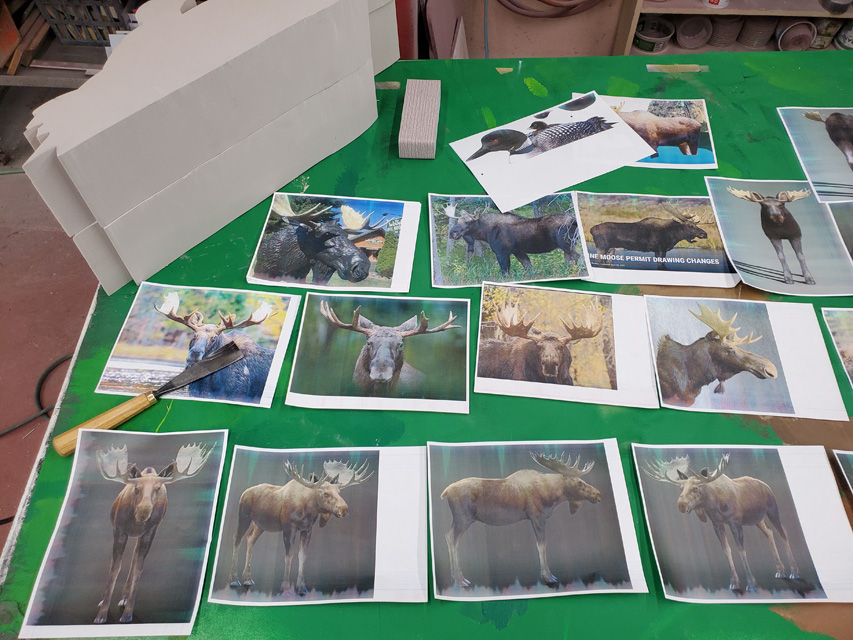 Carving the antlers for the moose was a collaborative effort between father and son.
"Between Micah and I, we have a great eye for things, along with good hand skills," says Tom. "Micah also has an engineering mind. He took photos of a real antler from all sides, scaled the photos into our software, and pounced contours of each side to the actual size.
"Micah then sprayed black paint into the pounce holes for each pattern on its corresponding side of the HDU block."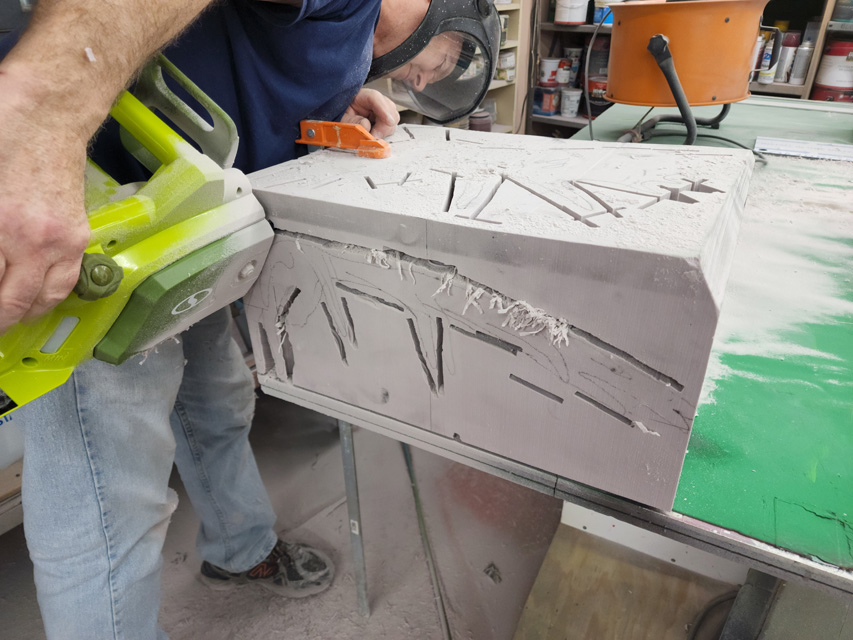 Following this, Tom used an eighteen-inch electric chainsaw to make plunge cuts, as Micah guided the angle of the saw from his perspective along the side. "We'd have to kind of describe it like doing Rubik's Cube with a chainsaw," says Tom.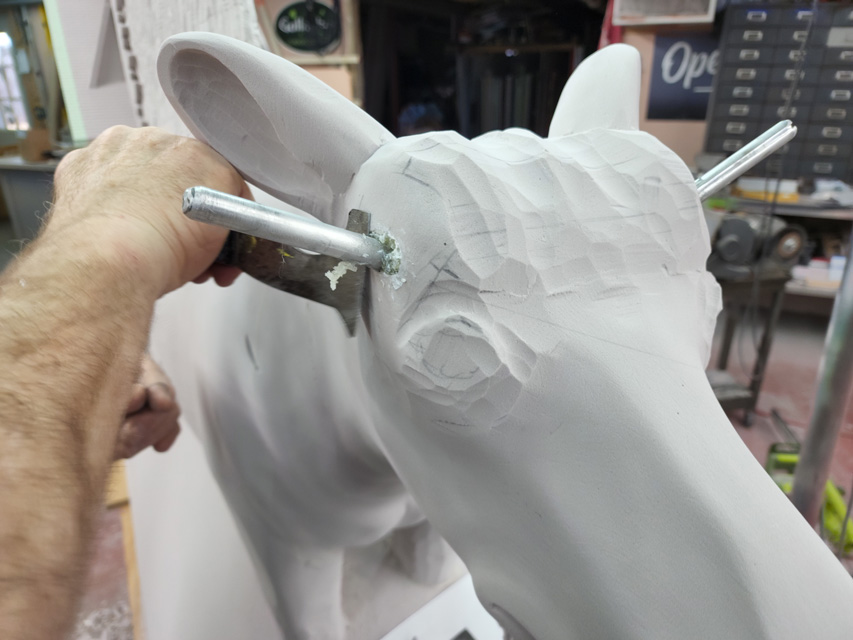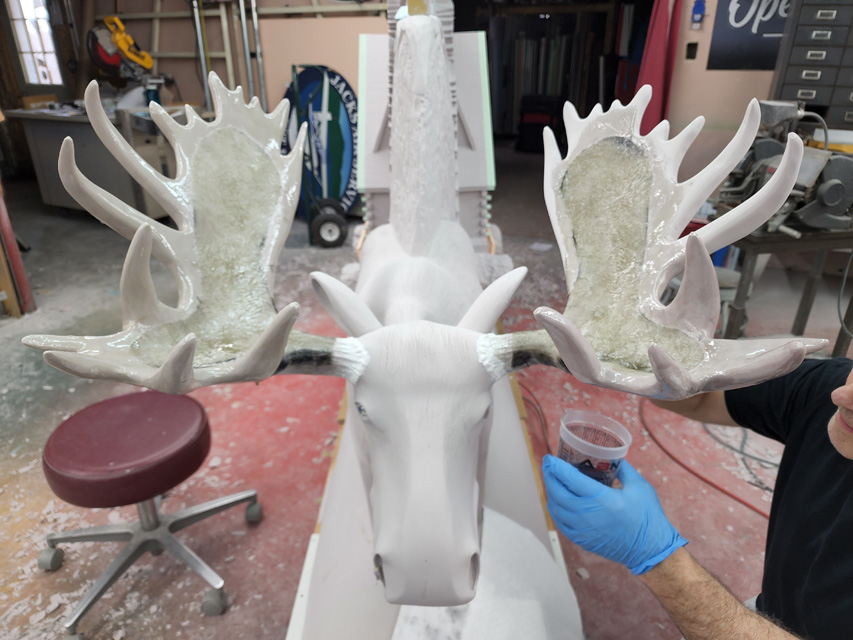 Another challenge was creating and securing the T6 aluminum reeds and stems to the sign. "Wind in the Moosehead Lake area can be quite strong, so we ended up welding the reeds together and attaching them with Extreme Gorilla Glue, as well as some mechanical fasteners, to connect the hand-carved HDU cattails," says Tom.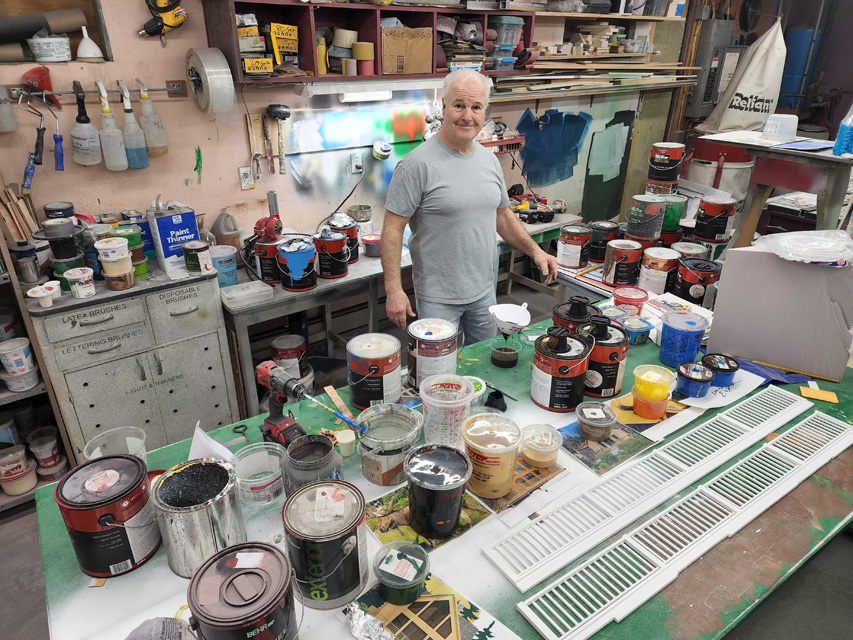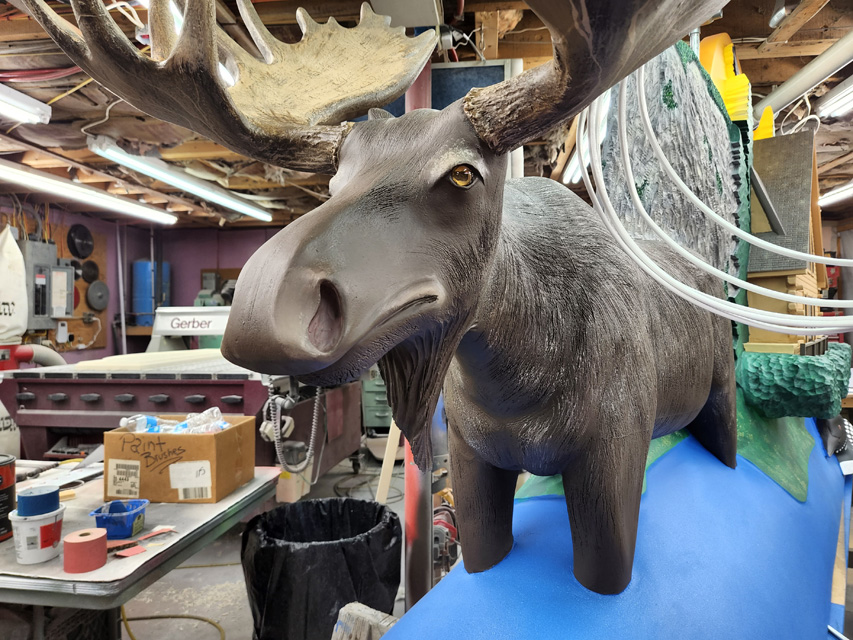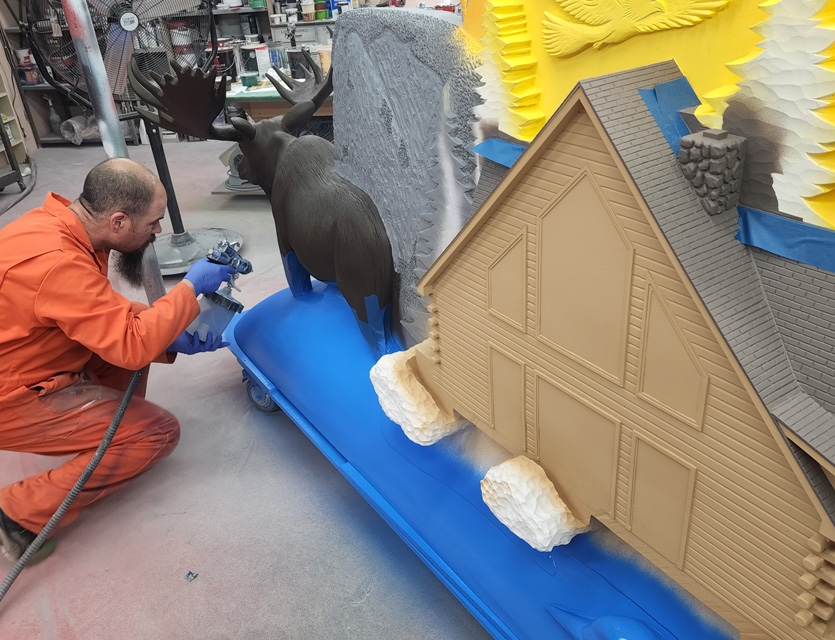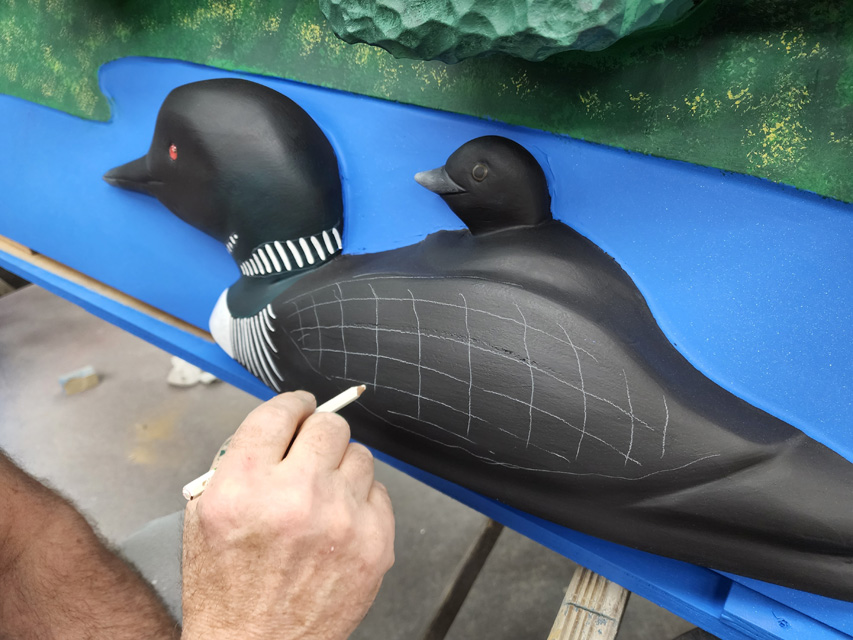 Following the sign's creation, the Moosehead Signs team turned their attention to the installation process. In fact, there were two signs installed—one at the lumberyard's main gate and one by the main road.
This meant that the last challenge for the Stades was figuring out how to lift both signs for transport and installation.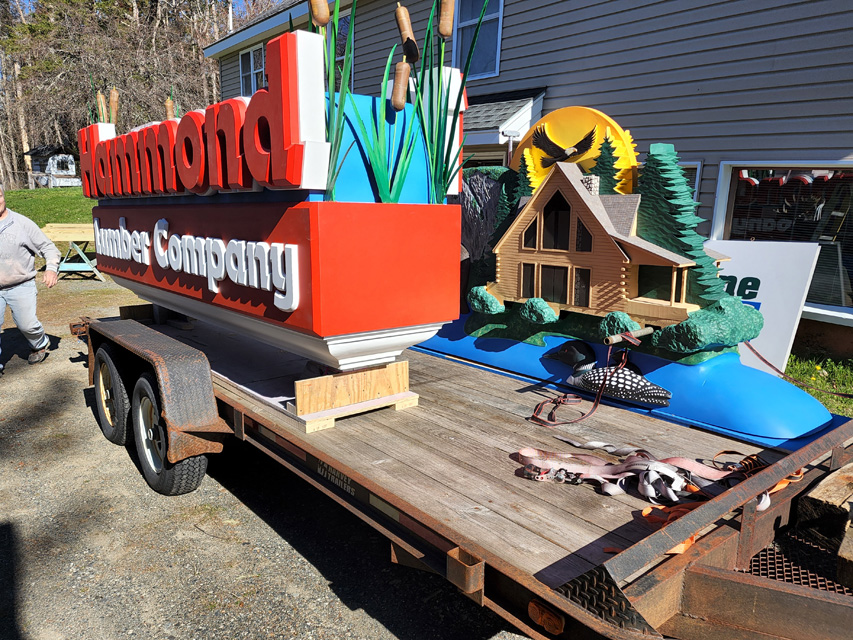 "At the lumberyard's main gate, for the installation, we used a logging truck with a grappler hook along with an aerial work platform," explains Tom. "The sign was bolted to the existing posts.
"For the main road sign, we had the log truck with a scissor lift. This sign was made with a cage inside the framework to just slip down onto the existing posts and the second (top piece) sat on top using pre-embedded one-and-a-half-inch steel pipe that slipped into a pre-drilled hole on the top section, in order to align the two pieces properly. We secured it with Gorilla Glue construction adhesive."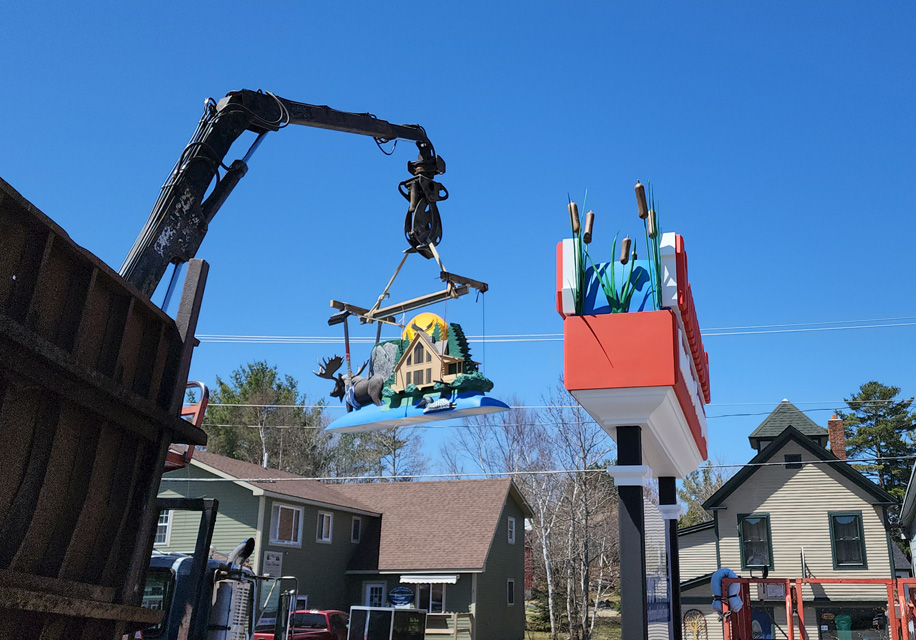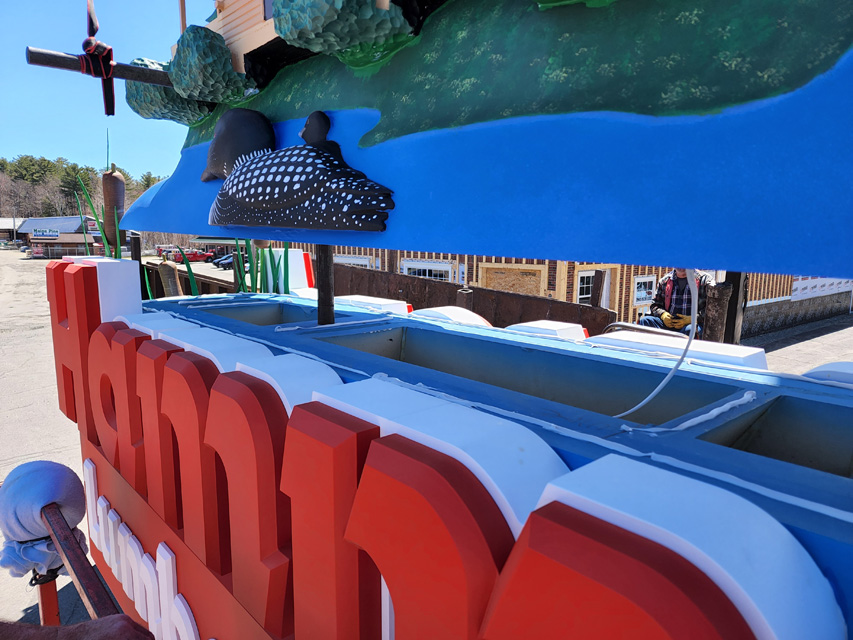 According to Tom, "Overall we like the challenges, and hand carving is always enjoyable for us."
A Natural Iconic Sign
In addition to helping further build the Hammond Lumber brand in the area, the sign also celebrates the region's highlights and beauty.
"The response has been very positive, and we are thankful for the compliments," says Tom. "The customer told us, 'I think the sign will become iconic for Greenville.'"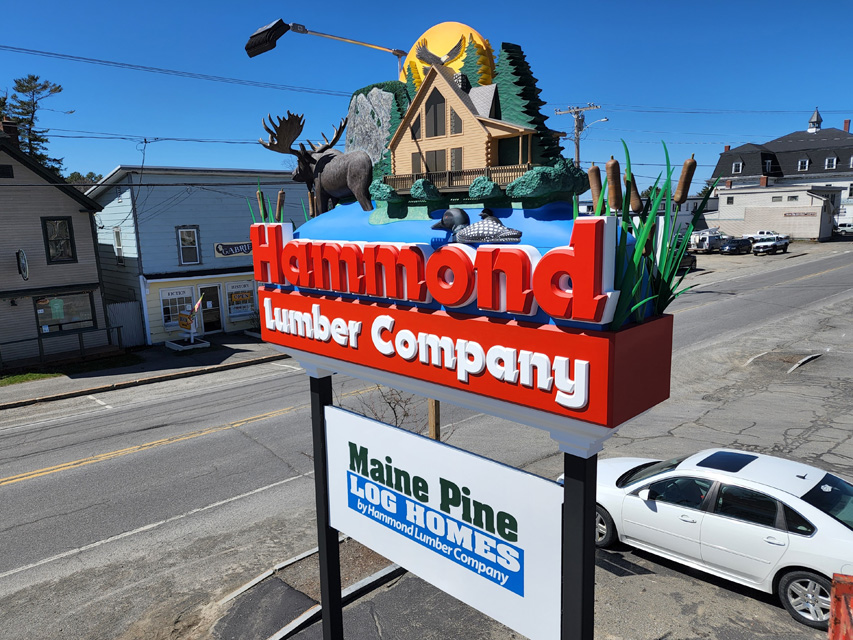 —Maura Keller
The post Lumbering: A Sign Design Sculpt appeared first on Sign Builder Illustrated, The How-To Sign Industry Magazine.
Published first here: https://www.signshop.com/dimensional/monumentspylons/lumbering-a-sign-design-sculpt/