Spotlight Outdoor Ads, an enterprising leader in the outdoor advertising and out-of-home (OOH) advertising industries, announced a partnership with North America's largest licensed sports retailer, LIDS to showcase the first and only digital screen to consistently and actively play 3D content on the iconic Las Vegas Strip. Eye-catching ads for the world-famous Cirque du Soleil Entertainment Group shows mark the debut of what's being dubbed, "The Digital Spectacular."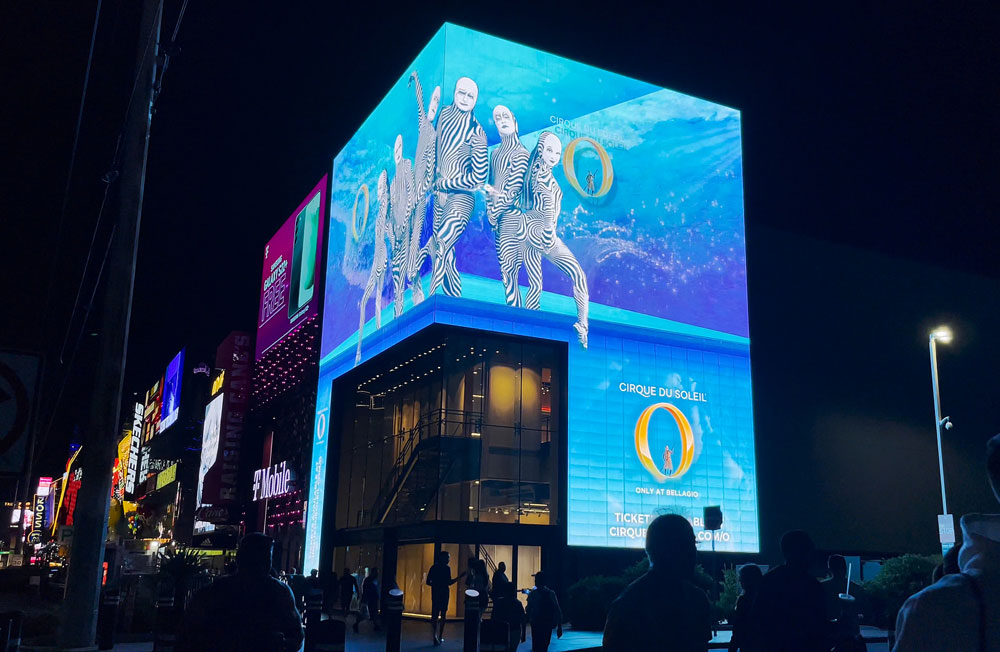 Spotlight Outdoor Ads and LIDS have entered a five-year exclusive partnership to showcase a variety of brands on the Digital Spectacular at the LIDS store prominently located on 3791 South Las Vegas Boulevard. As the first client to advertise on the Digital Spectacular 3D billboard on the Strip, Cirque du Soleil has the benefit of utilizing the massive screen (measuring 90-feet long and 68-feet high on one side of the building, 62-feet high on the other), a rare Digital Out of Home (DOOH) layout to leverage 3D and forced perspective designs, a total of 10 spots on the rotation with 511,623 impressions per week per spot, and striking 3D graphics to tout its renown shows.
"We're thrilled to partner with LIDS on this one-of-a-kind digital asset on the Las Vegas Strip," said Jeremie Watkins, president, Spotlight Outdoor Ads. "The sheer size, revolutionary 3D graphics, and location make the content stand out from the hustle and bustle on the Las Vegas Strip. Not only is the proximity to T-Mobile Arena and Allegiant Stadium attractive to brands looking to break through on the Strip, but the creative opportunities are endless – we can't wait to see other high-profile brands take advantage of the Digital Spectacular, a truly unique advertising experience."
LIDS offers officially licensed and branded headwear and apparel for collegiate sports teams, major professional sports teams, as well as fashion-oriented gear in the latest styles and colors. LIDS has multiple locations on the Las Vegas Strip, as well as throughout the greater Las Vegas area.
"We're excited to partner with Spotlight Outdoor Ads in presenting the Digital Spectacular to the Las Vegas Strip," said Michael Curmi, Vice President of Marketing for LIDS. "We look forward to working with additional upscale brands interested in telling their visually compelling story on one of the best digital advertising locations in the country. It's hard to imagine a better location for anyone looking to get their message out to the Las Vegas community."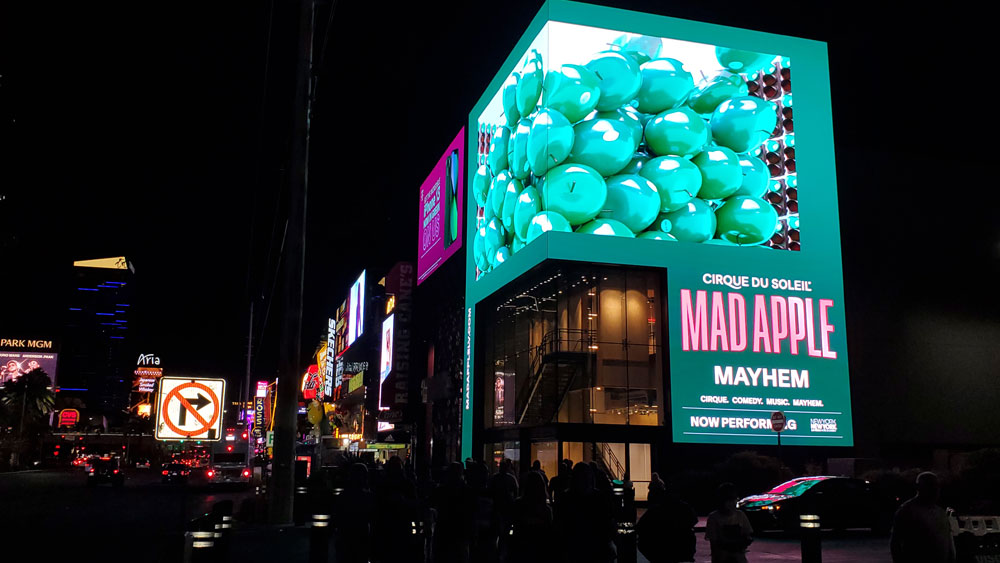 Cirque du Soleil, a global leader in live entertainment, is known for its innovation on stage and in its approach to finding unique advertising opportunities. With this new platform to exhibit striking images from Mystère, "O", KÀ, Michael Jackson ONE, Mad Apple, and Blue Man Group, Cirque du Soleil has redefined how captivating its content can be.
QUICK FACTS ON SPOTLIGHT OUTDOOR ADS
The Digital Spectacular running the Cirque du Soleil ads garners 3,511,623 impressions per week, per spot with a total of 10 spots in rotation
Spotlight Outdoor now has six large format digital marquee locations (a total of 16 screens) on the Las Vegas Strip from LIDS at the MGM Grand to Harrah's on the Strip
Spotlight has 14 "Touchdown Towers" column wrap digital screens and more than 180 casino floor screens, accumulating more than 61,000,000 impressions weekly
Spotlight Outdoor possesses the most screens of all OOH media companies
The post Introducing the Las Vegas Strip's Most 3D Capable Screen appeared first on Sign Builder Illustrated, The How-To Sign Industry Magazine.
Published first here: https://www.signshop.com/lighting-electric/digital-signage/introducing-the-las-vegas-strips-most-3d-capable-screen/