The Academic Advisory Council for Signage Research and Education (AACSRE, Cincinnati) has recently published a new issue of the Interdisciplinary Journal of Signage and Wayfinding (IJSW).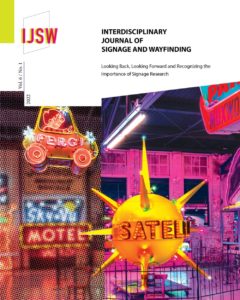 IJSA Vol. 6 No. 1
The official publication of AACSRE and founded in 2016, IJSW is published in the spring and fall. The latest issue, Vol. 6 No. 1, celebrates the journal's sixth year by "Looking Back, Looking Forward and Recognizing the Importance of Signage Research," according to information provided by the board and editors.
The contents include an interview with and articles on Jim and Sharon Weinel, founders of Gemini Inc. (Cannon Falls, MN), an article on a university-based interdisciplinary signage research organization, a review of a book on vintage signs, many outstanding images and an article on the American Sign Museum (Cincinnati) and more.
Edited by several faculty members from the University of Cincinnati's College of Design, Architecture, Art, and Planning (DAAP), IJSW is a peer-reviewed, interdisciplinary journal that disseminates current and ongoing research in the fields of signage and wayfinding — also according to the board and editors.
Works published in IJSW further current knowledge and practice across disciplines concerned about the influences of signage and wayfinding on viewer behavior, and impacts on and perceptions of the built environment. The IJSW is committed to the sharing and dissemination of signage and wayfinding research, such that all issues are available digitally without charge here.
Click here to read IJSW Vol. 6 No. 1.
The post New Issue of Signage and Wayfinding Journal Available appeared first on Signs of the Times.
Published first here: https://signsofthetimes.com/new-issue-of-signage-and-wayfinding-journal-available/