AFTER A MULTI-YEAR tradeshow hiatus, the past 12 months have ushered in a banner year for new digital printers. At the ISA International Sign Expo in May and the FESPA Global Print Expo which just ended in early June, manufacturers introduced a number of new models. The common goal, according to the OEMs, is to create new growth opportunities for signmakers, combining inspiring applications using innovative technologies at faster speeds with more eco-friendly inks.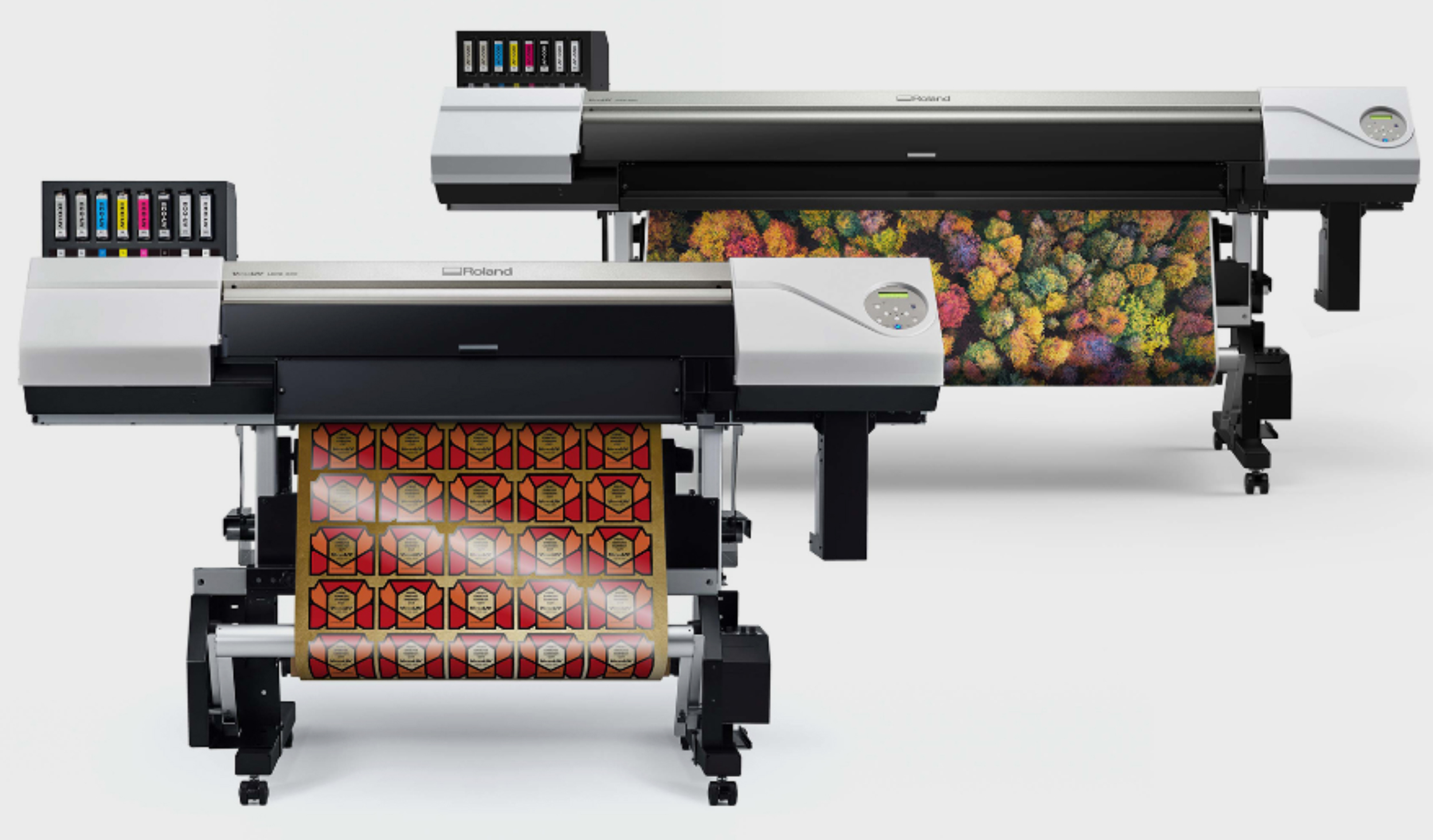 ROLAND DGA
VersaUV LEC2-640 (back right) and LEC2-330 UV LED (front left) printers/cutters
"The common goal, according to the OEMs, is to create new growth opportunities for signmakers, combining inspiring applications using innovative technologies at faster speeds with more eco-friendly inks."
What's Up with UV?
In October 2021, Direct Color Systems launched its UV53-DTS medium format UV LED flatbed printer measuring 5 x 3 ft. Guided by DCS patented technology, it produces signs including ADA-compliant/Braille signage. The UV53-DTS also offers the production of 3D prints using its Textur3D system. Print resolutions up to 1,200 dpi are available with multiple uni- and bi-directional options. This model offers fully adjustable heights to accommodate substrates up to 4 in. thick.
MIMAKI USA
JFX600-2513 UV LED flatbed printer
Increasing the speed, quality and productivity, Mimaki USA introduced the Mimaki JFX600-2513 UV LED flatbed printer in October 2021 as the fastest model in its JFX Series. With 16 print-heads, the JFX600-2513 offers print speeds up to 2,152 sq. ft./hr., the equivalent of up to 67 boards per hour. Its print area measures 98.43 x 51.18 in. for substrates up to 2.36 in. thick. Operators can perform machine, job and maintenance control via the Mimaki Print Controller. For those concerned about the environment, this large-format printer is an eco-friendlier machine, dispensing low-VOC, GREENGUARD Gold-certified UV-LED inks.
Last summer, MUTOH America launched two UV LED printers: the VJ-1638UH Mark II and VJ-1638UR Mark II. To provide fully realized gradients, realistic skin tones and vivid colors, Mutoh has incorporated VerteLith — its new RIP software — along with i-WeaveUVEX 2 Intelligent Interweave print technology, Mutoh Clear Tone half-tone technology, Mutoh CMYK wide color gamut ICC profile, and auto-generation of Pantone coated/uncoated spot colors. Both printers are equipped with staggered dual printheads with UV LED lamps on both sides. The pair also uses Mutoh UV LED inks, which allow printing on transparent/colored media with a six-color CMYK+white+varnish configuration. The VJ-1638UH Mark II hybrid model prints on rigid substrates and roll media while the VJ-1638UR Mark II prints on roll media only.
ROLAND DGA
VersaUV LEC2 640S UV flatbed printer
Signmakers often seek versatile machines that can print on both flexible and rigid materials for sign and display applications. In September 2021, Roland DGA launched a new VersaUV LEC2 S-Series UV flatbed printer to maximize that customization. Available in 64- and 30-in. widths, both VersaUV LEC2 sizes handle media up to 7.87 in. high, and are sturdy enough to support up to 2,373 lbs. Distance Print Mode maximizes print consistency on flat, irregular or curved objects. Roland also asserts the machines will provide differentiated profit opportunities, shorter time-to-market capability and cost savings.
Recently at FESPA 2022 in Berlin, Fujifilm unveiled its Acuity Prime L LED UV flatbed printer, which will be commercially available later this year. This addition to the Acuity Prime series offers a maximum print area of 125.98 x 78.74 in., a print speed of 2,174.31 sq. ft./hr., six vacuum zones and 16 media location pins, as well as the ability to print side-by-side jobs with its dual-zone function. The series' Uvijet HM ink system facilitates adhesion to a broad range of substrates while producing a wide color gamut. A new jettable primer further improves adhesion for particularly challenging substrates, eliminating the need for the offline pre-treatment of substrates before printing.
A surprise at FESPA was swissQprint's introduction of the Kudu 10.5 x 6.56-ft. UV LED flatbed printer. This high-end model stands on a newly designed mechanical foundation and operates using the latest linear drives for precise droplet placement at high speeds. Offering a maximum productivity of 3,229.17 sq. ft./hr., an addressable resolution of up to 1,350 dpi, and ​​an expandable roll-to-roll option, it's the manufacturer's first model to feature 10 color channels. The newly developed GREENGUARD-certified ink is available in CMYK, light cyan, light magenta, light black, white, effect varnish and primer, as well as the spot colors orange, neon yellow and pink (a swissQprint exclusive).
AGFA
Avinci CX3200 dye-sublimation textile printer
To Dye-Sub For
For signmakers who want to produce vibrant soft (polyester fabric) signage, Agfa recently debuted its Avinci CX3200 dye-sublimation textile printer in North America. Suitable for direct and transfer printing applications with a maximum speed of 2,906 sq. ft./hr., this model is designed to produce soft signage such as banners, flags, wall graphics, POS and tradeshow displays with rich blacks and vibrant color output. It prints directly onto a wide range of polyester-based fabrics for applications that require fast handling and print-through — as well as on transfer paper, resulting in sharp prints while eliminating set-off and minimizing media waste.
Last fall, Epson America unveiled its SureColor F570 Professional Edition 24-in. dye-sublimation printer. This desktop option caters to signmakers who want to create smaller signage and marketing materials in smaller work spaces. Using PrecisionCore printhead technology, the SureColor F570 features specialized transfer paper for both rigid and soft media, a 50-sheet auto-feed tray and built-in cutter, and two full sets of inks.
EPSON AMERICA
SureColor F570 Professional Edition dye-sublimation printer
Remain Eco-Solvent
This year, signmakers who require an eco-friendly printer for sensitive installations such as daycares, hospitals and schools can look forward to two new eco-solvent, roll-to-roll printers from Mutoh: the 54-in. XpertJet 1341SR Pro entry-level printer and the 64-in. XpertJet 1641SR Pro single-head, 4-color (CMYK) printer. Each has enhanced speed — Mutoh claims that the XpertJet 1341SR Pro is 42% faster than the previous model in a production 600 x 900 mode, while the XpertJet 1641SR Pro delivers high speed printing and increased productivity up to 200% over its predecessor.
Both are driven by VerteLith RIP software, i-screen technology and a new AccuFine printhead. The printhead achieves improved dot placement and accuracy with increased nozzle row length for higher productivity, while i-screen reduces banding to create smoother print images and optimizes the AccuFine printhead's capabilities.
The compact 54-in. Mutoh model uses MS31 eco-solvent inks in 220ml cartridges or 1,000ml ink bags with an optional adapter, while the 64-in. XpertJet 1641SR Pro uses MS41 eco-solvent inks in 300ml or 1000ml ink bags with an adapter. Naturally, these inks are certified UL GREENGUARD Gold.
EFI
VUTEk h5 superwide-format hybrid inkjet printer
Fly Inkjet
Inkjet digital printers continue to be of significant interest for signmakers. At FESPA in Berlin, Electronics for Imaging (EFI) announced the Nozomi 18000+ LED single-pass 71-in.-wide inkjet printer for POS and display graphics (also see page 16). EFI claims that this new printer offers throughput speeds three to five times faster than scanning inkjet printers for display graphics production. Printing on paper and corrugated plastic, the Nozomi 18000+ runs at production speeds from 9,842.52 to 16,404.2 sq. ft./hr., or up to 1,000 3.94 x 4.59-ft. sheets per hour. Its EFI Fiery NZ-1000 digital front end (DFE) delivers highly accurate color management.
The printer handles sheets from 0.3 to .47 in. thick with either manual or full-automation feeding and stacking. A hybrid aqueous/UV primer unit on the print system enables printing on corrugated plastics and other sign and display materials without ink adhesion issues, and an optional post UV coater provides weatherability and UV protection for outdoor graphics.
ROLAND DGA
TrueVIS VG3-640 (back left) and SG3-540 (front right) large format inkjet printers/cutters
At May's ISA Sign Expo in Atlanta, Roland DGA offered a first look at its third-generation TrueVIS VG3 and SG3 wide format printer/cutter inkjet models. Answering sign and graphics professionals' requests, Roland added more automated features and color choices. These models now have a 7-in. LCD touch-panel control, auto calibration, and other intuitive, automated tools; expanded gamut and output color with smoother color transitions; and four FlexFire printheads for accurate, on-color and on-brand custom graphics.
The new Mutoh ValueJet 1628MH 64-in. hybrid printer, which replaces Mutoh's VJ-1627MH, was introduced to the market in February 2022 to provide users with vibrant output, smoother gradations and a wide color gamut using Mutoh's VerteLith RIP software. Signmakers required to print on a variety of substrates will find the VJ-1628MH versatile enough for roll or rigid media printing, using MP31 multipurpose inks in up to eight colors, including CMYKx2 and CMYKWhWh. This machine outputs packaging prototypes, indoor/outdoor signage, banners, posters and thermoforming prints with high heat and stretch tolerance, and produces a smooth and natural finish, preserving the texture of the print substrates.
MIMAKI USA
TS330-1600 sublimation transfer inkjet printer
Mimaki USA bolstered its array of inkjet digital printers for signage this past spring with a number of new printer models. The TS330-1600 is a sublimation transfer inkjet printer with a new printing technology known as Mimaki Weaving Dot Technology, (MWDT), which changes the order of ink droplet placement depending on printing conditions. Mimaki claims that this new technology suppresses the unexpected occurrence of streaks or uneven printing caused by slight individual differences in the printhead or subtle deviations in adjustment. Mimaki has boosted its speed in draft mode by 138% compared to its conventional models.
MIMAKI USA
CJV330-160 print-and-cut eco-solvent inkjet printer
MWDT is also incorporated in the two new flagship models in the Mimaki 330 series: the JV330-130/-160 and CJV330-130/-160. The series features a new input profile, Deep Color Natural, which helps signmakers reproduce vivid solid color expression, natural gray tone and natural skin tone.
Durst is giving signmakers greater width and additional productivity with two new digital printers. At FESPA 2022, the Durst P5 500 was introduced with a width of 17.22 ft. In addition to CMYK, another four color channels are available — for example, for light colors (C, M, K), white or varnish. To help signmakers with roll support for loading and changing media, the P5 500 allows rolls to be processed in single, dual and triple mode — even asymmetrically in dual mode. Double-sided printing is achieved via exact front and back registration. The first P5 500 printing systems are scheduled for delivery in the last quarter of 2022.
Test Drive a Hybrid
Fujifilm submitted a new entry into the high-end wide format hybrid inkjet digital printer market at FESPA 2022 with the new Acuity Ultra Hybrid LED, which prints on both rigid and flexible substrates and will be available this fall. The 10.83-ft. high-end printer offers print speeds up to 715.22 sq. ft./hr. (roll-to-roll) and delivers a print resolution of up to 1,200 x 1,200 dpi.
So, the wait is over. ISA and FESPA expo attendees have seen the new wide range of printers of all varieties first hand, had a chance to kick the tires and can now come to a decision. What'll it be for you?
PHOTO GALLERY
(14 IMAGES)
Advertisement
The post New Digital Printers Give Sign and Print Pros Plenty of Choices appeared first on Signs of the Times.
Published first here: https://signsofthetimes.com/new-digital-printers-give-sign-and-print-pros-plenty-of-choices/