By Ashley Bray
In June's issue, we ran a story on a sign project for 390 Golf ("Ace in the Hole"), which was completed by Alphagraphics in Wood Dale, Illinois.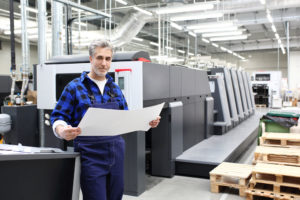 Alphagraphics Owner Jeff Bittner shared a lot of information about running a sign shop that we weren't able to fit into the article, so we're sharing it with you here!
COVID-19 Challenges
Like many other sign shops, Bittner found himself pivoting to bring in more business. The shop originally focused on small format, digital print work, but a move into signage with large format printing was a boon for his business. "It was our large format stuff that grew more and more throughout the course of COVID," he says. "That's probably what made sure we stayed in business at that point. It has been the piece of the puzzle that has been a giant shot for us."
Bittner says being able to say "yes" to every project versus turn a client away has also been a help. In fact, a new Colex Sharpcut Series Flatbed Cutter enabled the shop to take on more work. "I was the first Alphagraphics office franchise to put in a flatbed cutter without having a flatbed printer," he says. "We felt that we had enough business to warrant the opportunity, so we took advantage of it." (Note: Alphagraphics installed a flatbed printer last summer.)
Alphagraphics originally cut work on the shop's marquee plotter. With the new flatbed cutter, a job that previously took forty-five minutes now takes about four minutes to cut and finish. The new cutter also enables more of the material to be utilized, which eliminates waste.
"Now we're using almost all the material, and we're cutting it ten times faster than we were before," says Bittner. "We were able to do so many more projects for [a particular] client, and they took advantage of it the moment they saw that we could do it, and we kept selling more."
Supply Chain Scramble
The specter of supply chain woes has continued to plague businesses. Bittner says the scarcity of certain items like banner material and foam core have caused problems and delays, but the solution is in building relationships. "Having good relationships and loyalty to vendors is such a huge piece of the puzzle right now," says Bittner. "We try to ask our clients to be loyal to us, so we try to be loyal to our vendors."
Bittner says that, even though most clients understand the global supply chain issues happening, he is still careful to under-promise and over-deliver. "No one's ever angry that you're ready early," he says, "but people are very rarely happy that you're late. So we try to manage that side of it and build ourselves a cushion."
Managing Expectations
COVID challenges and supply chain issues have led to a greater need to closely manage projects, timelines, and quality. Bittner says it's important to make sure you're on the same page as the client from the start of a job.
"Make sure you understand what it is that they want," says Bittner. "I know that sounds simple, but it's not always true because everyone's got a vision in their own head of what something is, and if they're not able to articulate that, you end up with hiccups."
Bittner also stresses the importance of managing customer expectations throughout a project—especially when changes are made, which can affect the timeline and budget. "Communication is key. If you communicate with them, they understand what's going on and there are no surprises," he says. "We're pretty conscientious about getting people to sign off and making sure we all understand exactly what [the project] is going to be."
Bittner and Alphagraphics even share progress photos and video and invite clients into the shop to see the signs being made. "I love sharing photos and videos of stuff as we're manufacturing it," he says. "It's fun to get them excited about it and have them feel like they're part of it."
The post 3 Shop Management Challenges appeared first on Sign Builder Illustrated, The How-To Sign Industry Magazine.
Published first here: https://www.signshop.com/business-mgmt/sales-a-marketing/make-sure-youre-managing/