EVERYONE HAS A FAVORITE piece of signmaking equipment or tool — the machine that never quits, the one you push to the limit every single day but always get great results from, the wondrous work surface, the handheld instrument that feels like an extension of yourself…
Recently, we asked the Signs of the Times Brain Squad to share their most favorite equipment or tools — as well as why — and the following 39 tributes that follow express the high esteem in which those favs are held.
"We have a ShopSabre router that is as close to an unattended machine as you can find."
"Just Can't Choose"
A mix of equipment and/or tools
John Johnson
My favorite pieces of equipment are the two MultiCam router tables that run all day, every day. They are reliable and easy to maintain. The Wilkie sign trucks we use are my next favorite pieces of equipment. The cranes are simple and do not break down. The only problem is that they are mounted to Ford chassis! Next time we will have them put on a Peterbilt or something with a Cummins diesel. — John Johnson, A-Plus Signs Inc., Fresno, CA
We have a ShopSabre router that is as close to an unattended machine as you can find. I also like the Spike measuring tool that works with my iPhone camera. Great for quoting jobs without sending a truck to get measurements. — Jasper Burton, Cuerden Sign Co., Conway, AR
Roland TruVIS VG-540 is a workhorse printer with really low maintenance requirements; as long as you keep it clean, it will run flawlessly all the time. Graphtec plotter — best on the market — cuts very fine detail. — Chad Lawson, Sign Pro of Skagit Valley, Mount Vernon, WA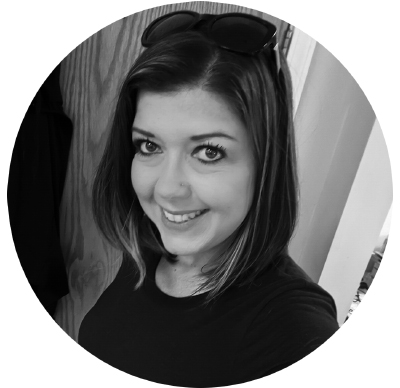 Lannette Ring
I love YelloTools! I mean, hello, the tools are made by signmakers! They really do make the job a whole lot easier and they are super durable. MUTOH printer: love it! The colors are vibrant and on point in every print. I have had mine for five years and am looking to add another. ROLLSROLLER application table … game changer! I wish I would've bought it sooner. If I had a larger shop I'd get a larger table. We use it for masking, applying vinyl to substrates and laminating. — Lannette Ring, Signs & Designs by AFS, Colfax, WA
From big to small: Our CWT Pro Cutter Platinum Work Table has been a total game changer; the application roller, the adjustable height and the light-up surface have all saved so much time and effort. A good Wagner heat gun or Bernzomatic propane torch is truly appreciated on a removal/install. Finally, the smallest, the ImageOne Impact Economy Liner Cut Tool makes installs efficient and protects the surface of vehicles from scratching. I especially love that when we first started using this tool, it was really only a gift wrapping/office supply thing; now I only see it used by signmakers. — Sean Hughes, Signarama Clinton Township, Clinton Township, MI
Elliott cranes … MultiCam routers … Computerized Cutters letter-making equipment … RAS folders … Lincoln Welders … Mimaki printers/plotters. — Harold Pedley, Sign Engineering, Guaynabo, PR
Rollsroller/CWT Roller tables. Incredibly useful tool for applying sheet adhesive, large vinyl graphics and pre-mask to substrates. These tables, while expensive, have a less-than-two-year return on investment. Snap Togglers. The inventor should win the Nobel Prize. Incredibly strong and easy-to-use fasteners for mounting signage to sheetrock walls. Self-tapping screws. Another Nobel Prize winner. Especially useful for installations of signs and awnings made of aluminum. — Vince Cvijanovic, Graphic Components, Greensboro, NC
DMS Freedom Router: One of the best pieces of equipment I have ever bought. Bulletproof and great support. Computerized Cutters' Accu-Bend. Another great piece of equipment. Easy way to make money. — Ben Phillips, Phillips Signs, Seaford, DE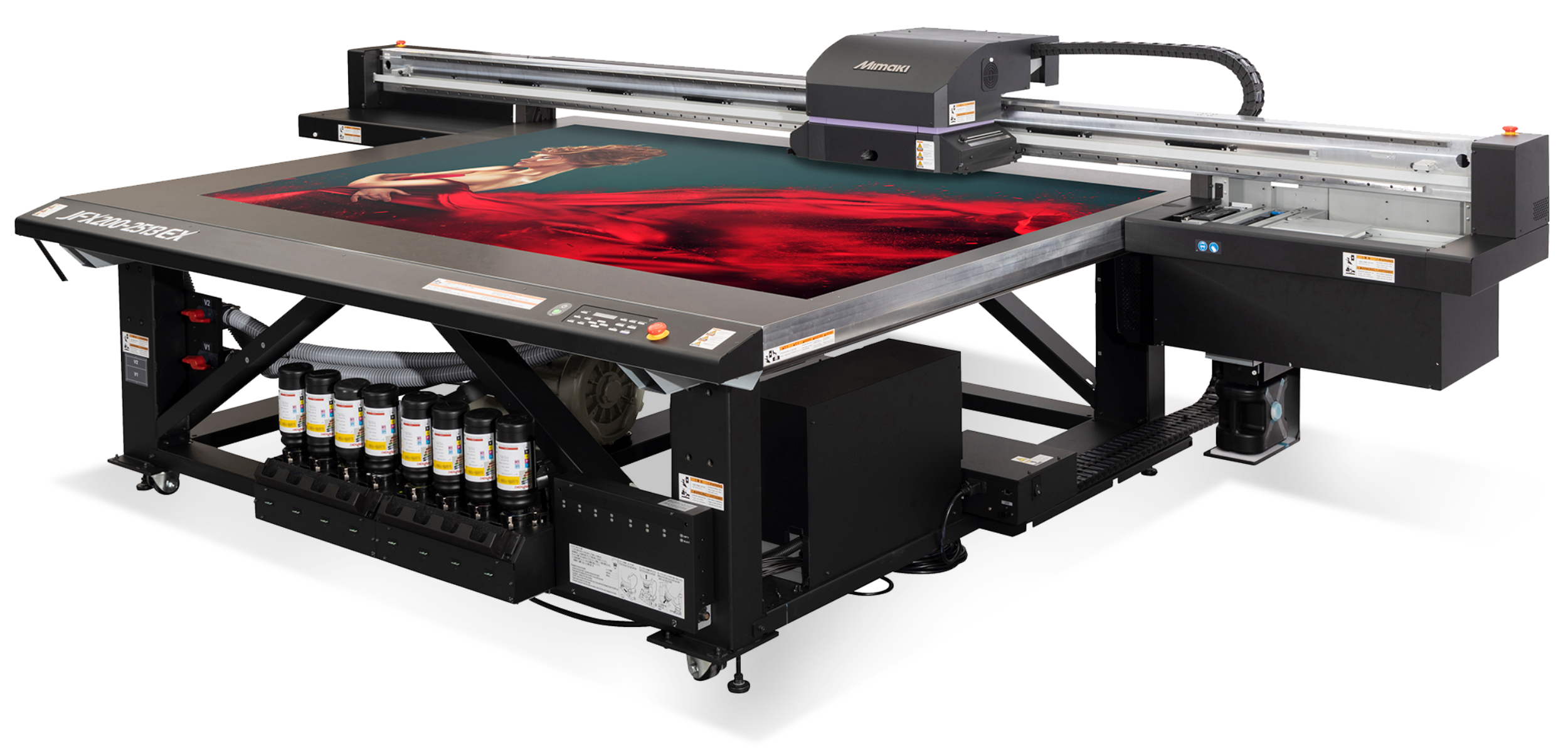 "Mimaki JFX200-2513 EX … This beauty has eliminated an incredible amount of manhours."
"Roland TrueVIS printer. Excellent color gamut."
"Stand by Me"
Machines that won't quit
My favorite tools in our shop are the ones that we have had the longest and just keep going. We have a Safety Speed wall saw from the '90s, a 20-year-old Mimaki plotter and a 15-year-old GBC Arctic Titan laminator. They have taken very few days off over the years and I am grateful for it! — Melvin La Pan, FASTSIGNS of Augusta, Augusta, GA
Shaper Origin Handheld CNC Router. I discovered this a full year before its release. I just felt that it was going to be one of the most advanced machines around. So I paid for one … again, a full year before it was shipped to me. And it paid for itself on one of the first jobs that I had for it. Still one of the coolest tools out there. I have had it for almost five years now. — Jeffrey Cross, Cross Signs, Seminole, FL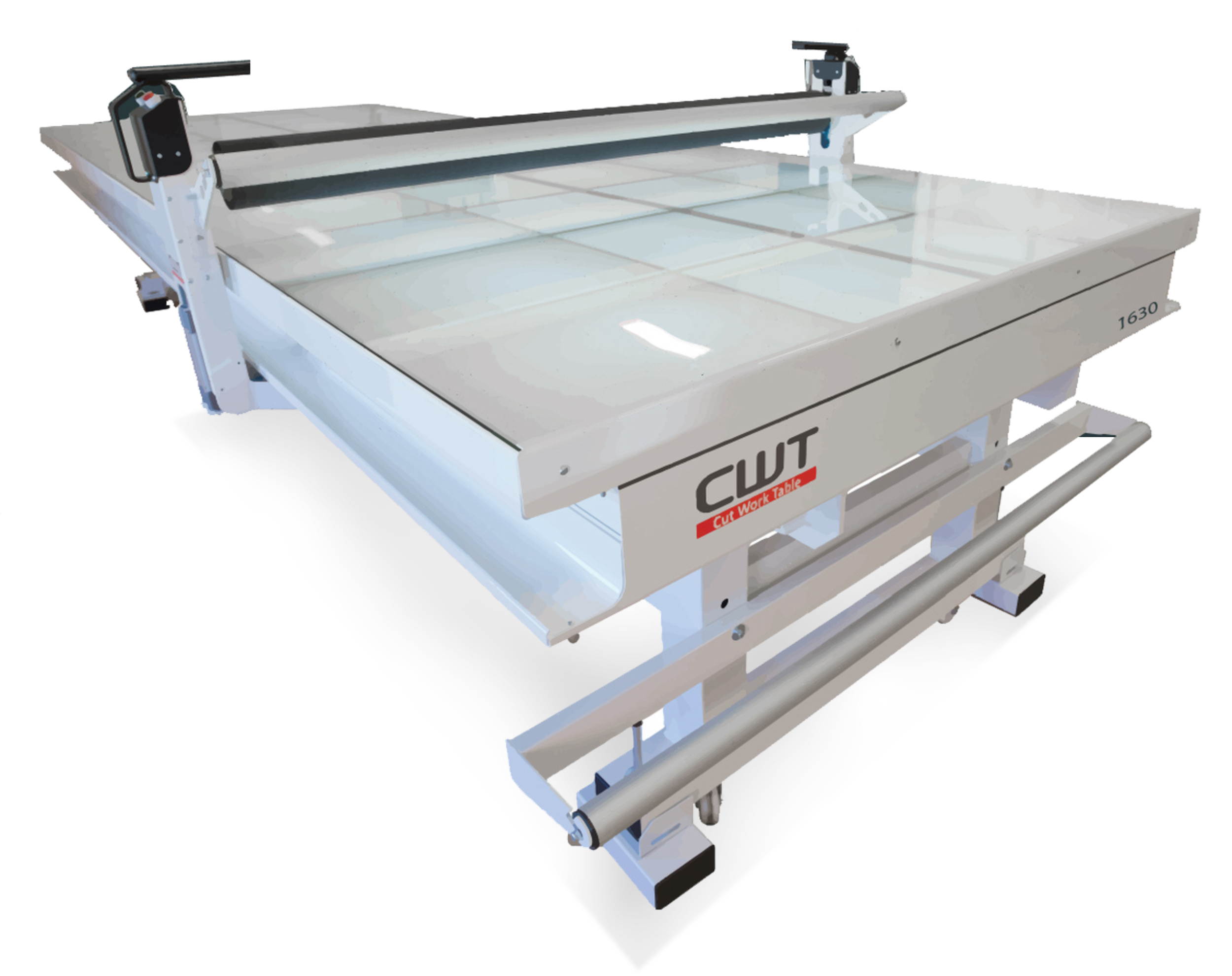 "CWT 1630 Regular Flatbed Work Table … cut our production time by leaps and bounds."
"R-E-S-P CNC"
Find out what routers mean to them
Peter Poanessa
My new ShopSabre CNC Router replaced a 20-year-old model and I am in love with it. Fast and quiet and great support from the company. — Peter Poanessa, Keene Signworx, Swanzey, NH
MultiCam CNC Router. Cuts aluminum and plastics like butter. — Frank Murch, Signs for San Diego, Oceanside, CA
ShopSabre Router. We recently purchased a new 5 x 10-ft. router from their team. The ordering process was great. The buying experience was hands-on and we have been thrilled with the outcome. — Spencer Coleman, Wasatch Back Signarama, Heber City, UT
Laguna CNC Router as it provides an opportunity to reduce COGS, design flexibility and product flexibility. — Mike Powell, Sign Solutions of Ohio, Lima, OH
ShopBot CNC Router. — Jean Shimp, Shimp Sign & Design, Jacksonville, FL
Shapeoko desktop router. This small 32 x 32-in. router table blows through ¾-in. Sintra, so it is perfect for a small shop that wants to fabricate their own letters. — Dennis Stanworth, Stanworth Signs, Nevada City, CA
"Apply Here"
Work tables
The ROLL-X PROFESSIONAL application table model 470/175 makes vinyl and masking applications a breeze, being a light table, easy on the eyes, with a 14 ft. x 65-in. work area, and the biggest benefit may be the mechanically adjustable height. That allows for people of different heights to work comfortably as well as adjusting the height for different types of work. — Tim Ward, Sign Solutions, Frederick, MD
We just purchased a CWT 1630 Regular Flatbed Work Table. This table has cut our production time down by leaps and bounds. One person can apply a 4 x 8-ft. print to a 4 x 8-ft. panel in three to four minutes. — Gary Gower, Jr., G&L's Sign Factory, Bethlehem, PA
Nonnie Luther
The Rollsroller made a big difference in our shop production. The guys love it and we use it different ways, not just for laying vinyl. — Nonnie Luther, Cadillac Sign Co., Norwood, NC
Rollover table — as it makes life easy for one signmaker to make signs fast! — Mike Volling, Georgetown Sign Co., Georgetown, TX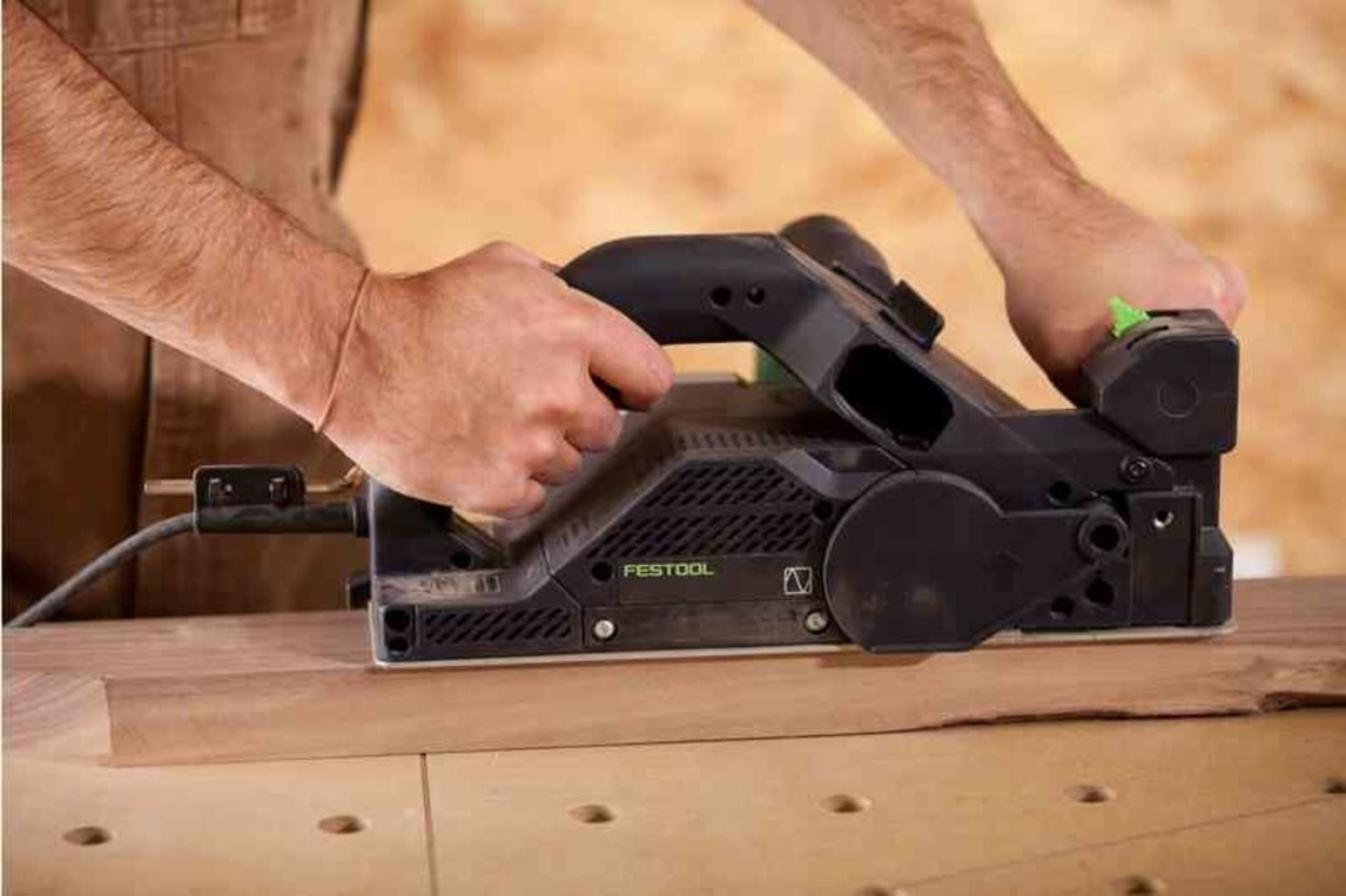 "Festool Planer. Amazing for putting wood together!"
"You're Irreplaceable"
Hand tools
My favorite signmaking tool is the Spike [laser measuring tool]. I love how easy it makes measuring buildings. With the Spike you can send out any staff member to measure a location and it takes only a few minutes. It eliminates the need for ladders or having one of your installers go out in a bucket truck to get you measurements. — Mieke Myrick, Front Range Signarama, Westminster, CO
Festool Planer. Amazing for putting wood together! Also, the Dynabrade DA sanding tool. — Jeremy Vanderkraats, Signs by Van, Salinas, CA
As a do-it-all small shop, there are two tools that are more useful than any others. It's hard to understate the versatility of the trusty butterfly-style Gerber multi-tool. This is not a production tool of the kind that you might use while processing vinyl, or assembling a finished wood frame; this is an efficiency tool. An unsung hero of the in-between-job-tasks class of tools (like breaking down boxes, or removing a stuck bit in the impact driver) that dramatically increases efficiency in a one- to two-person shop. — Jake Zani, Rule Signs & Graphics, Randolph, VT
X-ACTO knives. These are versatile tools in the shop. Whether you are working with vinyl or fabricating signs, there is always a use for the X-acto knife. I personally like the X-acto Cut All Lightweight model but there are many models to choose from and they all are useful. — Stephen Russ, Ortwein Sign Co., Chattanooga, TN
Felt squeegee. When I started applying vinyl, we used hard squeegees. The bubbles drove us crazy. Now with the introduction of soft squeegees, vinyl is smooth and bubble-free. — Earl Walker, Image360 Tucker, Tucker, GA
My "sign bucket" [not a truck] is my favorite tool. It is my most used equipment, a simple five-gallon bucket with a pocket sleeve. We keep it stocked with installation fluids, squeegees, blades and lots of little things that we always wind up needing on installs that I wouldn't have expected for a particular job. I "don't leave home without it." — Theresa Cross, Cross Custom Signs, Lampasas, TX
"Summa F1832 digital cutter: a maker's or creative's dream."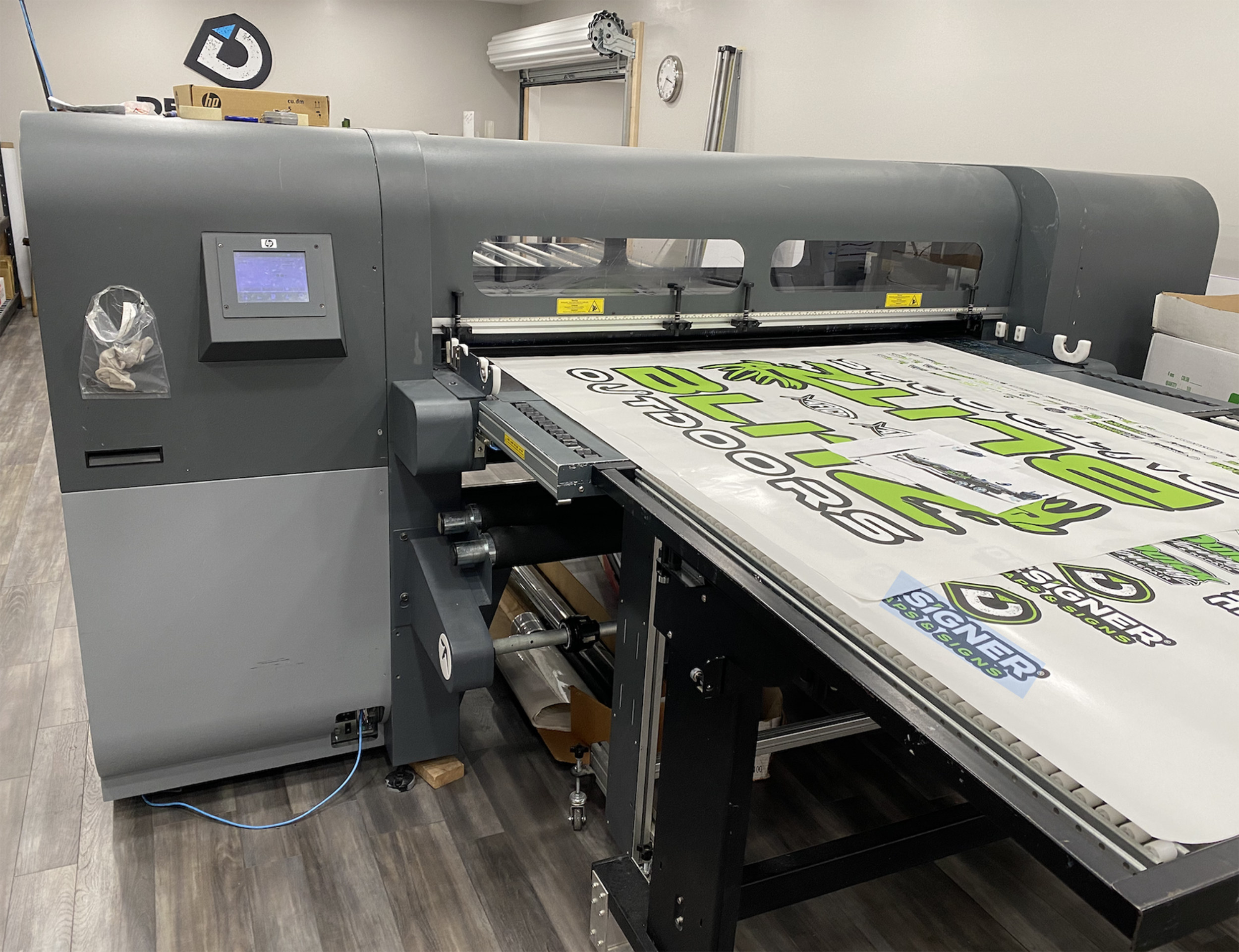 " HP Scitex FB500 printer. I love how versatile it is."
"Peanut Butter-Jelly Time"
Printers, cutters and combos
Favorite signmaking equipment by far is our grand format digital cutter. It's a maker's or creative's dream to produce a huge variety of different projects. The type we have is a Summa F1832. — Derek Atchley, Atchley Graphics, Columbus, OH
Roland TrueVIS printer. Excellent color gamut. — Rob Skelton, Fantastic Signs, New Smyrna Beach, FL
HP Scitex FB500 printer. I love how versatile it is using UV ink, which can print on just about anything, and having roll-to-roll capabilities. I know it's older tech, but we still love it. White ink is pretty awesome, too! — Sean Tomlin, Designer Wraps, Pitman, NJ
Mimaki JFX200-2513 EX wide format flatbed UV-LED printer. This beauty has eliminated an incredible amount of manhours to a typical 4 x 8-ft. panel sign. Prints in 20 minutes, laminates in 20 minutes … done! The old days of print … wait a day to cure, laminate, trim, apply to the panel … making sure there are no bubbles and it's straight …. are gone. — Geoff Orlick, Quality Designs Ltd., Campbell River, BC, Canada
Our DigiTech flatbed bed printers output 30-40 boards an hour nonstop. The ink sticks to everything from Coroplast to styrene to ACM and aluminum. Plus, ink costs are 20-30% below other printers we've run in the past. — Alan Olinger, Houston Sign Co., Houston
Roland's printer-cutter combo! Sweet! All in one functionality saves tons of time. We have a 54-in. and a 64-in. and they never give a minute's trouble! Wouldn't have anything else! — Michele Bortree, StoneTree Signs & Graphics, Asheboro, NC
Our 1-2 punch of the hybrid EFI Pro 16h LED Wide Format Printer and the Colex cutter behind it. — Pat Dacy, 3V Signs & Graphics, Torrance, CA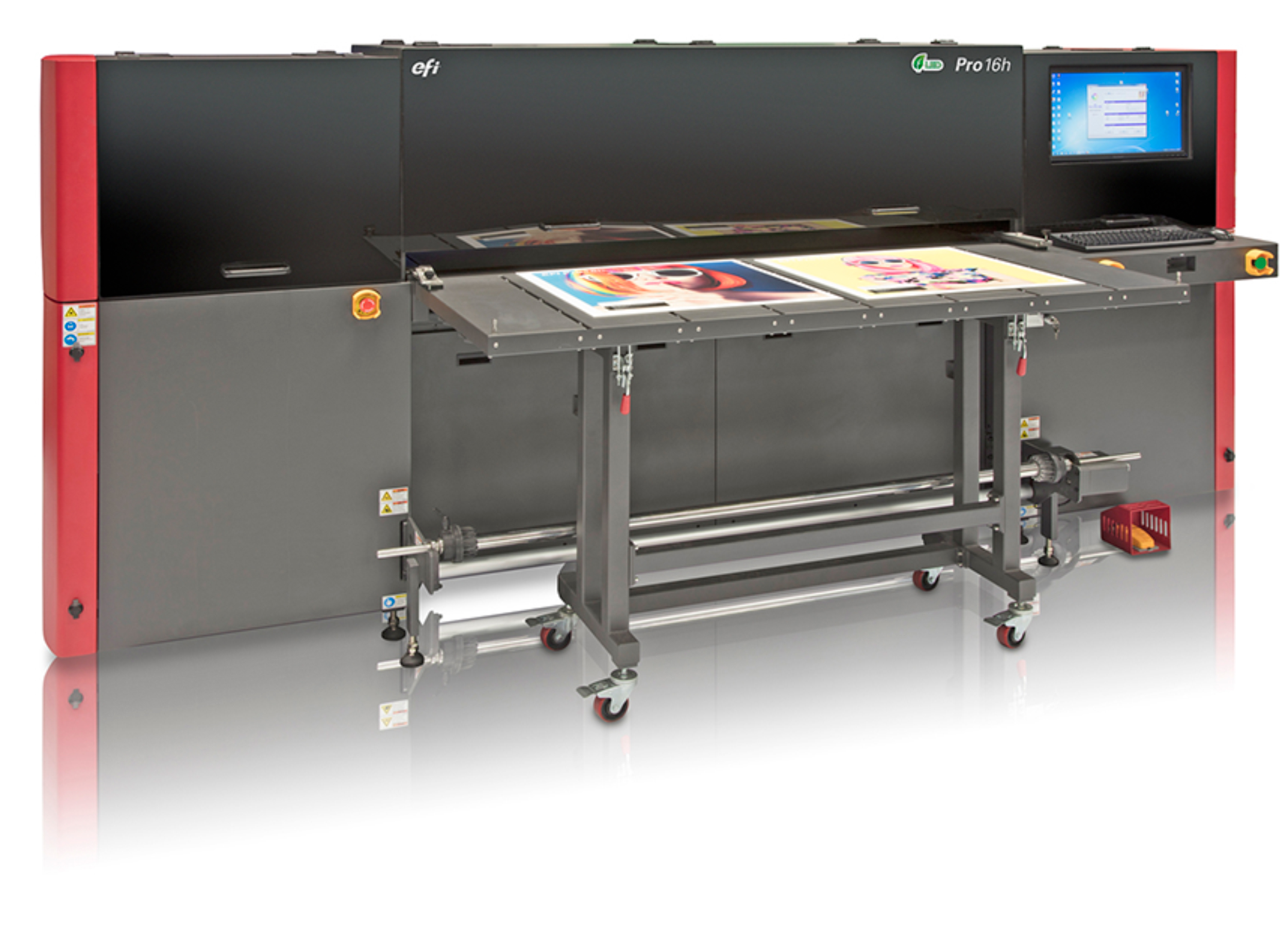 "EFI Pro 16h: part one of our 1-2 punch."
"Power to Create"
Software and design tools
SAi Flexi. Most designers work in Illustrator, but I find Flexi to be much faster and simplified in a way that is more suited to signmaking/designing. Sign Agent. Great for takeoffs, location plan and message schedules. — Corrie Lebens, Crown Signs Systems Inc., Mount Vernon, NY
FLEXI!!! — Jamie Potvin, Metro Sign & Awning, Tewksbury, MA
I'm a designer so my favorite tools are my Matthews Paint swatch book, my Pantone swatch book and the very large monitors that live on my desk. — Michael Johnson, Henry Graphics, Buford, GA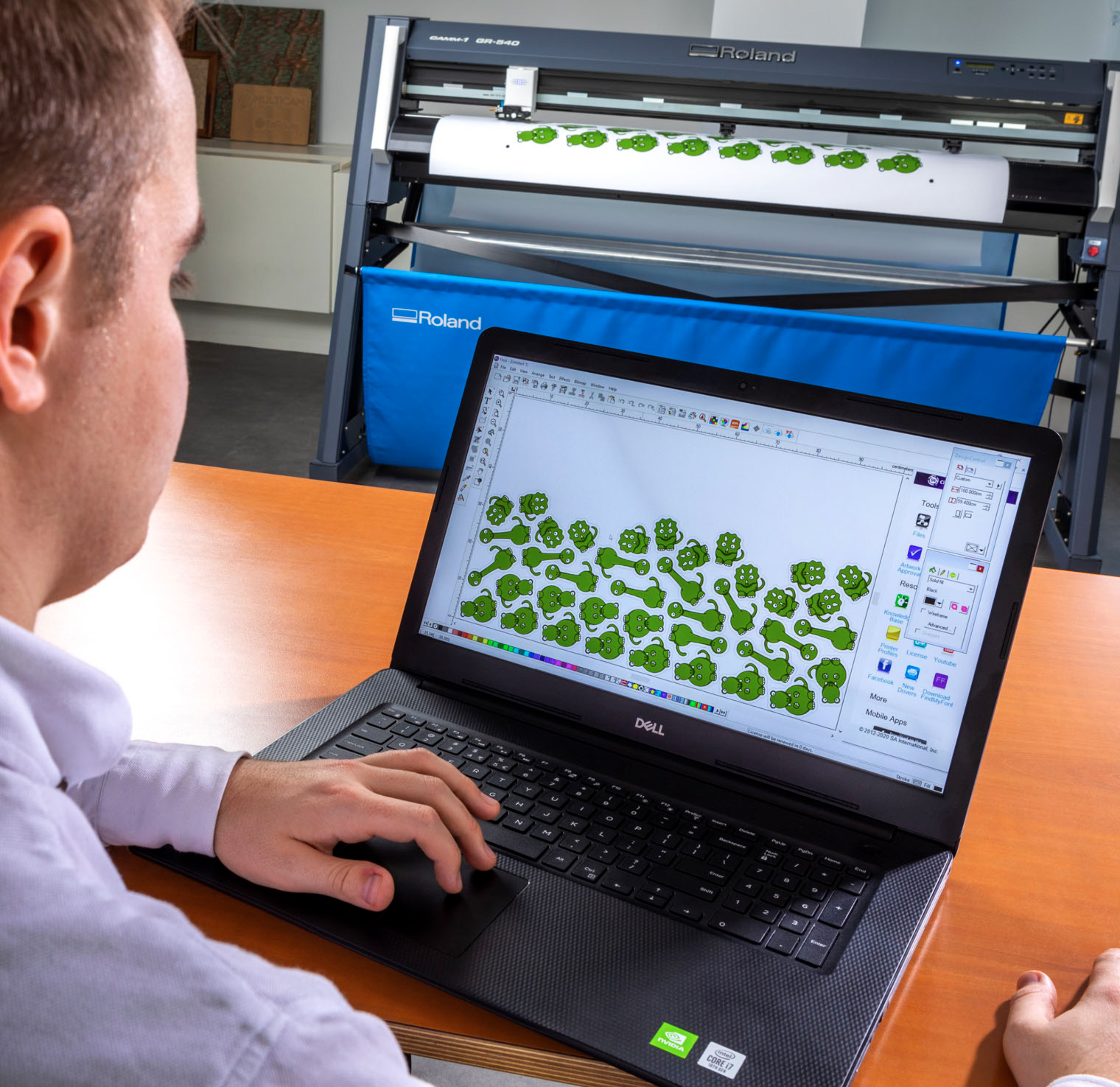 "SAi Flexi: faster and simplified to signmaking/designing."
"Get Bent"
Channel letter benders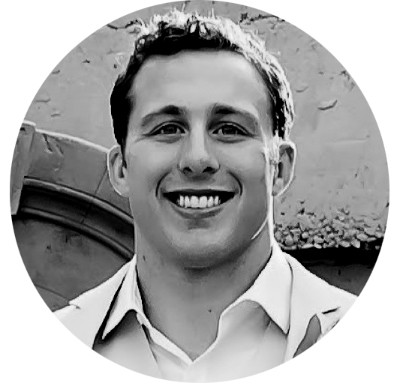 Louis DeSantis
CLN of South Florida Channel Letter Bender. Ever since investing in this machine years back, we have brought all channel letter making in house and … the CLN Channel Bender … has not only increased our production rate, but also our overall profit margins. — Louis DeSantis, Sign Shop Illuminated, Colorado Springs, CO
Anything CNC. Routers, channel letter machines, 3D printers, sheet metal brakes, etc. — accuracy, production levels, no workforce drama. — Adam Brown, Sign Effectz, Milwaukee
It's clear that sign pros love their favorite equipment and tools because they do things we can't, they do them faster and better, more accurately and more efficiently — but you already know the definitions for "equipment" and "tools." Still, it's important to bear in mind this closing thought, courtesy of Jake Zani from Rule Signs & Graphics: "Language is one of the most taken-for-granted tools humanity has ever invented (and also one of the oldest). No job or industry-specific tool or tool set can make up for a shortfall in communication," he writes. "Whether it be with customers, suppliers or employees — if you're not communicating effectively, you're setting yourself up for failure, disappointment and needlessly lost time."
What's the Brain Squad?
If you're the owner or top manager of a signage and graphics company in the US or Canada, you're invited to join the Signs of the Times Brain Squad. By taking one five-minute survey each month, you will receive access to some of the industry's freshest data on sales — including your fellow members' comments on what's selling and what isn't — and can make your voice heard on key issues affecting the sign industry. Sound good? Sign up here.
PHOTO GALLERY
(11 IMAGES)
Advertisement
The post Signmakers Name Their Favorite Tools and Equipment appeared first on Signs of the Times.
Published first here: https://signsofthetimes.com/signmakers-name-their-favorite-tools-and-equipment/