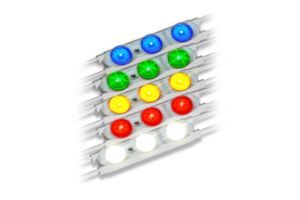 SloanLED's Prism12 lighting solution.
SloanLED (Ventura, CA) has launched SloanLED Prism12, an improved version of the company's premium 12V LED channel letter lighting solution. According to a statement from SloanLED, Prism12 delivers significant upgrades to the optics, installation time and overall performance.
Prism12 is suitable for channel letter and sign box applications 3-8 in. deep, with a new patented asymmetrical gradient micro-prism (ASGM) lens design for the "widest, most even spread of light and up to 25% wider stroke spacing" — per the company statement.
Top-tier LEDs deliver efficacy up to 135 lm/W and increased loading capacity up 20% over the previous generation. Prism12 also features double-sided perforated tape with SloanLED's CRL one-piece release liner, which reduces installation time by up to 30% — also according to the statement from SloanLED.
The upgraded product will see a staggered release with White (6500 K and 3000 K) and Orange available immediately; Red, Green and Blue arriving in September 2022; and remaining White color temperatures (7100 K, 5000 K, and 4000 K) coming in December 2022.
For more information, visit sloanled.com.
The post SloanLED Upgrades 12V LED Product appeared first on Signs of the Times.
Published first here: https://signsofthetimes.com/sloanled-upgrades-12v-led-product/