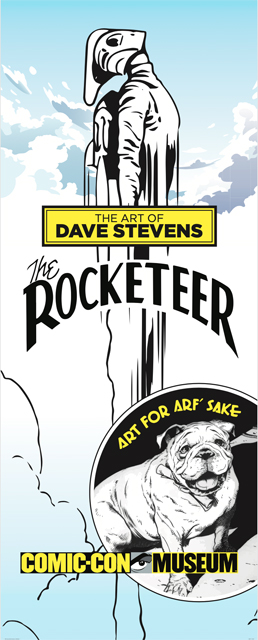 A little upfront disclosure: In addition to being editor of Sign Builder Illustrated magazine and avidly following and promoting the art of sign making, there's another art form medium that I'm also passionate about. You see, I've been an avid reader and collector of comic books across many genres for at least forty-five years now.
One of the characters I happened upon back in the 1980s was The Rocketeer, a fin-helmeted, jetpack-wearing hero whose stories combined pulp-era adventures and matinee serials with aviation, 1930s Los Angeles, and Bettie Page. These lavishly illustrated chapters spanned several different comic titles (and different companies) over the years.
The hero is probably best remembered by the general public as an enjoyable Walt Disney Pictures motion picture released in 1991 that has since generated a sizable number of fans, but I still remember the thrill of coming across those initial comic books.
The writer-artist-creator of these Rocketeer stories was Dave Stevens, who, in addition to working on comic book covers and pin-ups at many comics publishing companies, also happened to be a storyboard artist for films, animation, and music videos.
Sadly Stevens passed away from Hairy Cell Leukemia back in 2008, but his original art and back issues featuring his comic book work are still highly sought after by fans and collectors today.
So when Stevens' sister, Jennifer, recently posted in a Facebook group devoted to the artist about an exhibit dedicated to his life and artwork that was running at the Comic-Con Museum in San Diego, my excitement level really took off—both professionally and personally.
I would not only have an opportunity to learn more about the Comic-Con Museum, but I would also be able to share with you the signage, panels, and (obviously) graphics that they are using not only for this particular exhibit, but also the other colorful ones there!
Opening Splash: The Comic-Con Museum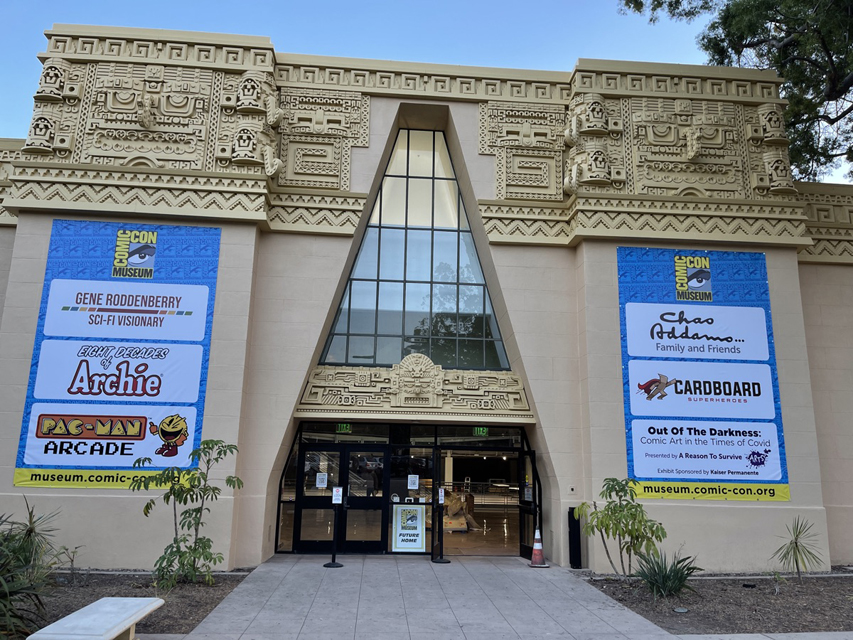 The Comic-Con Museum is located in the Balboa Park section of San Diego, California at 2131 Pan American Plaza.
The museum is part of the San Diego Comic Convention (also famously known as Comic-Con International) and was established in 2017 in the refurbished Federal Building to aid in creating the general public's awareness of and appreciation for comics, comics art and culture, and related popular art forms. (Note: To read more about the museum's mission, click here.) In addition to the comics, film, and science fiction/fantasy genres, the museum also showcases genre TV shows, books, video games, anime, etc.
One way they do all this is through regularly rotating exhibits.
Chris Ryall, programming and exhibits consultant at the Comic-Con Museum, explains a little bit about how these exhibits are chosen. "Not only do we look for exhibits that have a unique and appealing pop-culture focus, but we also strive to feature attractions that exemplify the museum's mission and offer a compelling backstory as well as a visually appealing presentation," he says. "And when we can bring in exhibits that can be further enhanced by related programming that helps us present the historical importance of a given exhibit, even better."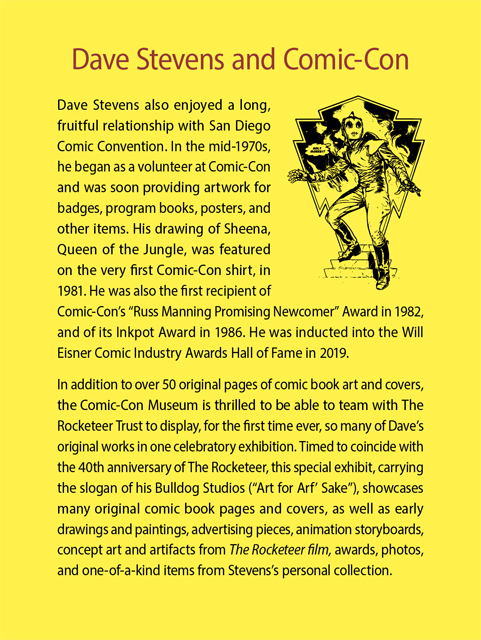 When it comes to signage and graphics utilized for these exhibits (as well as its overall mission), Ryall says that they avoid a "one-size-fits-all" answer. Each exhibit is unique to its subject matter. "What we look for in each exhibit is signage that enhances the visuals of the exhibit and makes a compelling and complementary addition to any exhibit's art, costumes, and props," he explains. "Certainly bold design, informative background on each exhibit, and photographically appealing signage is our goal within every presentation we offer."
While the Comic-Con Museum does produce some signage pieces themselves in-house, they outsource larger signage and banner reproductions to outside vendors.
Ryall says that signage and graphics are important to help the Comic-Con Museum tell the stories of creators and their creations.
"We see well designed and effective graphics and signage as an essential part of any exhibit," he says. "Those kinds of details not only help further showcase the thought and care put into every exhibit, but they also add unique and cool visuals that can also serve as effective photo ops for attendees too."
Ryall adds that it's not really approached by them as a challenge to reproduce artwork for use in signage, panels, and graphics at the Comic-Con Museum; instead it's much more a desire. "We have a desire to ensure continuity of design within any larger exhibit and also landing on the right kind of design that will appeal to the exhibitor and the public alike," he says.
With that in mind, let's take a look at the signage and graphics being used for several of their current exhibits, starting with the one devoted to the aforementioned Dave Stevens.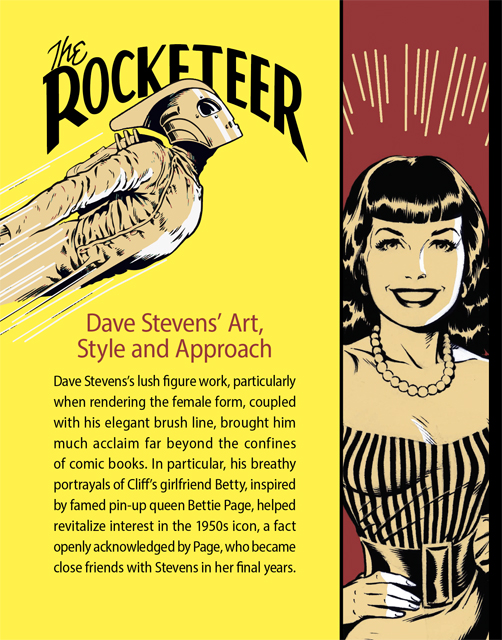 Art for Arf' Sake: The Dave Stevens Exhibit
The current "Dave Stevens and the Rocketeer: Art for Arf' Sake" exhibit is scheduled to run through July 31. "The Rocketeer exhibit is a celebration of its artist/creator as well as the fortieth anniversary of the Rocketeer's launch in a comic book," says Ryall.
This one-of-a-kind exhibit features over forty pieces of Stevens' original comic book art, poster art, animation storyboards, and other hand-drawn pieces, as well as a room full of displays of the colorful costumes and artifacts from The Rocketeer movie and from throughout this talented creator's career.
Since the pieces used for this exhibit stand out so well on their own, Ryall comments that there really wasn't an abundance of graphics required. "We've added signage to each piece and have large text pieces that describe who Dave Stevens was, details of his long association with the Comic-Con organization, his work on the Rocketeer, and other descriptive highlights of his four-plus decades in the business," says Ryall.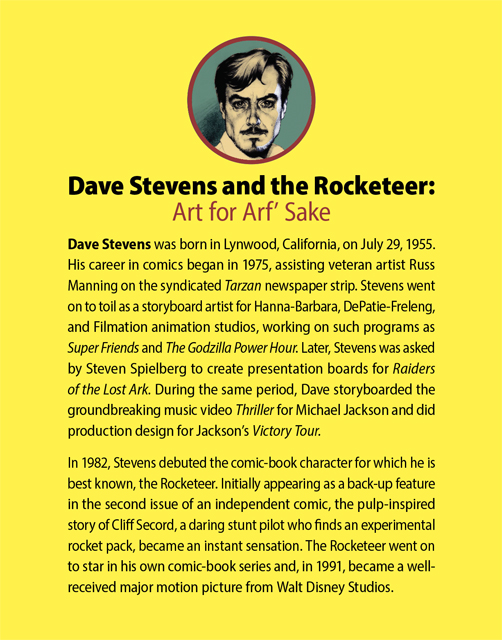 The designer at the Comic-Con Museum worked with Stevens' company logo, as well as one of the artist's self-portraits, incorporating them throughout the signage at this museum.
One big highlight of this exhibit is the 6-by-18-foot Rocketeer/"Art for Arf' Sake" banner that was designed using Steven's artwork and installed outside the museum to promote this exhibit. (Note: The individual interior banners measure approximately twenty-four inches tall.)
"It was important to The Rocketeer Trust that manages [Stevens'] estate that the exhibit emphasize the playful spirit that Dave Stevens brought to his work," explains Ryall. "So rather than go with a more staid exhibit title, they really loved that expression, "Art for Arf' Sake," which was the slogan of Dave's own Bulldog Studios ("e. slurpus lickum"). Dave really loved his pet bulldog, and he used him not only in the Rocketeer comic and movie but also as the face of his Bulldog Studios company."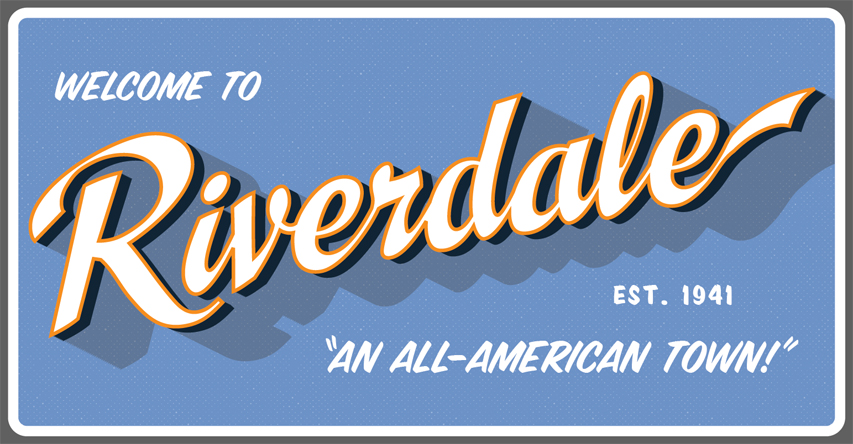 Pep in the Step: Eight Decades of Archie
Another exhibit taking place at the Comic-Con Museum is devoted to the eightieth anniversary of Archie, Jughead, Betty and Veronica, Reggie, Moose, and the rest of the gang at Riverdale. (Note: Archie Andrews, Betty Cooper, and Jughead Jones all debuted in Pep Comics #22 back in 1941.)
The "Eight Decades of Archie" exhibit displays vintage comic books, animation production materials, original art, a look at Archie around the word, and other unique memorabilia. It also has over a dozen large cover reproductions that celebrate some key moments over Archie's eighty years. "It also features large text pieces that detail the various aspects of Archie's long history: the love triangle, the music, and the weird and wonderful oddities from the past eight decades, the TV series, and more," says Ryall.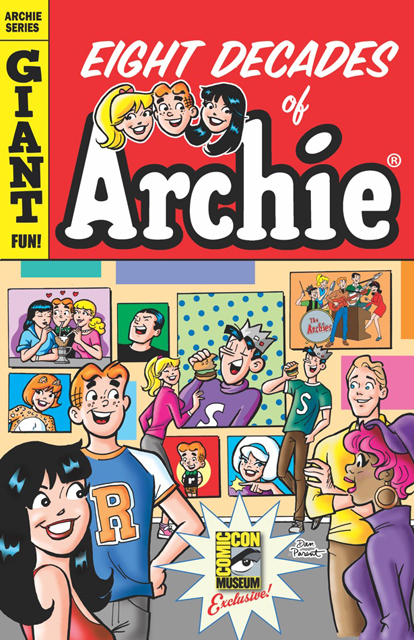 There are two key pieces of signage for this exhibit, according to Ryall—(1.) a sign welcoming visitors to Archie's town of Riverdale; and (2.) a strikingly designed sign for Pop's Chok'lit Shoppe, the gathering place for Archie and his gang since their earliest days.
"Rather than just print these on nice vinyl, [we had these] signs fabricated with raised letters, giving added dimensionality to both the signs and the overall exhibit," says Ryall.
Gene Rodenberry: Sci-Fi Visionary—Live Long and Prosper!
The unique "Gene Roddenberry: Sci-Fi Visionary" exhibit is devoted to the life, career, and legacy of Rodenberry (in honor of his centennial anniversary) and his globally famous creation Star Trek. Ever since first appearing on TV back in 1966, the series has evolved to movies, novels, video games, and, of course, comic books (published over the years in the United States by comic book companies Gold Key, DC, Marvel Comics, and currently IDW.)
Created in collaboration with Roddenberry Entertainment and CBS, this installation features an extensive timeline of his life and career, Star Trek costumes and props, rarely seen documents and letters, a Captain's chair for photo ops, and even a sculpted hand showing Spock's Vulcan greeting.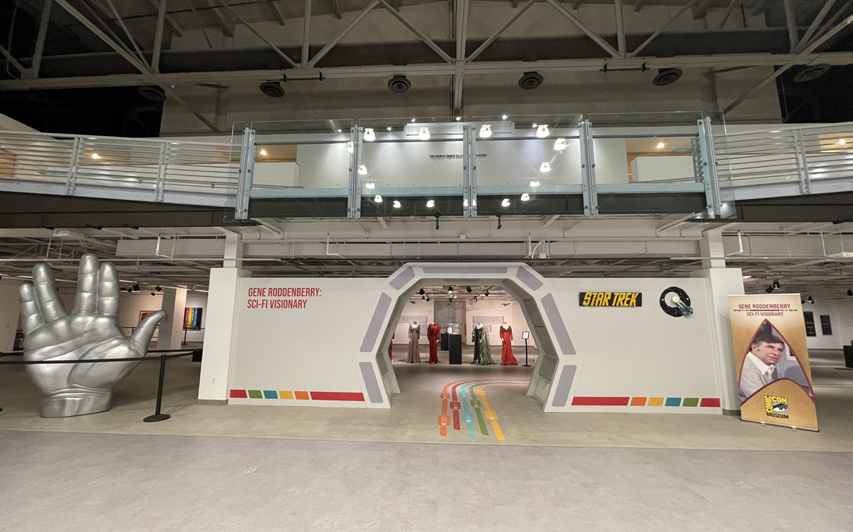 There are many signs and displays used for this exhibit. "We have an entry tunnel that leads into the display that is adorned with the initial signage," says Ryall. "Then at various points throughout the exhibit, there are wall displays and graphics that exemplify the inclusive world that Gene Roddenberry created when he brought Star Trek into the world."
The exhibit also incorporates audio into its presentation as assorted audio clips from celebrities reading inspirational quotes from Gene Roddenberry can be heard throughout. "They both help set the mood but also create for attendees the kind of positive feeling that the property—and the exhibit— are intended to convey," says Ryall.
To Be Continued…!
And there are even more exciting exhibits coming to the museum this year!
They've just put the finishing touches on a new exhibit celebrating the sixtieth anniversary of one of writer Stan Lee and artist Steve Ditko's greatest creations, Spider-Man (who first appeared in Amazing Fantasy #15). This colorful exhibit made its debut on July 1 and will run until January 1.
Although Ryall couldn't reveal too much about the details about it at press time ("they were under wraps," or 'under webs' anyway), he did indicate that the exhibit would be an immersive showcase of many parts of the Spider-verse. "And certainly interesting signage will be a big part of that exhibit," he says.
Another upcoming exhibit will showcase author Ernest Hemingway's long presence in comics. "From adaptations of his novels to the more unique cameos and appearances in comic books throughout the past five decades, Hemingway's presence in comics has been considerable and the art drawn by some of the top artists in comics," says Ryall, "but it's also something that not too many people are aware of. So it'll be great to be able to use the display to both showcase but also inform people about this lesser-known corner of the comic-book universe."
The Comic-Con Museum is open five days a week (Wednesday through Sunday) and will be expanding its hours after its July grand opening.
Even with magazine articles such as this and online information and photos about the museum, Ryall says the best way to experience everything going on is in person.
"The exhibits, full of colorful characters and stunning original art pieces and props, along with text descriptors and other enhancements, reward that up close and personal visit," he remarks. "We also offer a growing slate of programmatic extensions in the form of live discussions about an exhibit's impact, special movie screenings, and classroom activities for kids."
Ryall promises the proverbial "much more to come" to keep an eye out on, which will more than likely equate to even more colorful signs and graphics in action!
—Jeff Wooten
The post Comic-Con Museum: Characters, Creators, and Signs appeared first on Sign Builder Illustrated, The How-To Sign Industry Magazine.
Published first here: https://www.signshop.com/graphic/awning-banners/comic-con-museum-characters-creators-signage/