DreamScape (Rockaway, NJ) has announced their "Show Us Your Dreams 22 Photo Contest," involving projects using Dreamscape products that are also posted to social media.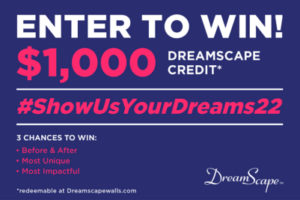 DreamScape's 2022 Photo Contest
According to a statement from the company, entrants are to "Submit a photo of a project you have completed using Dreamscapes wallcovering products to one or more of the following social media channels: Facebook, Instagram, Twitter, or LinkedIn, along with the hashtag, #ShowUsYourDreams22."
Entries can be made into any of the following three categories: Before & After, Most Unique or Most Impactful.
First place in each category will win $1,000 store credit in the dreamscapewalls.com shop and an acknowledgment on dreamscapewalls.com and all Dreamscape social media channels.
Runners up will be acknowledged on all online outlets as well — per the statement from the company.
The deadline for entries is Aug. 10. The contest is open to anyone who has the authority and/or right to share images of the project(s) in which qualifying Dreamscape products have been used.
For more information or to enter, click here.
The post DreamScape Sponsoring a Contest appeared first on Signs of the Times.
Published first here: https://signsofthetimes.com/dreamscape-sponsoring-a-contest/