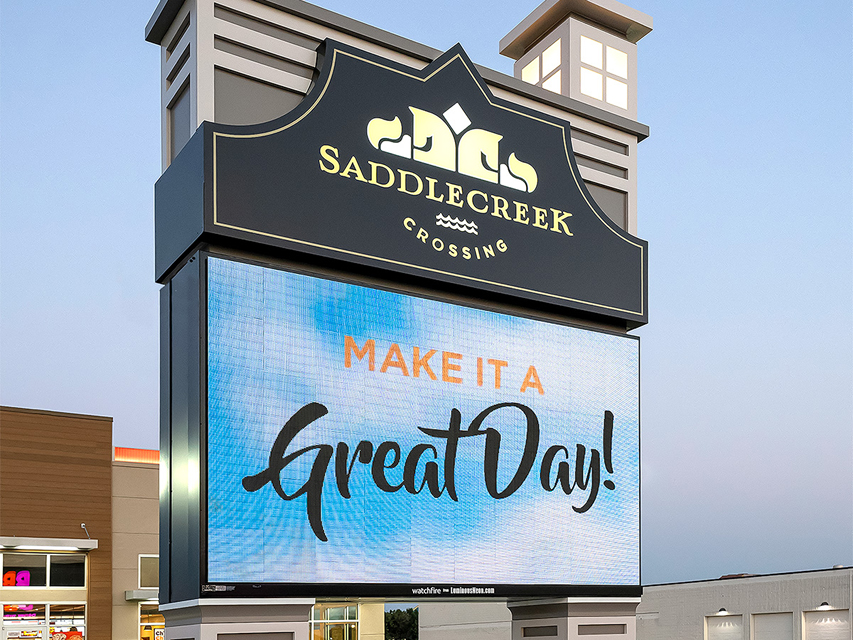 Saddlecreek Crossing is a shopping and entertainment development located in the CrossGate District of Wichita, Kansas. Originally anchored by a Kmart, the shopping center was acquired and reimagined by Triple Crown Realty in 2015. Revitalization efforts include a new facade and the marketing of out-parcels to new businesses. The development is located in the high-traffic corridor of 47th Street South and Broadway Street, and has easy access to Interstates 135 and 235 and the Kansas Turnpike.
To brand the shopping center, leverage its prime location, and appeal to the area's population of more than 51,000 people, Saddlecreek Crossing developers decided to install a new monument sign that includes a high-resolution digital message center manufactured by Watchfire Signs.
Originally designed without an electronic message center, Luminous Neon Art & Sign Systems of Hutchinson, Kansas was able to maintain the integrity of the design while including a digital sign that provided more advertising flexibility for the development.
The new double-faced sign includes a cabinet that mirrors the development's new architectural style, along with a routed and internally illuminated logo atop the large Watchfire digital message center. The 6mm sign garners 8.2 million exposures per year.
The developers use the new message center to advertise real estate opportunities and to highlight the various tenants that call the revitalized development home. The digital display can be divided into zones to advertise more than one tenant at a time and give visibility to tenants that cannot be seen from the road.
"The LED screen is very visible and gives the whole center a professional clean look," said Ross Scheer, facilities manager at BizCore Pros, a Triple Crown Realty sister company. "Our Watchfire sign gives us good visibility and a high-end look. If we had to do it over again, we'd make our Watchfire sign even bigger."
Luminous Neon specified Watchfire for this project because of the company's outstanding product quality and support. "Watchfire is the only LED sign manufacturer we work with," said Chuck Carson, senior account manager at Luminous Neon. "Not only do Watchfire signs look great, but the support is outstanding. Our customers like knowing that Watchfire stocks replacement parts for at least ten years, and that parts are shipped out within twenty-four hours if needed."
—Case Study
The post Saddlecreek Crossing Welcomes New Digital Message Center appeared first on Sign Builder Illustrated, The How-To Sign Industry Magazine.
Published first here: https://www.signshop.com/lighting-electric/digital-signage/saddlecreek-crossing-new-digital-message-center/