Realizing a sustainable society by creating new value through business and research and development activities is the focus of the sustainability report for 2022 recently published by Canon Inc., the parent company of Canon U.S.A., Inc., a leader in digital imaging solutions.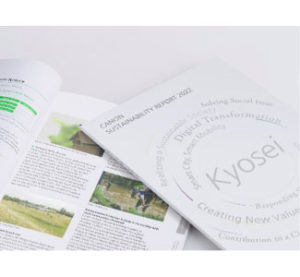 The report highlighted Canon's commitment to reducing the environmental impact of products through their respective life cycles while respecting the human rights of all stakeholders involved in its business activities.
Contributing to solving social issues through its business and research-and-development comprised the report's key tenet of creating value. Initiatives in the medical field were specifically emphasized, with a focus on diagnostic imaging, health information technology and in-vitro diagnostics to help contribute to maintaining wellness and preventing and recovering from disease.
Climate concerns also garnered in-depth analysis. Among the report's stated goals for Canon was the reduction of C02 emissions by recycling used toner cartridges and remanufacturing multifunction devices. For the past 14 years, Canon has set an environmental target of improving lifecycle C02 emissions per product per year by three percent, with the company continuing to achieve that target through initiatives such as conversation-in-design, production, and distribution.
The 148-page report features information disclosures in line with the Task Force on Climate-related Financial Disclosures (TCFD), intellectual property strategies, human resources strategies, financial strategies, and other information required for integrated reporting.
"Canon's commitment to address climate concerns remains steadfast as we continue our efforts to decrease our environmental footprint," said Shinya Fukuda, vice president and general manager, Canon U.S.A. Inc. "Keeping our philosophy of Kyosei in mind, Canon U.S.A.  will continue to emphasize corporate social responsibility as a key tenet of our operation."
† Number of patents for 2021 are based on figures released by IFI CLAIMS Patent Services. Figures for 2005 to 2020 are based on information issued by the United States Patent and Trademark Office.
The post Canon Publishes Sustainability Report 2022 appeared first on Sign Builder Illustrated, The How-To Sign Industry Magazine.
Published first here: https://www.signshop.com/graphic/digital-printing/canon-publishes-sustainability-report-2022/