SIGNS OF THE TIMES — We are very proud and highly encouraged to announce that the Signs of the Times Brain Squad, a group of owners and top managers of sign companies in the US and Canada that was started in November 2020, will soon reach its 250th signup.
The Brain Squad has played the central role to the content included in Signs of the Times each month since the magazine's redesign in April 2021, and in related posts on signsofthetimes.com.
Benefits to sign company owners and top managers of Brain Squad membership include…
The opportunity to have your name, company name and either a survey response or project with images included in any of the following departments of the magazine: Inbox, Calendar/Manager's To-Do, Tip Sheet, Benchmarks, Brainstorms, Line Time, True Tales, Woulda Coulda Shoulda, Buzz Session/Do You, Don't You and Ask Signs of the Times. Ever wanted to see your name and company in print? The Brain Squad provides many paths, every month!
The opportunity to review all the data from every survey. That's right! We don't just collect information from you; we're happy to share it — in advance of publication, too! A link at the end of every survey takes you straight to the full results.
Finally, a free, awesome Signs of the Times Brain Squad t-shirt in your choice of color (light blue or gray), delivered to your home or office — upon the submission of your first survey.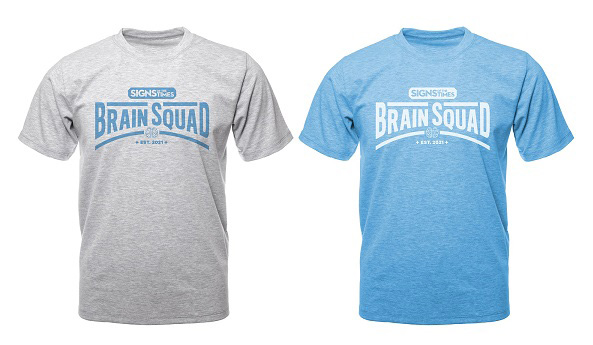 Brain Squad members earn a FREE t-shirt in either light blue or gray upon completion of their first survey!
Sign up and take our June survey — qualifying for a free t-shirt — all at once! The surveys only take about five minutes to complete. Click here to get started!
The post Signs of the Times Brain Squad Nears 250th Signup appeared first on Signs of the Times.
Published first here: https://signsofthetimes.com/signs-of-the-times-brain-squad-nears-250th-signup/