By Jeff Wooten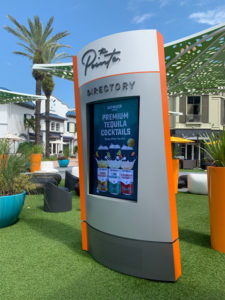 Pointe Orlando is an outdoor dining and entertainment destination that's located along busy International Drive next to the country's second-largest convention center and surrounded by 46,000 hotel rooms on Orlando's primary tourism corridor.
Since 1998, Pointe Orlando has been the Convention Center District's premier dining and entertainment complex, made particularly attractive since, unlike traditional enclosed malls, it's open-air-type design allows guests the ability to "enjoy year-round mild weather."
However the owners of Pointe Orlando recently undertook the redevelopment of this property in an effort to improve connectivity throughout the center, create gathering places, improve sense of place, add artistic experiential elements, and elevate tenant visibility.
Examples include The Link, a new, visually captivating one hundred-foot-long passageway featuring lit ceilings, artistic floor patterns, and retail storefronts that improve first-floor connectivity for guests.
The center's two valet areas were upgraded with an elegant valet canopy featuring a glass overhang, column uplighting, and mounted signage, which both creates a sense of arrival and enhances the atmosphere while guests wait under cover for their vehicles.
A new gathering space was created in the center's primary courtyard, with colorful seating, playful shade structures, and new upscale lighting, which replaced a previously existing pond.
Meanwhile the two prominent corners of the property were reimagined with a sculptural centerpiece that draws the eye and announces the project to pedestrians and vehicles on International Drive.
Accompanying this renovation was the need for new signage that would guide guests along this makeover. To realize this, Creative Sign Designs, LLC partnered with Brixmor Properties to fabricate and install new wayfinding signage (digital and static), room ID's, and various branding elements.
Creative Sign Designs, LLC is a nationally recognized, full-service provider of custom, exterior, and interior signage and environmental graphics solutions. Their corporate headquarters is based from a 50,000-square-foot integrated manufacturing facility in Tampa, Florida, with another manufacturing location in Orlando.
"[Pointe Orlando owners] desired a company who could take on the challenge, work through the complex design, and develop a consistent, efficient way to manage, manufacture, and install all the signage," says Creative Sign Designs Director of Sales Dean Brooks. "We have the ability to fully understand and take conceptual drawings and convert those to actual fabrication drawings. We also can develop fabrication methods to meet the complexity of the design required."
The sign company states that, for maximum effectiveness, it is essential that signage programs "be capable of guiding people to, through, and out of facilities in an orderly manner." These philosophies are prominently on display throughout this project.
"The overall project included more façade and dramatic lighting in lieu of standard functional lighting, new wayfinding signage, upgraded landscaping, environmental graphics, and site amenities," says Brooks.
Creative Sign Designs designed and custom-created wayfinding signage for Pointe Orlando that included bright and visible colors with dramatic shapes and layers that add depth. All of the wayfinding signage is branded together so that there is a consistent, even flow. Creative Sign Designs also provided custom paint finishing to many of the pieces.
One of the main things that stands out is the shape of the signs. "There are no rectangles here," says Brooks. "They are modern and unique!"
The signs were designed to have curved faces and project diagonally to one side. Creative Sign Designs undertook a full custom build to achieve this. "To add complexity, we included acrylic push-thru copy and symbols that were consistent with the curved face," explains Brooks.
Brooks stresses that signage can play a huge role in keeping things modern and fresh on a property. "Older and out-of-date signage can indicate that a property may not offer newer or updated retailers and restaurants that are more desirable," he says. "Technology today offers a wide variety of amenities that come to be expected."
For example, Creative Sign Designs took advantage of popular interactive directories on this project. "At this site, they're not only popular for guests, but the owners have taken advantage of advertising revenue with them," says Brooks, "which allows them a good return-on-investment."
At Pointe Orlando, the on-premise digital directories not only offer guests the ability to interact with the technology but also can even take selfie photos of the user.
The digital directories incorporate a high-end LG-MRI touch screen display. Air flow and rainwater disbursement were essential challenges to address in order for the LG display to keep within its factory warranty. "This was so critical that LG-MRI officials flew to our facility to oversee the development of the custom air duct and water disbursement system," says Brooks. "These systems had to be designed and fabricated by hand once we installed the display itself."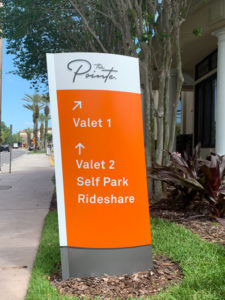 LG-MRI tested each unit to make certain these systems were working properly. "According to LG-MRI, [we] were the first company to be able to design a complete shroud (cabinet) to house this type of digital display without voiding its factory warranty," says Brooks.
The project had high-end hardscapes being installed, which mostly included glass beading embedded within. This meant that all the signage had to be installed in specific phases. "This limits what can be placed on the hardscape such as crane truck, lifts, and equipment for install," says Brooks. "We worked with the general contractor to make sure we were respecting finished work and utilizing equipment that did not compromise other trades."
This was also an "active" site at the time, meaning it was still open to the public during the day and evening. This limited Creative Sign Designs' working hours at the site, requiring detailed pre-planning to "get in and get out" during the tight work hours."
The vehicular directionals were installed with poured foundations using a direct buried steel support column. The general contractor provided primary electrical advance of their sign install.
The digital directories were installed via poured foundations with embedded threaded rod for sign attachment. The general contractor made sure all the electrical and data lines were in place prior to the install.
The blade sign wayfinding proved to be a simple install using Tapcons. The general contractors provided wall blocking in advance.
For the canopy-mounted channel letters with raceway, Creative Sign Designs met up at the site with the general contractor and sub-tier contractor who manufactured and installed the canopy to determine how to best attach the signage. "We created custom brackets based off their shop drawings," says Brooks. "Our raceway had to be a specific radius, so our design team took templates to make sure their shop drawings were accurate. The sign ended up being a perfect fit."
Consistency played a key role with Creative Sign Designs on this project—both with the owners of Pointe Orlando and the contractors.
The company provided weekly updates and progress photos to the client. Meanwhile consistent coordination and communication with the general contractor during planning and installation proved vital, as it allowed the installation to move seamlessly and efficiently (although the pandemic did cause things to slow down at the site and change priorities on what went up when).
When it comes to sign design, Brooks feels that a basic sign is looked at differently than a sign designed with bright, inviting colors and unique shaping. "You can't help but look at this signage—mission accomplished!"
The post The Pointe of Wayfinding appeared first on Sign Builder Illustrated, The How-To Sign Industry Magazine.
Published first here: https://www.signshop.com/dimensional/adawayfinding/the-pointe-of-wayfinding/