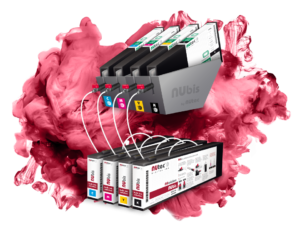 NUbis bulk ink system.
NUtec Digital Ink (Cape Town, South Africa) offers NUbis, a bulk ink system engineered to ensure a continuous supply of ink to the Epson DX4, DX5, DX6 and DX7 print heads used in wide-format digital inkjet presses.
NUbis enables more efficient printing with uninterrupted refilling, giving the functionality of a cartridge with the advantages of a bulk system, according to a statement from NUtec. The system holds either 1000ml or 2000ml degassed pouches, which can be replaced when empty, even during printing without disrupting the print session.
"Installation of our NUbis bulk ink system is simplified with the supporting tools we provide including our Quick Install guide, detailed components list and step by step installation video available on our YouTube channel," Darren Claassens, head of sales and marketing at NUtec Digital Ink, is quoted in the company statement. "Additionally, our network of distributors and dealers are fully trained on the system and are able to assist with installation and technical support."
For more information, visit nutecdigital.com.
The post NUtec Ink System Enables Continuous Printing appeared first on Signs of the Times.
Published first here: https://signsofthetimes.com/nutec-ink-system-enables-continuous-printing/