The American Sign Museum (Cincinnati) has announced that it will celebrate a decade in its current Camp Washington location with The Signmakers Circus, a celebration at the museum on June 18, 7 p.m. EDT. Camp Washington is a neighborhood within the city of Cincinnati.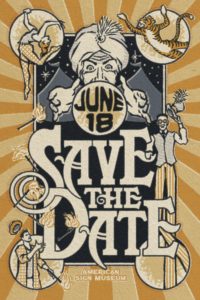 From a statement released by the museum, "The Signmaker's Circus: A Decade of Camp, will transform the Museum into a burlesque fantasyland created by top artists and performers from across the region, featuring Zoltar the Fortune Teller, stilt walkers, fire eaters, and aerialists performing in the Greatest Show in Camp."
"The American Sign Museum is the premier institution for preserving historic signs and promoting the contributions of the sign industry to American culture," says Tod Swormstedt, the museum's founder and curator. "Over the past decade, the collection has grown and we have added innovative programming. Now is the perfect time to celebrate our tremendous growth and look forward to the next ten years in Camp."
The Signmaker's Circus is the first fundraiser in the museum's history. The co-chairs for the event are Randy Smith and Carla Lamb. The committee members are Cate Becker, Katie Brass, Jake Brinkmann, Joe Girandola, Dana Hamblen, Cindy Kearns, Pam Kravetz, Sean Mullaney, Fred Neurohr, Tricia Suit, Tod Swormstedt and Margy Waller.
For more information, visit americansignmuseum.org.
The post American Sign Museum Celebrates 10th Anniversary appeared first on Signs of the Times.
Published first here: https://signsofthetimes.com/american-sign-museum-celebrates-10th-anniversary/