THERE'S NO DENYING the soft signage boom. Look around and you'll find fabric signs hanging out everywhere. Pole banners on street corners, point-of-purchase displays in malls and shops, and massive, can't-miss signs at trade shows and conventions. Why are they so popular now? Soft signs are light, easy to install and transport, can be backlit with the proper media and are easily used in automated frames that can display multiple signs using one location. Their growth is also fueled by the number of printer manufacturers getting into the game, as well as the wide variety of fabric options.
Are you in the game? If not, we want to discuss the prevalent technology you can use to create soft signage: dye sublimation. Compare a typical dye-sublimation printer to an eco-solvent printer and you may have difficulty telling them apart. The major difference is the ink. Most eco-solvent inks use a pigment for coloration and dye subs use, well, dyes. The dyes do contain color particles, but the pigment inks penetrate a coating and bond to a surface, while a dye-sublimation ink requires heat and pressure to change from a solid to a gas that penetrates the fabric media. This permanently fuses the color into the fabric, which can now withstand multiple washes and foldings without fast-fading or cracking.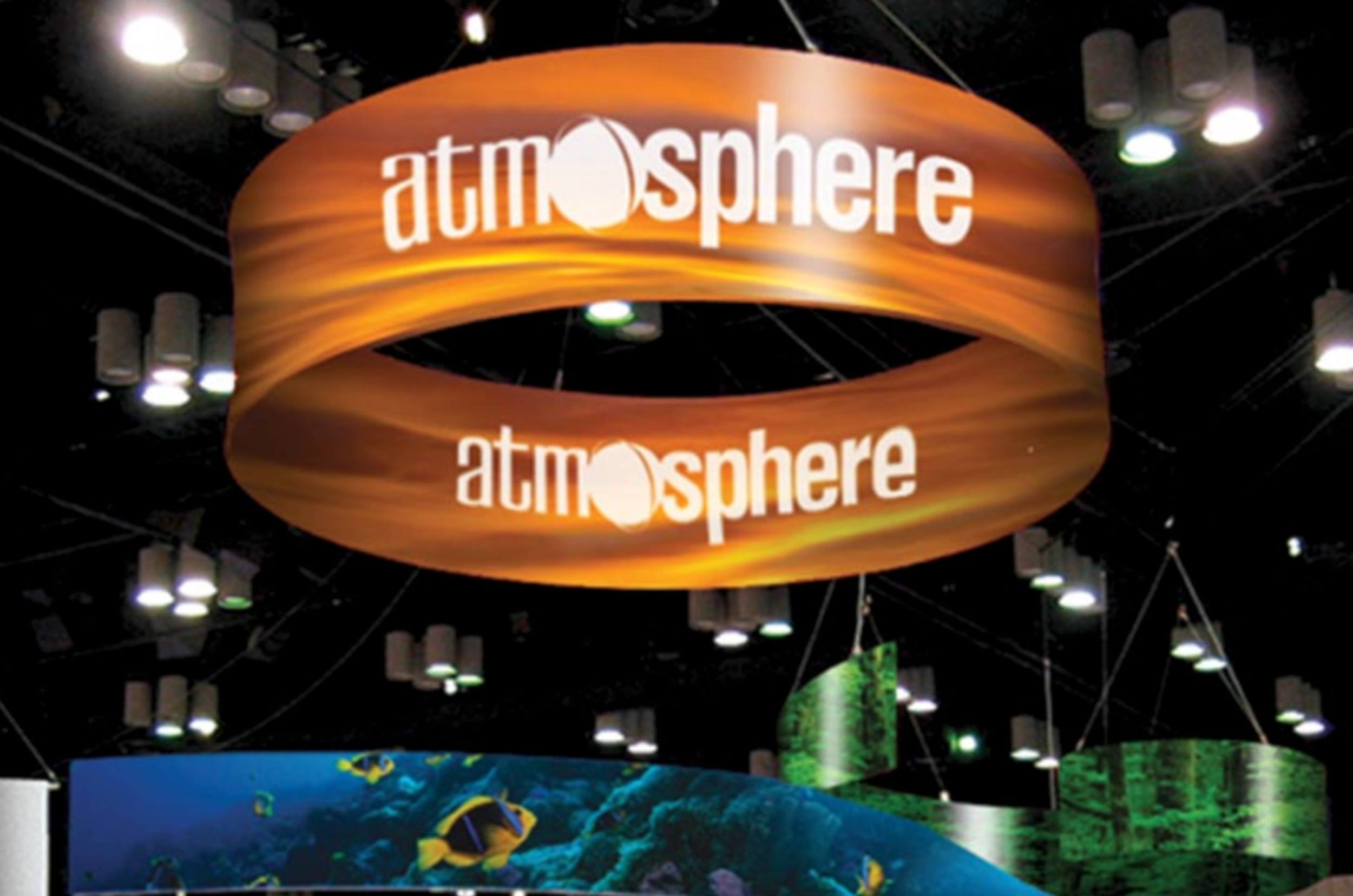 Fabrics printed with dye sublimation offer many advantages for flexible applications like ringed banners.
How does this process work? There are actually two methods of dye-sublimation printing. The most common is to print a mirror image of the graphic onto a special transfer paper, then place it on top of the fabric and use heat and pressure to transfer the image. Then just peel away and discard the paper. At this point you are probably thinking this method would be great for T-shirts, but what about a backdrop? Special presses called calendars can fuse the printed transfer roll and a roll of fabric very quickly. Of course these do cost money.
Alternatively, you can employ a direct-to-fabric dye-sublimation technology that prints the image directly onto the fabric and has a built-in heating system. This method may sound like the way to go, but it's important to note the cost of the printer will be higher and there can be some differences in the image. It may not be as crisp as you will get from the transfer method and the ink can bleed through the fabric. That's great for flags, but maybe not for other applications. Some companies are actually selling printers that will allow you to print via either method, though you may need to drain ink lines.
So, what are some other considerations? For one, you will be restricted to the type of fabric you can use. In essence, the dyes bond with polyester so the fabric must contain at least 70%. Pure cotton or silk won't work. Luckily the fabric suppliers can provide a wide variety of textures and weights. Also, don't expect to print on dark fabrics. No printers have the ability to print an undercoat. CMYK needs a white (or near white base) to render the colors correctly. Speaking of colors, you may need to update your raster image processor (RIP) to support dye sublimation color handling, especially if you tune your own profiles.
Dye sub prints can achieve bright colors, but these must be printed on white or near white fabrics; printing on dark fabrics is not yet possible.
With the wide variety of printers on the market today, you can expect virtually all of the major manufacturers to offer at least one dye-sub model. You can find small-format printers (24 in.) for around $3K if you just want to mess around with shirts, caps and mugs. Around $30K will get you a 64-in. machine while around $50K buys you a 104-in. unit. High-production printers can cost into the low to mid six figures.
If you want to make the big plunge into soft signage you will need to pony up. As you can see, there's a wide array of options. Take a look at your market's growth in soft signage and decide if dye sublimation is for you.
PHOTO GALLERY
(6 IMAGES)
Advertisement
The post Soft Signage Is Everywhere Thanks to New Dye Sublimation Technology appeared first on Signs of the Times.
Published first here: https://signsofthetimes.com/soft-signage-is-everywhere-thanks-to-new-dye-sublimation-technology/