Sponsored Content
More and more customers are demanding illuminated signage. Follow these tips to increase your revenues and serve your customers better.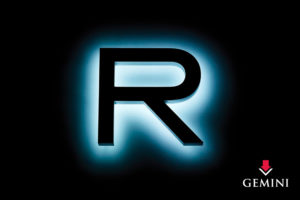 Illuminated (or lit) signage, at its very core, is a wayfinding tool. Whether one of your customers uses an exterior or interior lit sign, it draws attention. A lit sign says: "Welcome. We're open for business." — and delivers more customers.
In an age where many signs are lit, sign shops not offering this wayfinding tool to their customers are missing out on a huge opportunity to serve their customers better, as well as generate more revenues for their business.
"To not offer lit signage would be to miss out on a huge slice of the pie," said Nick Dyson, Associate Product Manager for Letters and Logos at Gemini, one of the leading providers of lit signage in the U.S. and Canada. "If an end-user absolutely needs lit signage, and you can't offer that to them, you are essentially forfeiting that revenue to a competitor."
And it really would be a lot of revenue to forfeit. Because illuminated signage is more expensive to produce than traditional signage, the margin of revenue for sign shops is dramatically higher than if they only provided non-lit signage.
Though profitable, lit signage is a wide — and, at times, intimidating — landscape. That's why illuminated signage experts at Gemini offer the following tips on how to gain as much revenue as possible by selling lit signage to customers:
Know Your Options – Most people understand at its very basis what a lit sign is, but they might not know all the intricacies of what all goes into an illuminated sign. Besides choosing a color and style of lighting, customers can choose from cast metal letters, fabricated letters, and plastic letters. Each individual style has different capabilities and will be better or worse suited for different applications.
"One of the biggest pitfalls that customers run into is having no knowledge of how lit signage works yet they try to offer that product on their own. It is very hard to provide a customer with what they need if they don't know themselves," said Dyson.
Bonus Tip: For sign shops just beginning to introduce illuminated signage, Gemini's experts note that lit formed plastic is the most budget friendly for budget-conscious customers.
Be Aware of a Sign's Backdrop – Lit signage is, by definition, made to be mounted on a surface. The way different kinds of lit signage will interact with different backgrounds will affect which style will be best suited for your end-user. Dyson and Peterson note that, when using halo lighting, make sure your backdrop is light-colored and non-glossy.
"It is not recommended to put halo-style light on a very dark-colored wall," said Dyson. "If you're trying to have light project out of the back of the sign and create a glow, dark-colored surfaces, especially black surfaces, soak up the light and give you very, very dim glows."
"Bricks or wood are types of surfaces that generally perform well with lit signage," added Joseph Peterson, Internal Channel Sales Rep for Lit and Fabricated Signage at Gemini. "However, anything that is reflective or high gloss is a bad candidate for a surface. For example, tile, a lot of times is not a good candidate."
Seek Out Halo Lighting – Currently, of all of the lighting choices out there, halo lighting is probably the most trendy and popular-selling style of lighting. Combined with cast-metal lettering, halo lighting is trendy while also feeling sophisticated and lasting. For customers looking for a clean, distinct look, offer halo lighting to your customers.
Consider Sight Distance and Environmental Light – Is your sign going to be positioned eye-level at the front of a store shop, or hundreds of feet away across a busy street, or even a highway? According to Peterson and Dyson, some LED colors will be more visible at night or from a distance, so it's important to consider the distance when choosing a style of lighting. Also, it's important to consider how a consumer will first encounter the signage – walking, bicycling, driving in a vehicle (car, truck, golf cart, boat, snowmobile, ATV).
"Absolutely make sure to identify what distance you are targeting traffic from. That will determine whether face lit or halo lit will work best for your application," said Dyson.
"If you're looking to capture a person's attention from a considerable distance, face lighting is your best bet. Halo lighting is not going to have the same visibility or reach," added Peterson. "In terms of visibility, it is worthwhile to note that colors like blue tend to wash out over a distance faster than white would."
Partner with a Trusted Electrician for Installation – Though any licensed electrician will be able to install an illuminated sign, any traditional sign installer without electrical experience will not be able to install the sign properly. Make a special note to consult a trusted electrician to avoid potentially catastrophic damage to the sign.
Turn to the Experts – Illuminated signage is much more intricate than non-lit signage, so if you aren't an expert, that's okay! But make sure you connect with someone who is.
"We have a wide range of customers. There are some customers that do lit signage in-house, and then they reach out to Gemini to fill the holes in their business. We also have customers that do very little lit signage, or are just starting out," said Dyson. "We have a vast range of product offerings and experience, so no matter at what point you're at, anyone can come to Gemini and have an expert guide them along the way."
Increase Your Business' Revenue: Offer Illuminated Signage Today
Whether you're looking for faster lead times, want to expand the lit signage your shop can provide, or are looking for a way to introduce lit signage into your business for the very first time, Gemini can get you where you need to go. Browse material and lighting options or get connected with helpful consultants to get you started in the right direction, here.
The post Drive More Business by Embracing Lit Signage appeared first on Sign Builder Illustrated, The How-To Sign Industry Magazine.
Published first here: https://www.signshop.com/lighting-electric/led-modules/drive-more-business-by-embracing-lit-signage/