CUSTOMERS WHO DON'T pay on time! That's what most annoys Sean Tomlin, Designer Wraps (Pitman, NJ). We think all of us can agree that late-paying clients are right up there near the top of the list of things that most get our goats. So what's your biggest pet peeve as a sign professional? (Let us know at editor@signsofthetimes.com or add a comment to the online post of this story.)
We asked this question to the Signs of the Times Brain Squad and they responded — in force! From employee and customer foibles to peccadillos with permitting and the public and more, following are 33 things that make these sign company owners and top managers shake their heads, and sometimes their fists at the sky!
And wouldn't it figure, most annoyances start with customers …
SOME CUSTOMERS DON'T KNOW
WHAT THEY WANT OR WHAT THEY WANT IS WRONG
1. Customers who do not know what their budgets are for signage. — Cathy Hoffman-Young, Blue Orbit Sign Studio, Huntsville, AL
2. Emails that start with, "Oh, by the way. We forgot to mention…" — Keith Davis, KRD Design, Chester Springs, PA
3. The customer that insists on script lettering in ALL CAPS. — Nonnie Luther, Cadillac Sign Co., Norwood, NC
4. "How much is a sign?" "What kind of sign?" "You know, a regular sign." "What size?" "You know, regular." Me: facepalm. Next scene: "How much is a sign?" "What kind of sign?" "You know, a regular sign." "What size?" "You know … regular." "OHHHH, those are $5,000." "What??? I only wanted a 2 x 3 sign on aluminum composite, single-color, double-sided." "Why didn't you start there?" — Terry Hartley, StickyStuff Signs and Graphics, Lakeland, FL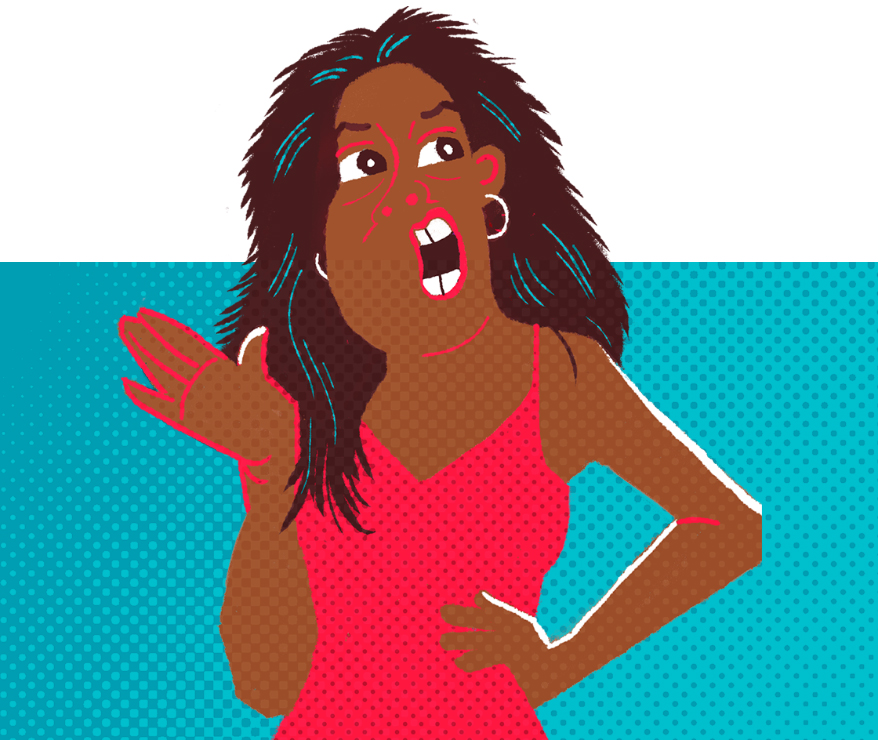 MANY HAVE UNREALISTIC,
EVEN OUTRAGEOUS EXPECTATIONS
5. I hate it that some prospective customers expect us to go to their site and evaluate the "sign" situation without paying for this service. — Jean Shimp, Shimp Sign & Design, Jacksonville, FL
6. Clients that wait until the last minute to get a sign project done. Thinking that making a sign can magically get done overnight by "Sign Fairies." — Steven Carpenter, Archetype, Minneapolis
7. Clients continually attempting to shift the project scope. Specifically, design interactions or requests for multiple variations. The issues are they are attempting to design by committee and then question when you tell them this is the final version that can be provided without incurring additional design fees. — Cain Goettelman, FLS Banners, Sturgeon Bay, WI
8. Our customers' customers (end users) who expect every project to be a rush project. Even after they are told that a project will take (for example) four weeks, they demand that it be done in half the time. Also, end-user customers who are addicted to rush fees as the solution to every problem. As if it is OK to demand that our employees work every weekend to satisfy these customers' inability to plan. — Vince Cvijanovic, Graphic Components, Greensboro, NC
THE NIGHTMARE OF CUSTOMER ARTWORK,
APPROVALS AND CHANGES
9. Customer-supplied artwork that was "designed" by their wife's cousin's neighbor's landscaper's sister-in-law's nephew's girlfriend, which uses seven different fonts and every color in the Pantone guide. — Michael Johnson, Henry Graphics, Buford, GA
10. Often I find myself re-working logos designed solely for print/web use so that they'll function as legible signage. Also, signage designs where the fabrication process isn't taken into consideration. — Jamie Potvin, Metro Sign & Awning, Tewksbury, MA
11. JPGs for vector. Just too many clients think we can cut from photos. — Robert Burke, Burke Enterprise, Oakdale, CT
12. When sending a proof to a client, they don't acknowledge "good to go" or "changes needed" and order something else … or we follow up multiple times with needing the proof to be approved and they never get back to us and say "we dropped the ball" because they never read their emails. — Jennifer Boyd, Artsign Design, Boise, ID
13. The nice customer, who, after hours of patient layout changes, finally decides to use the very first design that was presented to them. — Theresa Cross, Cross Custom Signs, Lampasas, TX
14. When a client insists on using a logo they designed or had designed for their business, you try to warn them, "This is not going to read well." After the installation, they say, "I can't read that. You should have told me. You're the expert." : ( — Joe Gibson, Ramsay Signs, Portland, OR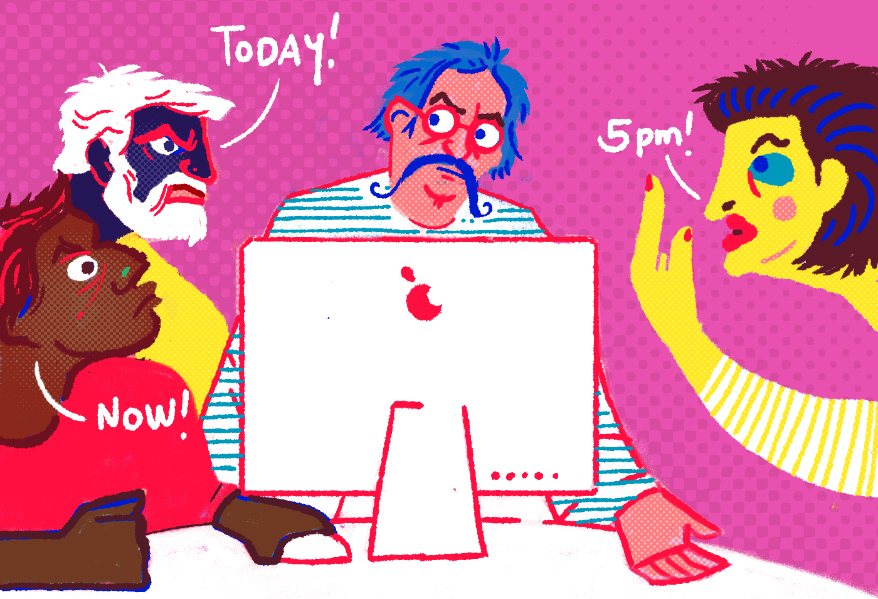 AND THE DREADED CUSTOMERS
WHO DON'T VALUE YOUR INPUT, SKILL OR TIME
15. Totally hate when signs are not considered in the design of a facility. Then, when it comes time to install signs, they are mounted over and/or interfere with architectural details of the building (i.e., brick soldier courses or color changes, EIFS details, etc.). — James Neely, Rp Signs, Charlotte, NC
16. Potential customers who think "the machines do all the work," so why does it cost so much?! — Gary Gower, Jr., G&L's Sign Factory, Bethlehem, Pa
17. Art studios and galleries generally make annoying sign clients. Studio artists rarely know what they want (let alone what they need), have no idea of the amount of time/cost involved in making their design visions fabrication-friendly, usually have no budget, often have no qualms about wasting your time, and typically wait until the week that they need signage to contact you about it despite their production/opening schedule being set months in advance. — Jake Zani, Rule Signs & Graphics, Randolph, VT
18. After doing a "public service project," your local newspaper has a picture of your generous donation on the front page with your name and sign company in the caption. Soon the phone rings from every group imaginable. The call starts out, "I see you donated a sign to the senior center. We are from the Redemption Church of Elvis and Nickel Deposits. Can you donate a sign to our fine organization?" — Jerry Clark, Sign Design of Westline, Westline, PA
NOW WE POINT TO THE COMPETITION
THAT UNDERCUTS PRICES AND VALUE

19. Competing with the work from home (garage or basement) sign businesses with no insurance, then having customers wanting us to beat their prices. — Kristie Voty, Chautauqua Sign Co., Falconer, NY
20. Clients or prospects swallowing false claims and bogus intel from undercutters without allowing quality firms to educate them. Quality shops are usually not the least expensive, but usually offer better value and ROI, so when a client goes with the cheaper guy, it's a big peeve. — Derek Atchley, Atchley Graphics, Columbus, OH
PERMITTING:
THE SEVENTH CIRCLE OF HELL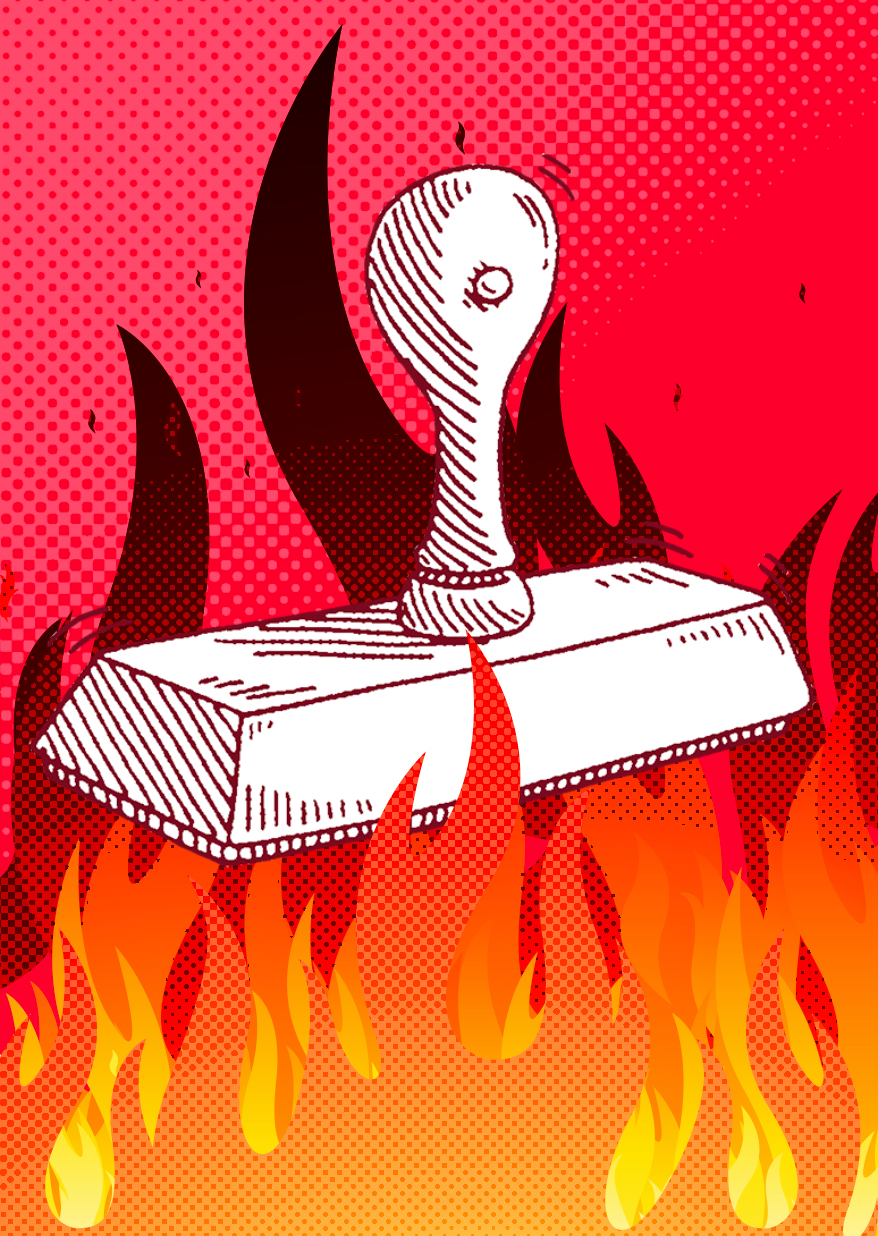 21. We do a lot of installation work for other sign companies and, of course, have to get the permits. What really frosts my cookies are townships where we have to go in person to apply, then pick up the permit from Zoning and walk it down the hall to the Building department. At one town I had to drive 90 minutes each way because they refused to walk my permit down to the next office. They said that they could not be responsible if it got lost between departments. I drove up there and got the zoning approval. Zoning and Building were actually one large office with a divider wall and both had counters. When I took the long, arduous journey of perhaps 20 feet to the building department counter and rang the bell, no one answered. The office was empty. So, the person from Zoning heard me ring the bell and walked through the connecting door. She then informed me that the secretary in the Building department was off on vacation that week and told me to hand her back the paperwork, which she put on the someone's desk! I sat in my truck for a good 10 minutes before I could contain myself to drive back home. This is a 100% true story. — Rocco Gaskins, Abco Signs, Pennsauken, NJ
Advertisement
22. On the rare occasion that a customer does not fight me on the design, the government does. It's too big, it has too many colors, it needs to have the address on the sign, the sign has to be 10 feet from the curb, we don't allow signs longer than 11 feet, lettering has to be a minimum of 4 inches high. These are all actual conditions I have faced from local ordinances. If I ask them why four colors is a bad thing, all I hear is crickets, but they are happy to take my customers' money if they want to go through the expense and aggravation of a variance. — Gary Johnson, Great American Sign, Basking Ridge, NJ
23. After all my years in business, every other month we get that one customer who says, "Don't worry. I know I'm asking for a sign that doesn't meet the sign code … It's OK. I know the Mayor/Inspector/Variance Board/Spouse of someone important." Every time we get this line from a client, the project turns into a complicated one … It is inevitable! — Bob Chapa, Signarama Troy | Metro Detroit, Troy, MI
OF COURSE,
THE UNFUNNY-NOSY-TOUCHY PUBLIC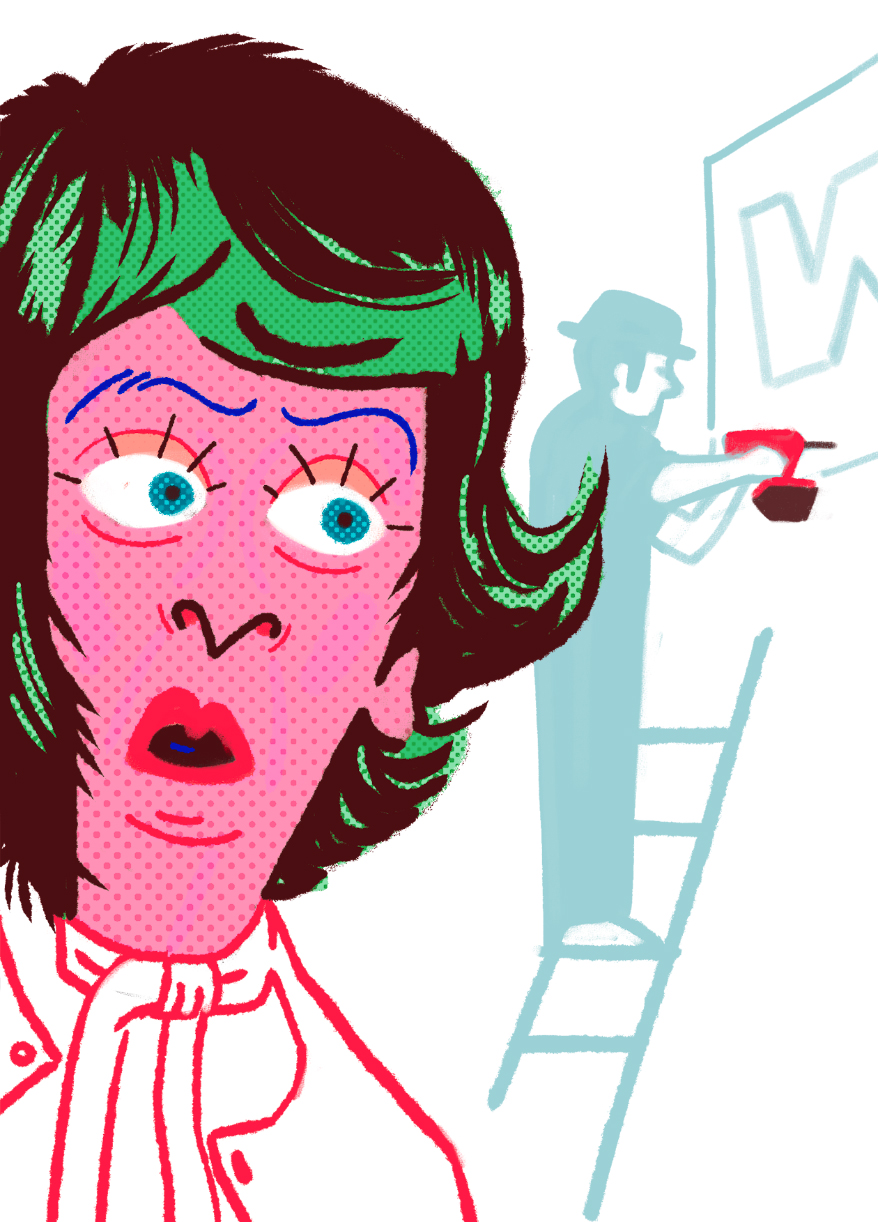 24. When we are installing signs, people will walk by and start asking about pricing. — Earl Walker, Image360 Tucker, Tucker, GA
25. The standard on-site install comments, like "it's crooked" or "you spelled X wrong," but my favorite horrible experience was after we finished roller painting an 18-inch stripe on a wall for an interior mall barricade sign. A woman walked up to the wall, swiped her finger through the paint and said, "It's still wet!" I'd really like it if people just kept away while I'm doing an install. — Meri Lindenmuth, G&L's Sign Factory, Bethlehem, PA
HOW 'BOUT
SIGN-COMPANY PARTNERS
AND CONTRACTORS?
26. Receiving signs made by other companies for install, and the signs are poorly made with no concern for how to install or properly service in the future. — Harold Pedley, Sign Engineering, Guaynabo, PR
27. The most challenging thing has to be managing our schedule when we receive massive multi-site projects from national sign manufacturers. We are currently in the middle of a 32-site project where each location requires a crew of six to eight for two to three days. Since our schedule for local installs is fully 60 days in advance (normally), when these projects move dates, that creates a cascading effect. There have been days recently where we would have needed an install team of 15 to stay on the schedule they requested. We are thankful to have these projects and partners, but I would love it if they understood the impact scheduling shifts has. — Christopher Meinsen, Perspective1, Tampa, FL
28. When an owner buys the signage direct and sends it to the job site. You travel two hours to find out that the signs have been there for three months. The contractor has moved them multiple times. The faces are broken, power units missing and patterns are gone. Why didn't they get shipped to our shop? I guess we will make another trip! — Mike Crosley, Northeastern Sign Corp., South Colton, NY
29. Customers — usually general contractors —telling you that they are ready for the sign package installation. Our installers show up and the job is not ready for the sign package installation. — Doug Bray, Alpine Sign, Dallastown, PA
NOT TO MENTION OUR OWN
EMPLOYEES — SORRY, SALESPEOPLE
30. Sign salespeople who only look at a sign's sales price as a cost and a markup percentage. (We all may be guilty of this from time to time.) The problem becomes a mindset of not factoring in value from a unique design, quality craftsmanship and effective advertising value. Without considering those factors in the sign price we are turning our industry into a commodity. — Tim Ward, Sign Solutions, Frederick, Md
31. Salespeople not being able to accurately read a tape measure. — Randy Holland, Snyder Signs, Johnson City, TN
32. It all comes down to one thing for me — not being detail-oriented enough — whether that's on the design side and setting up files or the sales side in keeping the order updated. We are living in a custom industry and things change at the drop of a hat, so I want to be able to open an old order and know exactly how I produced it or why certain changes were made. It is definitely hard to work with team members who can't stay on top of the details because you are always reinventing the wheel. — Mallory Lynn, Signarama Brighton, Brighton, CO
FINALLY,
SIGN COMPANIES THEMSELVES — YES, YOU!
33. Sign companies that know how to design and make compliant ADA signs, but don't reach out to clients to explain how they could change their projects for compliance, and present a more welcoming face to their customers and visitors. — Sharon Toji, H Toji and Co., Lakewood, CA
The post 33 Things That Most Annoy Sign Pros appeared first on Signs of the Times.
Published first here: https://signsofthetimes.com/33-things-that-most-annoy-sign-pros/