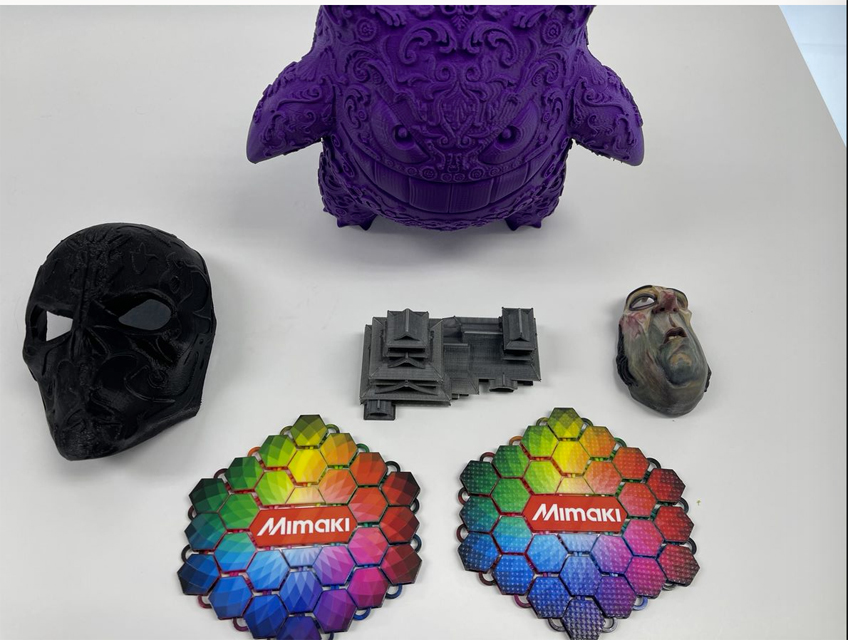 As 3D desktop-sized printers become more prevalent and make processing renderings a much quicker production time, print and graphics specialists are finding they can use this hardware to offer new products, enhance already-existing graphics projects, and venture into previously unconsidered markets.
The divide between graphics provider and dimensional specialist may be blurring, if not outright dissipating.
Amcad & Graphics LP of Irving, Texas already works with a variety of digital printing and finishing equipment. The company has found itself becoming attracted to 3D printing technology because of its versatility in color, its ability to create photo-realistic models, and its opportunity to explore a diverse range of applications (expanding into medical, vision, and dental fields; model making; and prototyping).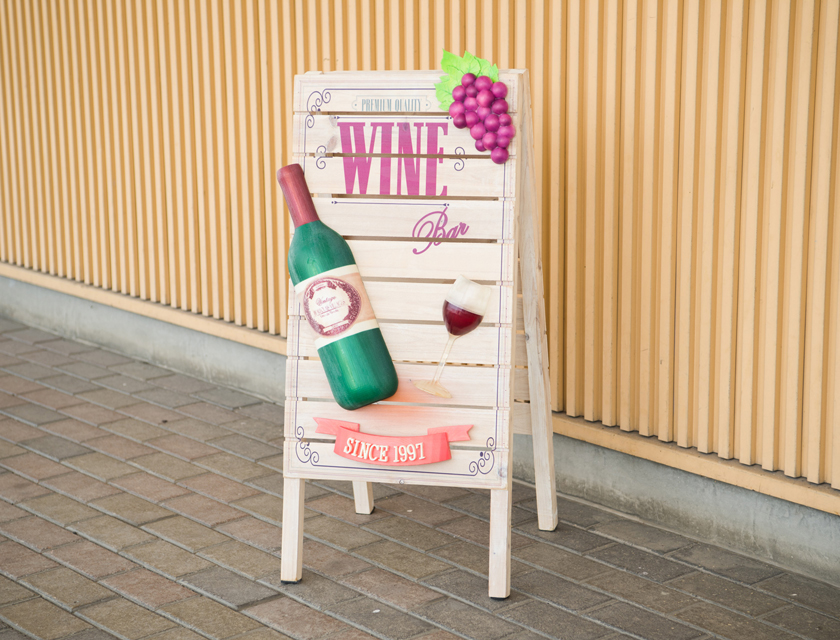 As the adoption of additive 3D printing has become more mainstreamed, the company felt it was an appropriate time to see how this technology could help their target markets and customers. "For a long while, price-point restrictions related to 3D printers were an obstacle that separated commercial and industrial applications," says Nick Walters, director of Technical Sales at Amcad & Graphics LP.
But now that 3D printers models and prices are getting smaller, interest is getting bigger. "We are seeing many of our current customers utilizing 3D solutions in their current workflows but now with the photo-realistic capabilities in a more compact platform," says Walters.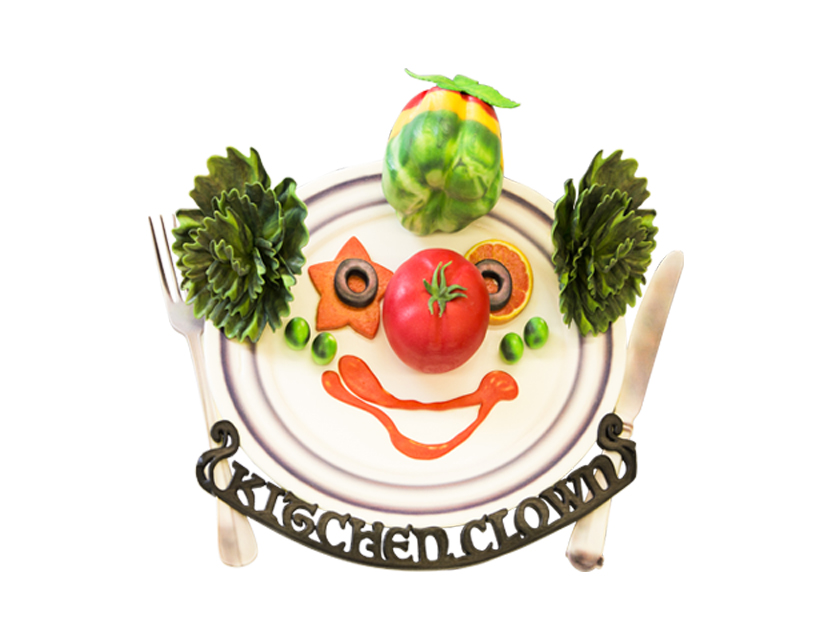 The Most Used Systems
Here is a glossary for the 3D printing processes today, several used for other industries outside of signage and graphics:
BJ (Binder Jetting)
CJP (Color Jet Printing)
DLP (Digital Light Processing)
DMLS (Direct Metal Laser Sintering)
EBM (Electron/Digital Beam Melting)
FDM (Fused Deposition Modeling)
LOM (Laminated Object Manufacturing)
MJF (Multi Jet Fusion)
SLA (Stereolithography)
SLM (Selective Laser Melting)
SLS (Selective Laser Sintering)
Amcad & Graphics LP has studied the significant growth and advancements made in 3D printing technologies over the last two decades. Stereolithography (SLA) is one of the most established and widely used, having been developed back in the '80s. Fused Deposition Modeling (FDM) and Selective Laser Sintering (SLS) are two other popular types nowadays. (Note: The company states that LOM, EBM, and SLM are three of the least widely used platforms but are still worth noting.)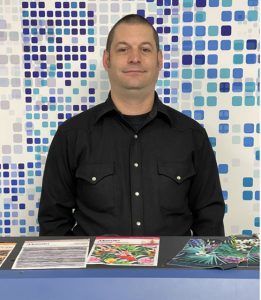 "FDM technologies are currently the most popular platforms in terms of usage and affordability," says Walters, noting that their desktop footprint is used to create a variety of crafty items (3D extruder handheld pens, for example). "For an entry-level craft or rapid prototype, FDM is one of the most widespread options with a diverse range of uses."
There are a variety of colored, multi-colored, and specialty blends of thermoplastic filaments employed in extrusion-type FDM printers. "This allows for a variety of color combinations, as well as customizations," says Walters.
Meanwhile SLA and other resin 3D printing platforms use a laser to cure the liquid resin and facilitate the photopolymerization process. (Note: This process uses visible or UV light to create a polymerization reaction that forms a linear polymer structure.) "These [models] have also become quite popular over the recent years," explains Walters, "as parts created with this process offer the highest accuracy and resolution, and the smoothest finish."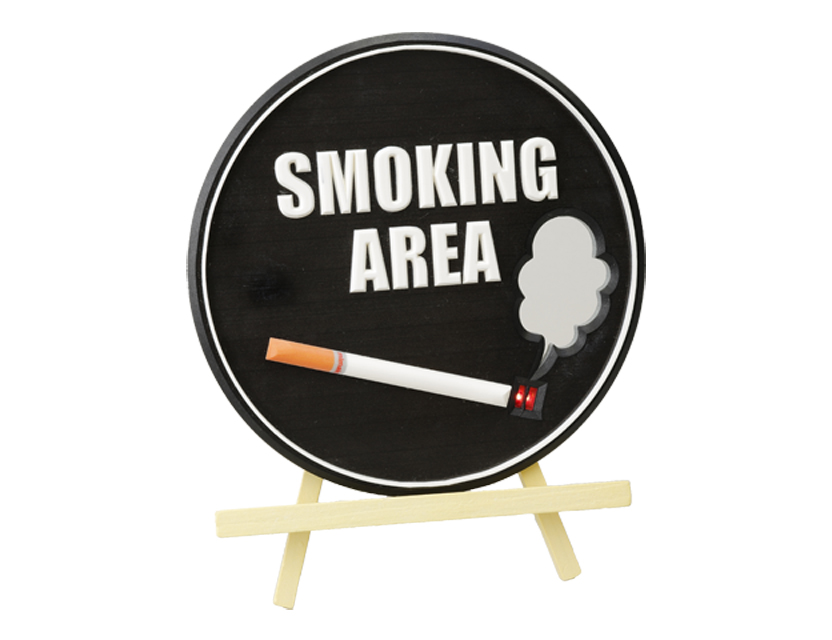 While both FDM and SLA 3D printing technologies are a part of the additive manufacturing family, both still require post-process finishing (as well as painting). They also need support structures, unlike the SLS industrial processes. "Sintering processes can use multiple material types to produce 3D objects," says Walters. "A laser is used here to bond small particles of powdered material."
However these aforementioned technologies are unable to capture true full-color 3D printing, which is where newer platforms come into play. Walters points out some of the more popular full-color systems used these days in order of ascending price point.
3D Systems has the ProJet series, which uses a powdered polymer core with a binder along with inkjet heads. "The ProJet line has many innovative features, but it does require post-processing," says Walters. "And there are limited options for materials."
The HP Jet Fusion Line uses powdered polymers with an infrared curing light and inkjet. "The Jet Fusion line has many innovative features, but in addition to post-processing, it does require a cooling time," comments Walters.
Mimaki offers the 3DUJ-553 and 3DUJ-2207 models, which utilize a UV-curable resin supported by a water-soluble solution. "These platforms have the widest color spectrum but still require support and only print with one material," says Walters, adding the 3DUJ-553 is much larger and much faster yet at a more restrictive, costlier price.
Amcad Graphics & LP has had a strong relationship with Mimaki stretching back to the start-up of their 2D inkjet systems. The company has been using the entry-level Mimaki 3DUJ-2207 quite frequently with its smaller build plate area (20-by-20-by-7.6cm) and its water-soluble support solution (which aids in process speed and model stability). The model is submerged in an ultrasonic parts cleaner, and then the support solution dissolves away.
"With the high-resolution printheads, we can achieve 1200-ppi for more demanding applications," says Walters. "This is in part due to the photo-realistic color gamut, including up to 10 million color combinations."
Finally Stratasys has several decades of 3D print technology experience, highlighted by its PolyJet UV Light Cured Resin Series. "The PolyJet series is one of the strongest platforms available, but it does come in at a higher price point and also requires support structures," states Walters.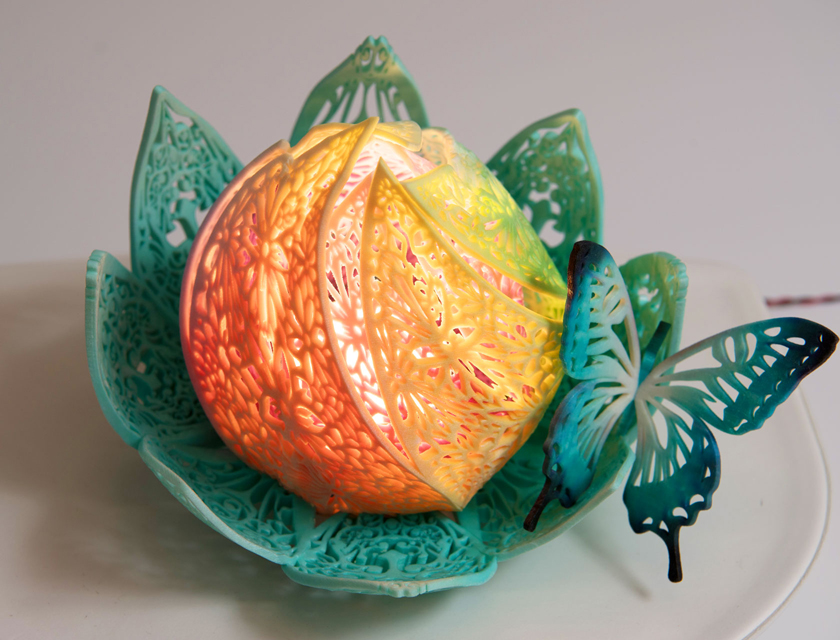 Adding Products With Additive
Experimentation and expansion are key draws to 3D printing technology. "We have been experimenting with models to make molds for thermoforming with our FDM-based Mimaki 3DFF-222 co-developed with South Korean-based Sindoh," says Walters, noting that this platform is also complementary to the Mimaki UJF Series Benchtop Flatbed platforms and can be used to produce fixtures or jigs for non-uniform objects for direct UV printing or cylindrical items for rotary printing.
And the company just started exploring creating busts and logo shells. "We're also producing parts for remote-control cars using this hardware," says Walters.
FDM 3D printing technology is also allowing shops to produce items for the gaming and collectibles communities, such as Warhammer-type game figures and other specialty figurines. Amcad & Graphics LP has found that these are really proving popular amongst these types of customers, even though the end products need painting afterwards (which can even be completed enthusiastically by said customer). "We've found that 'articulated dragon' reproductions are heavily requested, as well as maze puzzle boxes," says Walters.
This interest has even led them to consider producing their own line of figures in the near future. "We're experimenting with our 3D printer and playing around with some popular files doing fun things like depicting actor Dwayne Johnson's face imposed onto recognizable characters and objects," says Walters.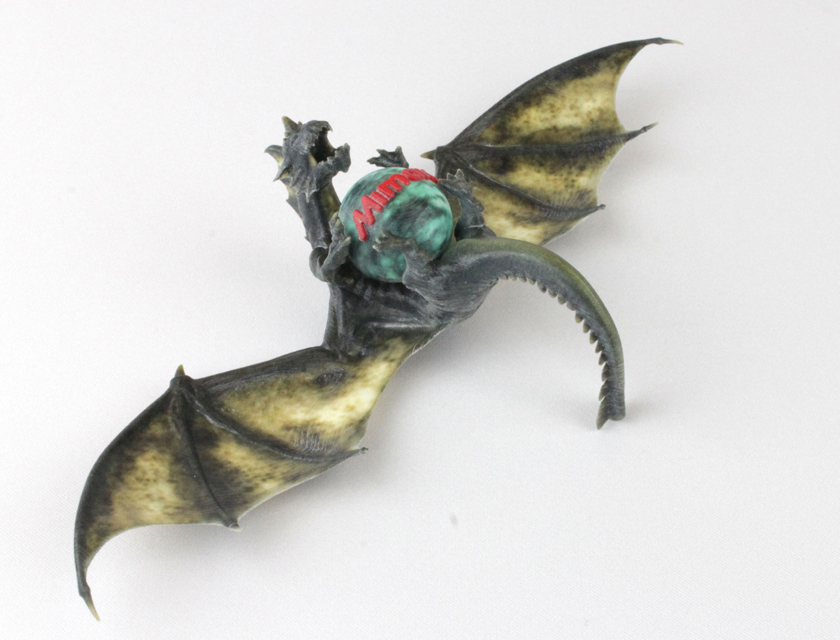 It's important to remember that 3D printing can complement (or even add to) one's inkjet offerings. For example, Amcad & Graphics LP has helped customers doing 2D printing and embellishments for CDC and other cannabis-adjacent subjects by being able to add on 3D printing services. They create "buds" that can be placed into jars in these establishments. "They are photo-realistic without having to consider regional legal considerations," says Walters.
Meanwhile Walters points out that 3D artwork is another possibility for shops equipped with 3D printers to explore. He also hints that the possibility of some manufacturers moving towards licensed Braille applications using 3D printers could be expected sometime this year, which can open up even more potential opportunities.
The company has also found a successful niche reaching out to medical school educators and donating printed objects to them. They recently used the material-jetting Mimaki 3DUJ-2207 to produce a set featuring examples of skulls, anatomical parts, and chromosome models. "We've found that a simple project, like producing didactic cranial models, has been helpful to show people the range of capabilities of 3D printers," says Walters. "We are able to implement color versatility with these models to create eye-catching results."
The company starts with a base model and then moves into customizing textures, colors, and scale. "Once we have those squared away, we upload our work into a file checker to repair and optimize any conflicts," says Walters. "After that process, we load our files into the operating software to output to the machine."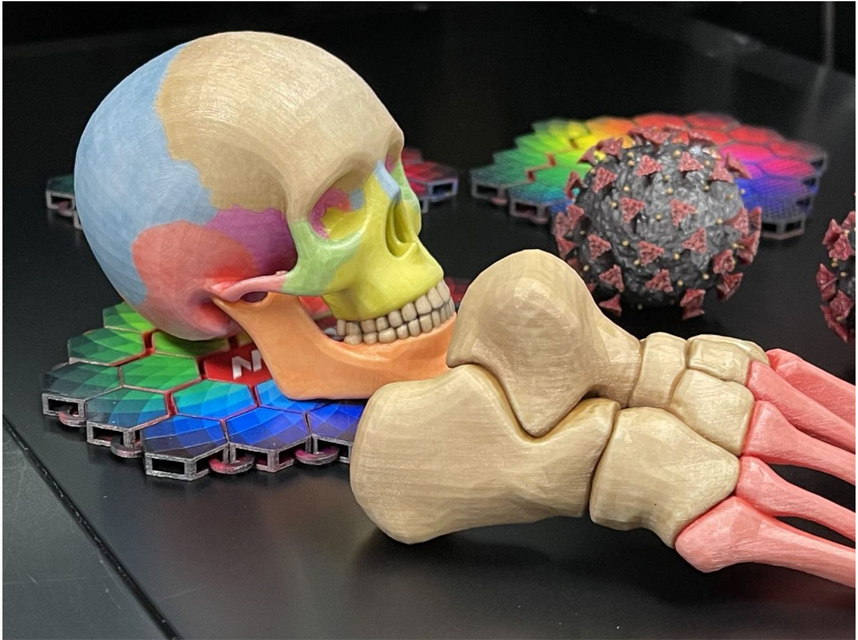 The Learning Process
If you work mainly with 2D printers yet are intrigued to bring 3D print technology onboard at your shop, prepare yourself for a learning curve—but fortunately one that isn't massive.
Walters says that, although several helpful software options are available, they've found their best route has been experimenting with existing printer models and then proceeding to customization.
Once they familiarized themselves with unwrapping surfaces and applying textures, Amcad & Graphics LP found it became much easier to conceptualize other projects using 3D additive print technology. "With any new and innovative technology, the working experience comes first, but you are always pushing the limit," says Walters, noting they were already experimenting as soon as five days after installing their first machine.
Unlike the traditional 2D design platforms, there are many options for 3D modeling, painting, and processing. "Users can maximize quality and detail without being limited to only a couple of choices," says Walters.
File platforms are available to help. Thingiverse and Thangs are examples of two free ones while Turbosquid, Etsy, Patreon, myminifactory, and loot-studios are some of the paid versions. "Blender has a good community too," says Walters.
It's important to be aware that challenges still exist even after set-up.
"Keep in mind that 3D modeling and other parametric designs require more time than producing a standard 2D print," comments Walters.
Also not all models are compatible with all processes. Some renderings might make for a nice image but aren't yet ready to be produced dimensionally. "Some simple designs might require a specific orientation when being produced," says Walters. "The way a model is arranged on the build plate will ultimately have an impact on the final finished surface, which is something most users wouldn't think about. Other designs might require support structures to be added."
Time management needs to be factored. "It took us thirty hours to complete the aforementioned medical school project featuring the various objects," states Walters, "but this is still a better cycle time result than doing it manually. And it can be instantly repeatable.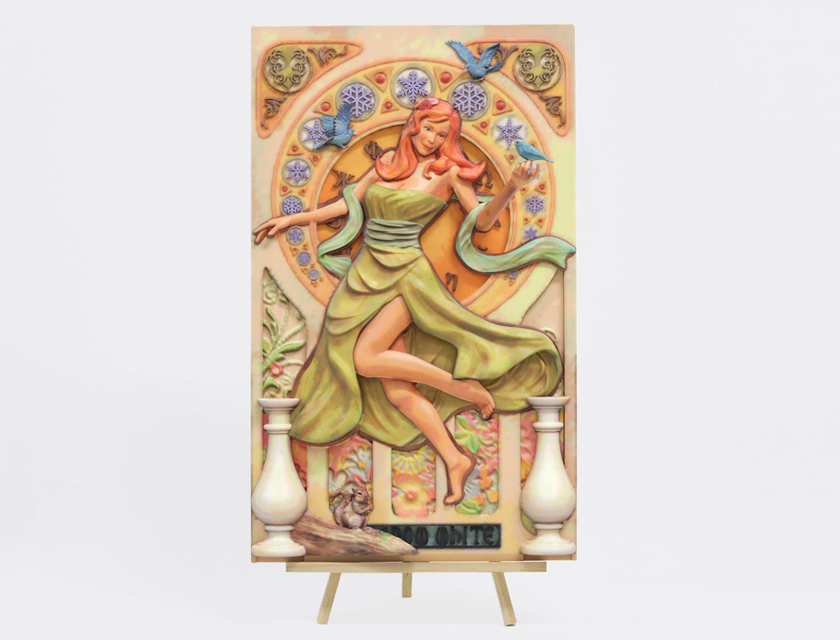 Walters explains proper pre-fabrication planning is vital as is managing customer expectations on when a product can be delivered. "The time estimator and consumables calculators on many software programs is accurate and lends to proper planning," he says. "For example, Mimaki 3D Link will estimate ink/support consumption prior to print execution and warns users if ink or waste tank levels are less than acceptable.
"Cycle times aren't detrimental, as you don't have to watch the machine. So you are free to go about other projects during a run."
Another thing to take into account is that additional post-process options might also be considered after the support solution is removed, in order to get the desired look and feel on a model (such as a more polished look on transparent objects, for example).
NOTE: Amcad & Graphics LP also has several employees on its staff under the age of thirty who have paid attention to the latest technological trends and have ideas concerning how other shops can recruit younger hires to their staff and advice about advances in the print industry.
The post The ABCs of 3D: Succeeding at the Art of 3D Printing appeared first on Sign Builder Illustrated, The How-To Sign Industry Magazine.
Published first here: https://www.signshop.com/dimensional/equipment-materials-a-software/abcs-succeeding-at-art-of-3d-printing/