"COORDINATING ROUGHLY 400 signs can be tricky," said Sam Mooney, general manager for Stein Sign Display (SSD; Watertown, SD), referring to the football stadium project recently completed for Northern State University (NSU) in Aberdeen, SD. "We made a litany of signs … from channel letters to monument signs to big flex-faces [and more]," he said. And neither that nor any of the other five sign projects presented here lack any spirit, attention to detail or excellence of execution — just what you'd expect when sign pros go back to school.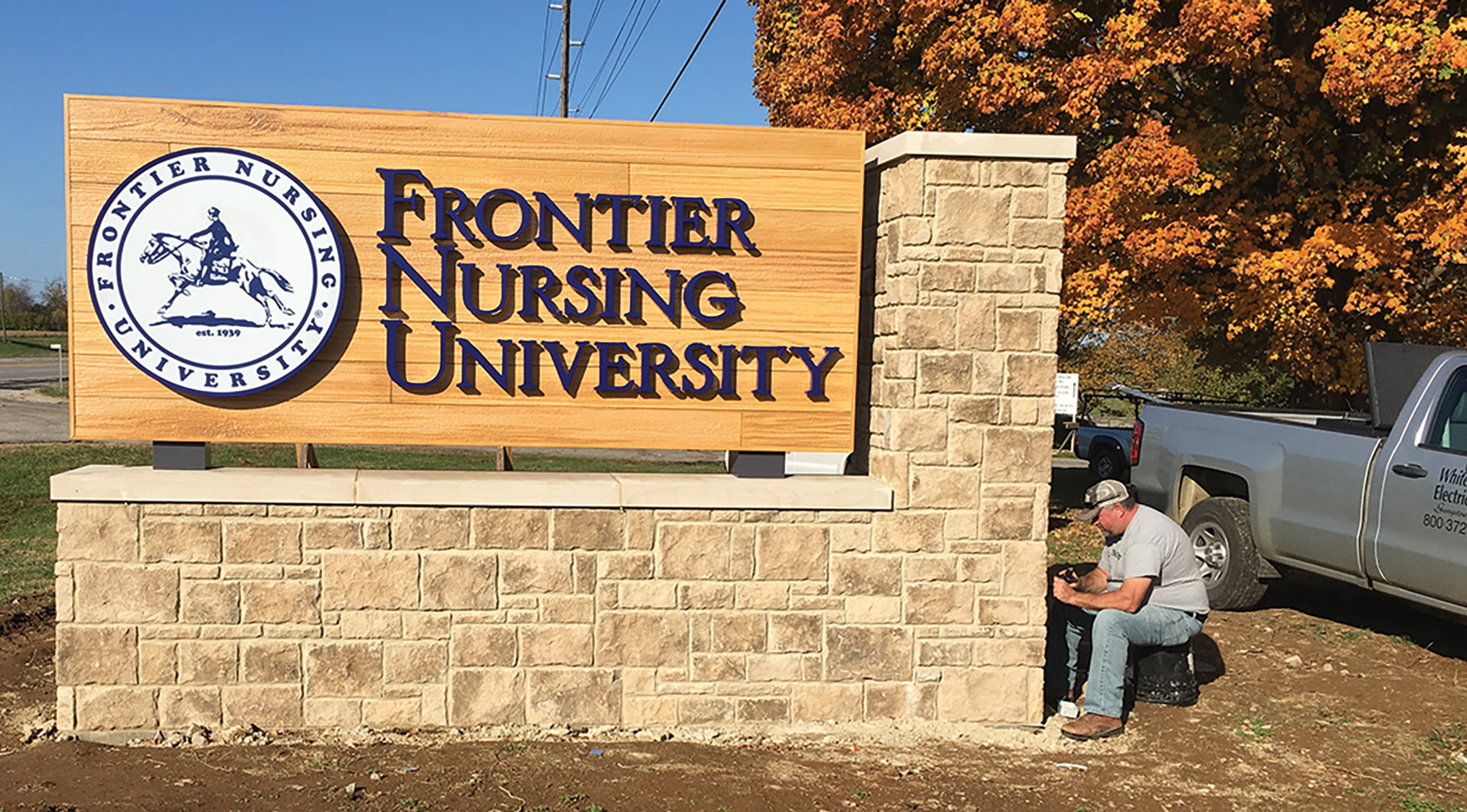 History Lesson
Frontier Nursing University returned to local Ruggles Sign (Versailles, KY) for a faux-wood monument sign based on the university's logo, which serves as a way to respect the history of FNU, Ruggles' Operations Manager Brad Turpin, Jr. said. In the early days of the Frontier Nursing Service, nurse-midwives rode horses equipped with saddlebags. "Everyone that drives by truly thinks the sign is wood," Turpin said. Ruggles routed ½-in.-thick HDU and combined it with an aluminum sign cabinet equipped with Bitro Group's OpticsPRO BANTAM Lite 6500K LEDs and Bitro ASU-60-12U power supplies for remote-controlled RGB lighting.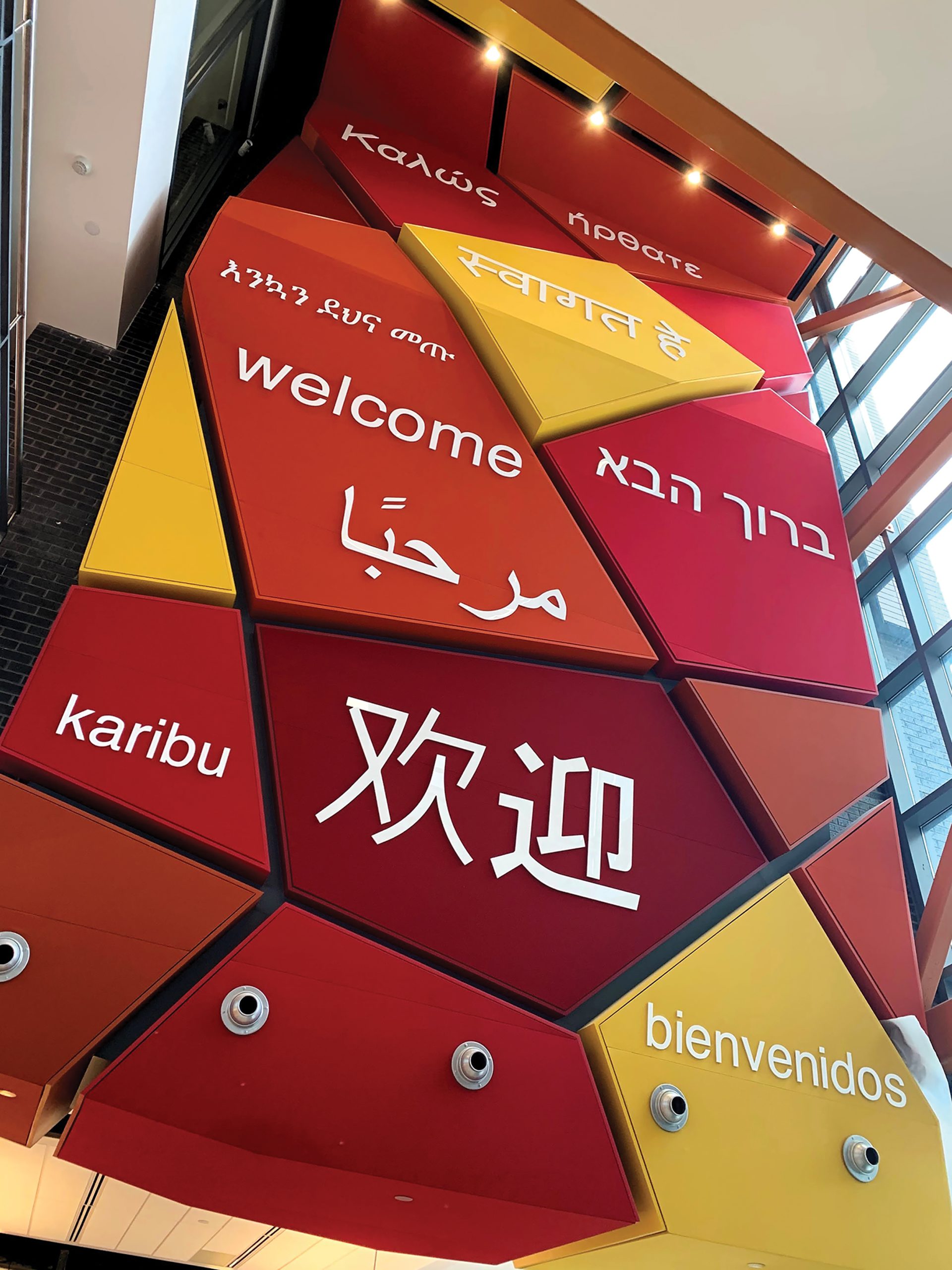 A Welcome Cloud
Among other signs for John Eaton Elementary School in Washington, Alpine Sign & Lighting (Dallastown, PA) fabricated two signs to show the diversity of the culture in the area, said Alpine's owner Doug Bray. Resembling a word cloud with "welcome" in several languages, the sign consists of plywood covered in foam and color fabrics. Gemini manufactured the custom lettering. Though he characterized everything about this project as a challenge, "the installation is where the fun began," Bray said. "We were basically working upside-down off lifts and scaffolding."
Advertisement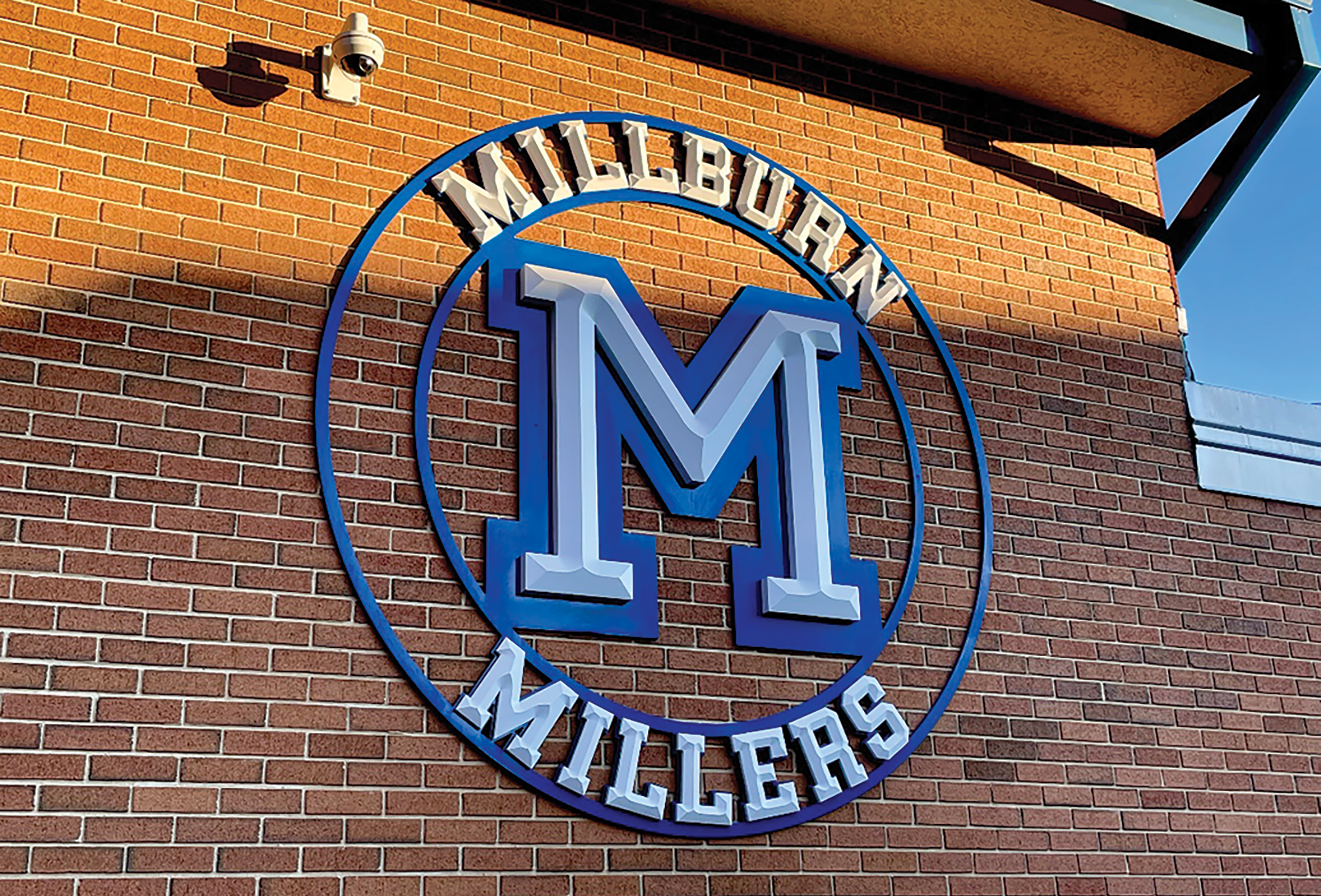 Give Me an M!
"It was a touchy install," said The Great American Sign Co. (Basking Ridge, NJ) owner Gary Johnson of the 88-in.-diameter sign he created for Millburn (NJ) High School. The school's M logo comprises ½-in.-thick Alumet aluminum composite material (ACM), dark-blue elements and 15-lb. DUNA-USA CORAFOAM white prismatic letters, routed on Johnson's MultiCam 3000. The ACM is strong but cut thin, so transport to the site was supported by a special crate, Johnson said.
Go Team!
This tower sign for Bradenton Christian School in Bradenton, FL was a collaboration of Fawley Bryant Architecture (Sarasota, FL), Kevin Oden, owner of Oden Hardy Construction (Bradenton, FL) and Don Bostic, designer for Creative Sign Designs (CSD; Tampa, FL) — per Melanie Harden, CSD's executive vice president. The tower and paw logo are illuminated with Principal LED Street Fighter RGB modules using Principal 120W power supplies and controlled by a smartphone app. "Great signs are never built by one person," Harden said. "They're built by a team."
High School Hybrid
Through a long-standing relationship, Atchley Graphics (Columbus, OH) created this wall sign with dimensional elements for nearby Upper Arlington High School. The shop printed the image on DreamScape wallcovering media using their EFI UV and HP Latex printers. The dimensional components consist of gloss-black acrylic, machine cut using various routers, their Summa digital cutter and laser cutting. Installation was completed in under a day, using an aerial lift. "The project was heavily affected by COVID-related shortages and delays," said owner Derek Atchley.
North Stars
NSU and DLR Group (Omaha, NE) provided the artwork for the stadium signs, Mooney said, the majority of which were fabricated of aluminum by ESCO Manufacturing (Watertown, SD), which is allied with SSD. The monument faces were printed on 3M material by ESCO's Mimaki UCJV300. Installation took roughly 350 hours. Mooney praised the efforts of Bill Ortmeier (project manager), Jeremy VanZee (head of installation) and Josh Bawek (installation assistant). "Once the football team kicked off, and our job was complete …" Mooney said, "the countless drives 100 miles north were worth it."
PHOTO GALLERY
(17 IMAGES)
Advertisement
The post 6 School Sign Projects That Earned High Marks for Signmakers appeared first on Signs of the Times.
Published first here: https://signsofthetimes.com/textbook-signage/