Our fifth-annual spotlight profiles select professionals thirty-five years old or younger who are enjoying their careers in the sign industry—whether through management, design, production, or installation. These are their stories, their projects, and their challenges, as well as their thoughts about the industry in general.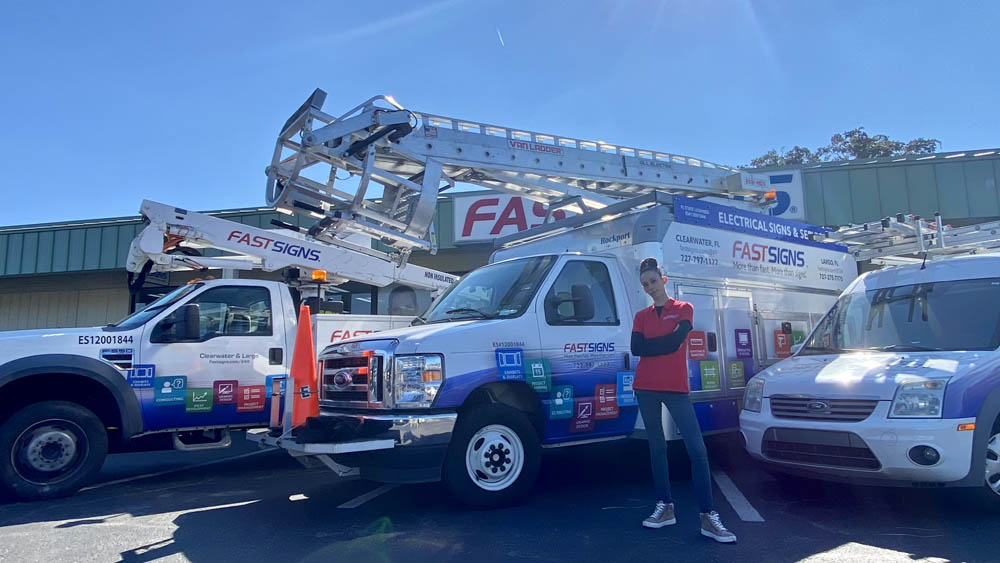 Ashley Baumeister, 31, has spent eight years in the sign industry—six with FASTSIGNS of Buffalo, New York and the last two with FASTSIGNS of Clearwater, Florida.
Like so many other young people, Baumeister entered the industry through a series of chance encounters. A customer from the coffee shop she was working at admired her work ethic and offered her a job at his printing company. From there, she learned about FASTSIGNS.
"I remember working with FASTSIGNS as a vendor at the printing company and was always curious about what they did exactly," she says. "[I was] amazed every time a new product came in, wondering how they made it. I received a letter that FASTSIGNS was hiring and applied."
Since then, Baumeister has been "addicted" to the work.
"I have a dedication to the industry like no other. I'm always learning and absorbing as much knowledge as possible to further expand the company's capabilities," she says. "I care for the FASTSIGNS brand as an owner would because FASTSIGNS has always been my second family. I strive to always challenge myself as well as the growth of the company."
Baumeister has even earned a variety of certifications: OSHA 10, fall training, and Mobile Elevating Work Platforms (MEWP). Still she believes there's room for improvement on the training side, especially in production and installation.
"If you're a visual person like myself, if you can't have that dedicated hands-on training, then you have to learn from trial-and-error through experience," she explains, noting that technology and online connections have definitely helped. "I belong to several sign groups across multiple platforms. This not only allows for networking, but the knowledge also is extremely valuable.
"I have learned a vast amount, and I get to share my experience with others."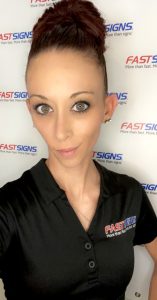 In fact, Baumeister handles the social media accounts for FASTSIGNS of Clearwater, and she currently focuses on Facebook and TikTok. She's amassed thousands of followers on TikTok, where she shares posts about production and installation, as well as humorous videos about working in the industry.
However it's not all fun and games. Baumeister has found multiple benefits through growing the shop's social media presence. For one, it's helped to hone her marketing skills. "Taking the time to learn about algorithms, analytics, and market strategies can easily make your social media presence known, plus I personally enjoy doing it," she says. "FASTSIGNS is promoted as a brand and our location specifically, and having online presence is key to further growth."
Baumeister also finds that showcasing the sign industry on platforms like TikTok helps to introduce the industry to younger people. "TikTok honestly makes our job look pretty awesome, which drives the curiosity of how we fabricate projects," she says. "Understanding what interests your audience is key."
She encourages other sign shops to make use of technology and social media—especially in the hiring process. "The days of paper applications are past," says Baumeister, "so knowing which sites are best to hire or which sites are best to promote your business helps you grow using technology to your advantage."
The post Young Sign Makers 2022: Ashley Baumeister, Production Lead appeared first on Sign Builder Illustrated, The How-To Sign Industry Magazine.
Published first here: https://www.signshop.com/news/young-sign-makers-2022-ashley-baumeister/