When you think about company or product branding, what comes to mind? A company logo? The signage used throughout a store's interior and exterior? Or maybe the branded apparel worn by employees and patrons alike?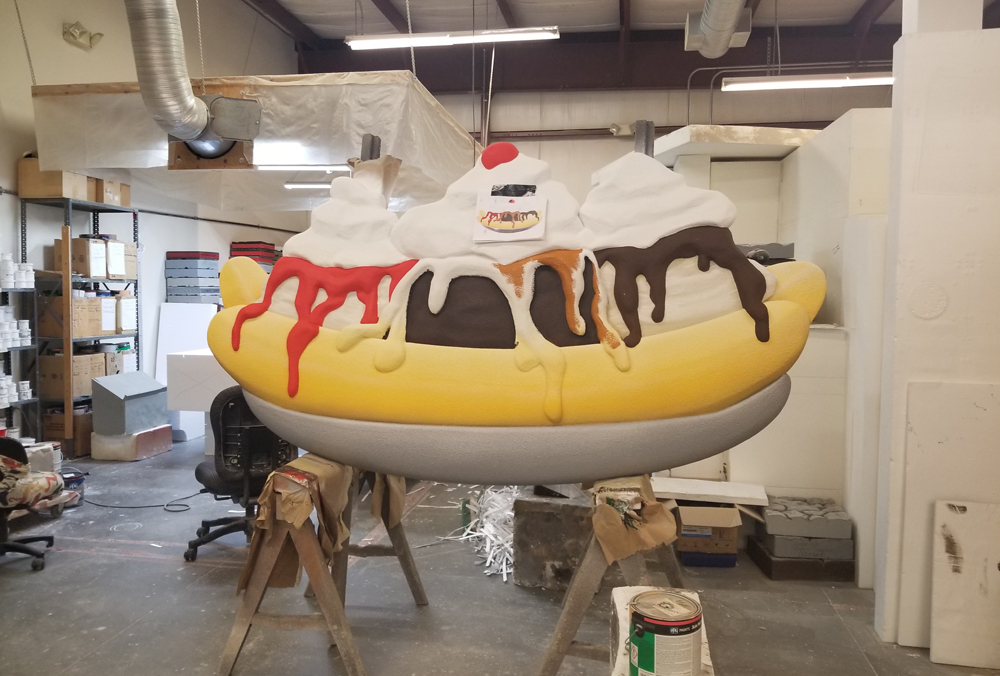 In fact, all of the above constitutes a company brand, but for many companies, leveraging their corporate or product brand through signage is often paramount to their success.
And that's exactly what Smith's Waco Market in Canton, Ohio recently did when they worked with Pro Art Signs in Canton for the design and install of an awe-inspiring banana split sign highlighting the store's handmade ice cream treats.
For over thirty-five years, Pro Art Signs has been family-owned-and-operated, specializing in the design, production, and installation of high-quality signs, vinyl graphics, fleet and vehicle wraps, and tradeshow signage. Logo design, large format printing, and custom banners are a few more of their specialties.
The company operates in an 8,400-square-foot facility, which includes a 60-by-100-foot climate-controlled installation bay that allows the Pro Art Signs team to wrap and letter vehicles year-round.
"The banana split sign project came about as a hand-in-hand design collaboration with the client," says Monica Fritchley, designer at Pro Art Signs. "They were undergoing a total store renovation and required something unique and eye-catching as a focal point for their outdoor ice cream section. It would be the 'cherry on top' of the renovation."
From the beginning, the Pro Art Signs team knew that Smith's Waco Market wanted to feature a banana split as it was one of their most iconic menu items, but the style and design still needed to be hammered out and nailed down.
"It was imperative that this sign be one-of-a-kind. The customer had very specific details that they wanted to incorporate (ice cream flavors, certain toppings, etc.), so we knew that a simple Google image search for 'banana split artwork' wasn't going to cut it," says Fritchley. "[We fine-tuned the artwork] until we had exactly what the customer was looking for."
Being that the actual production of the banana split was going to be outsourced, most of Pro Art Signs' time was spent on the artwork.
As Fritchley explains, in the beginning, it took several attempts to realize the customer's vision. However customer satisfaction was paramount, so they kept going back to the drawing board—literally—fine-tuning it until they had a design that was exactly what the customer wanted. "It's always a great feeling when your client responds with 'Yes, that's it!' and all of the hard work and time spent pays off," says Fritchley.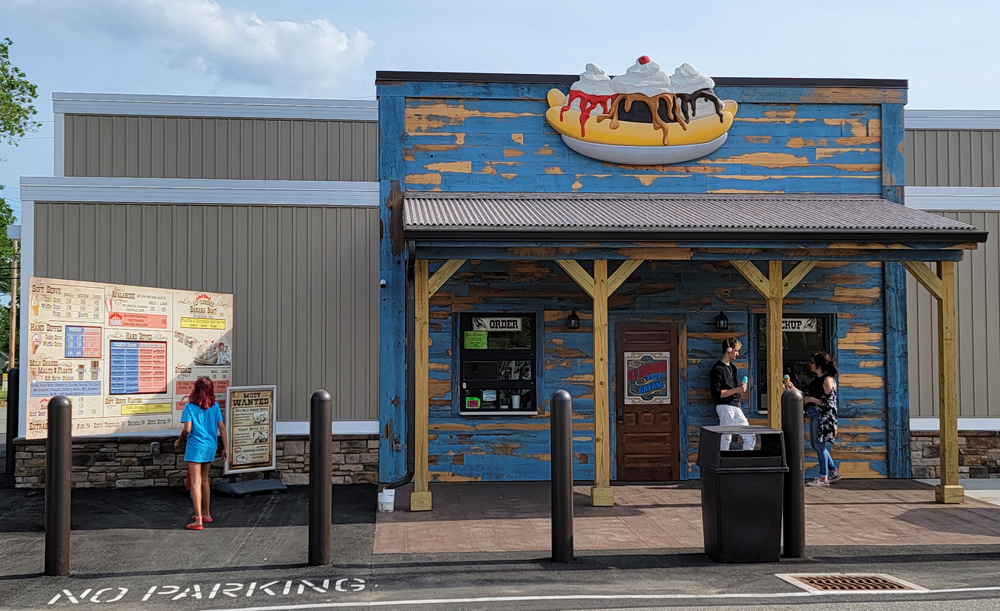 Pro Art Signs was also working on graphics for many other elements of the store's renovation—including a thirty-foot slice of pizza installed on the ceiling in their deli—so the banana split design was worked on in conjunction with that.
The initial artwork was drawn on the designer's iPad using the Procreate® digital illustration app and then imported into CorelDRAW® and vectorized.
A few elements had to be tweaked, as is usually the case when converting traditionally styled artwork into vector art, but Pro Art Signs made sure to maintain the image that the customer had approved.
After receiving a final design approval, Pro Art Signs partnered with Peachtree City Foamcraft in Peachtree, Georgia and sent them the completed artwork for the manufacturing process.
Peachtree City Foamcraft brought the flat, two-dimensional image fully to life by employing their stucco-coated foam core for a very lightweight, easy to install, yet sturdy sign that will have no problem surviving the Northeast Ohio elements. "Even we were amazed at how well they were able to translate this particular artwork into three dimensions," says Fritchley. "They consistently deliver a high-quality final product."
The finished banana split measures roughly four-by-eight feet. Upon receiving the finished banana split sign from Peachtree City Foamcraft, Pro Art Signs contacted their friends at nearby Canton Sign Co., who helped with the installation.
"One of the nice things about being a small, local, 'mom and pop' shop is that the opportunity often arises to collaborate with other small, local shops and help one another out," says Fritchley. "We're always happy to work with other businesses in the community."
The sign was manufactured with an aluminum plate built into its backside. "We used an aluminum u-channel to secure it to the building," says Fritchley.
From start to finish, Pro Art Signs spent about two months on the project. No matter how big or small the job may be, customer satisfaction and a job well done are always the driving force behind what Pro Art Signs does.
"As the old saying goes, 'a good name is better than gold,' and we never sell a product or send a job out that we wouldn't be happy paying for ourselves," says Fritchley.
According to Fritchley, the sign exceeded everyone's expectations and has received many, many kind compliments. "We can't thank Smith's Waco Market enough for giving us the opportunity to make their vision a reality, and for trusting us to add the final touch to their total store renovation," she says. "And we'd also like to thank our partners in the project; both Peachtree City Foamcraft and Canton Sign Co., went above and beyond to assist us with the production and installation of the sign."
At the end of the day, Fritchley says that this was simply one of the most enjoyable and rewarding projects of the year. "We're so grateful to have been a part of it," she says.
By Maura Keller
The post Sweet Signage appeared first on Sign Builder Illustrated, The How-To Sign Industry Magazine.
Published first here: https://www.signshop.com/dimensional/equipment-materials-a-software/sweet-signage/