Martin Charles hasdesigned more worlds than most people can imagine. He's a graphic designer for some of the biggest producers in Hollywood, with film projects including: "Ghostbusters," "42," "Public Enemies," "Love and Other Drugs," "Charlie Wilson's War," and HBO's hit series "The Newsroom."
Charles' latest project is "Finch," a post-apocalyptic science fiction film starring Tom Hanks and available now on Apple +. We spoke with Martin about how he pulled together the intricate details of a world that previously existed only in the director's imagination.
What (or who) initially drew you to this project?
Martin Charles: One of the most exciting things in the film business, after you've had time to develop your reputation and a few friendships, is to get a call about a future project while you're still busy. I met production designer Tom Meyer several years ago and the desire for collaborating on a project was mutual. When he called me about doing "Finch," I put everything else aside. Of course, working with Tom Hanks (my seventh movie with him) and Miguel Sapochnik, the director from "Game of Thrones," were the icing on the cake.
In this film the setting is Earth, but not as we currently know it. What type of Earth were you creating?
According to the script, in 2028, the Earth is destroyed by a major catastrophe, and the film is set five years later, in 2033. The Earth is decayed and completely bleached from the sun's radiation. It's now harmful to mankind and to any living thing.
Advertisement
Please tell us about the different types of graphics you produced for this film.
We needed to imagine the physical aspects of our world, both indoors and outdoors, as they would be 15 years from now. In many ways, this world is similar to our world today. I created lots of practical graphics: outdoor signage for storefronts, street signage, billboards, festival banners, small town graphics, posters, hospital directional signage, coffee shops, nail salons, electronic stores, etc.
The difference for this movie is that I started with perfect, colorful graphics and then worked backwards to mimic the eroding effects of time and intense solar radiation. I went through a process of bleaching out the colors to bring the graphics in line with the palette the production designer wanted.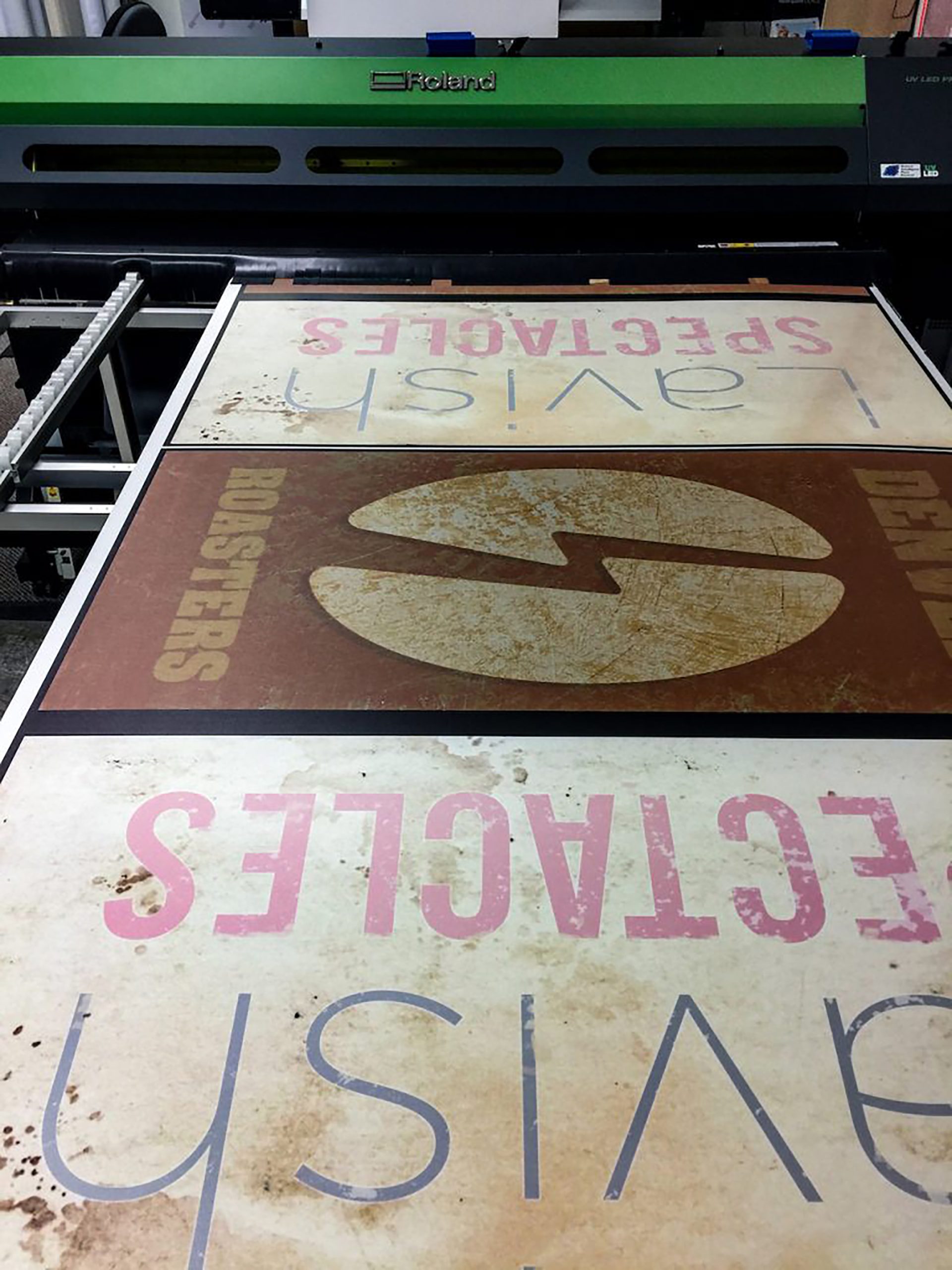 Charles used a Roland DG UV flatbed printer to print set graphics directly onto Sintra and aluminum panels. | Credit: Roland DGA
What digital printing equipment did you require for this project?
I needed to print on different kinds of vinyl and paper. Additionally, I had to print directly on glass, metal, wood and reflective materials. To do all this, I relied on two printers: a 64-inch Roland DG printer/cutter and a 64-inch Roland DG hybrid UV printer.
The hybrid printer was especially helpful for this project. I was able to push the coating and texture capabilities of that device to get some unique and visually interesting effects. I also took advantage of the SOLJET's White and Metallic inks for many of the graphics.
Having two printers meant production was extra efficient, and I was able to use different materials on each printer to get the full range of printed graphics. These devices were fast, accurate and reliable, which made the process much easier for me.
What design elements were important to maintain throughout the film?
Simplicity, and not calling attention to the practical graphic designs, were my main concerns. These graphics were meant to be in the background to set the tone for the scenes. My design focus was really on how the graphics were affected by the post-apocolyptic environment, both indoors and outdoors. I created colors that were appropriate for the tone of the film, and the Roland DG printers allowed me to hit those targets every time.
I was amazed when I saw the final graphics on set – the illusion of radiation and decay we were able to create using graphics was really impactful. In the end, the effect was just as we intended. There was one scene where the graphics really came to the fore – the hospital scene. It's really quite striking. You will never look at a hospital in the same way again.
Advertisement
What materials were you printing on?
One of the most important materials I used was an optically clear film by 3M IJ8150 and a removable micro-adhesive film made by Phototex. Of course, I also printed on standard vinyls, photo paper, blueback paper, canvas, adhesive film, and adhesive fabrics.
The production designer was wide open to experimenting with printing on non-traditional substrates like glass, metals, Sintra, foam, wood, and translucent materials. We pushed anything that was safe through the Roland DG hybrid UV printer, and the graphics came out beautifully. I printed store graphics as well as road and highway signs directly onto Sintra and aluminum panels.
What was the most intricate graphic you produced for "Finch"?
The most intricate graphics, by far, were the graphics for the RV windshield and windows. I worked on that particular piece for several weeks, making hundreds of square feet of samples before we settled on the final version. This is where the Metallic and White inks on the SOLJET really came into play. We had to get the environmental effects just right, and, in the end, I think it's quite convincing.
What was your favorite graphic element in the film?
Everyone's favorite was the hospital scene. To create the black and white X-ray graphics, I printed 5000 square feet of Phototex optically clear film with micro adhesive. You really need to see that scene to understand the intensity and impact of the graphics.
What was your time frame for this project?
It was a six-month run from pre-production to the last day of the shoot. The research was integrated into the process of the design as needed, but the entire film was mapped out with visual storyboards before I started.
We already had a blueprint of what the film should look like, but the real fun began when I had to create that world for camera. I was there until the very last day of shooting. Production started about three to four weeks before principal photography.
How were the graphics you created received?
I was 100 percent-plus satisfied, and that is why I depend on my Roland DG equipment movie after movie, challenge after challenge. The film's production designer told me that the graphics we were able to create for this movie wouldn't have been possible without my Roland DG printers, and I do believe it would have been a different looking show, graphically. We were able to push the envelope because we had technology that allowed us to experiment.
Advertisement
The post Signmaker Plays Big Role in Tom Hanks' New Film "Finch" appeared first on Signs of the Times.
Published first here: https://signsofthetimes.com/signmaker-plays-big-role-in-tom-hanks-new-film-finch/