With the absence of in-person tradeshows this year, Sign Builder Illustrated is bringing new products to you—virtually. Looking for new equipment, need a product upgrade, or want to learn about new media and materials? Browse the listings below.
---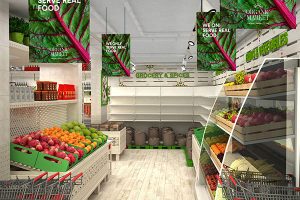 The HP PageWide XL Pro 10000 boosts productivity, printing up to 7500 ft2 or 1,000 B1 posters per hour, and can print on different sized substrates, including paper, boards, cardstock, and cutsheets. It also provides the capability to deliver quick results with instant-dry prints on compatible substrates. With HP PrintOS, PSPs can easily control the operations of their fleet anywhere, anytime – while also enjoying simplified maintenance and fast start-up. The HP PageWide XL Pro 10000 also features the first HP large-format auto sheet feeder and versatile stacker, providing seamless end-to-end cut-sheet workflow.
---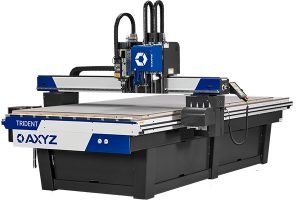 Why settle for less when you can do more with AXYZ Trident? Using a triple-head configuration of spindle, tangential knife and oscillating knife, you can process all types of signmaking materials with the right cutting tools at your fingertips.
AUTOMATE BETTER
The Trident Router optimizes high volume productivity with the addition of a 4-position tangential knife tool changer, as well as the standard automatic tool changer. Both options will ensure your machine keeps running continuously without the need for operator input.
Contact us today! Call 1-800-361-3408 or visit the link below.
---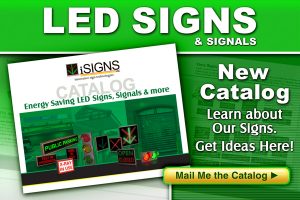 Hot Off the Press — LED Signs, Signals & More!  Sign-up to receive your Free Book via Mail using the catalog request above. Get ideas for how you can use these Energy Saving LED Signs & Signals to generate new business for your sign shop.
These small LED signs offer big solutions for safety, traffic control and directional applications. They ship quickly and arrive fully assembled — ready to make simple wiring connections and mount to the wall or canopy. Mounting accessories are available for post, projection, angle and ceiling mount signs. Wholesale LED signs you just order and install.
---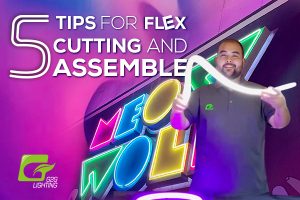 G2G provides pre cut and seal service on our Flex series. But we are willing to teach you how to cut and seal. Check out the video to get quick tips!
---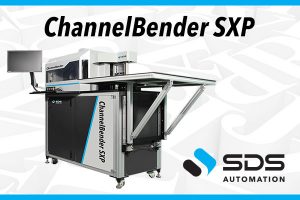 ChannelBender SXP can punch 1/8″ & 1/4″ holes and form channel letters from 1″ to 8″ deep, as small as 3″ tall with serifs as small as 3/16″. It processes traditional aluminum coil as well as Trimless LetterForm, LiquiForm, polished stainless, polished brass and even steel. The most advanced channel letter machine ever built.
---
Rayjet Laser, a division of Trotec Laser, is proud to announce the R400, the newest edition to the R Series product line. The R400 joins the R500 as the only laser safety class 2 systems in their price range that adhere to European manufacturing and design standards while providing the industry with a reliable, user-friendly, affordable, and locally supported solution, now available to purchase directly online. Cut and engrave a wide range of materials including acrylic, plastic, wood, textiles, and more to create custom signage and display applications.
---
The post SBI Essentials: November 2021 appeared first on Sign Builder Illustrated, The How-To Sign Industry Magazine.
Published first here: https://www.signshop.com/sbi-essentials/sbi-essentials-november-2021/