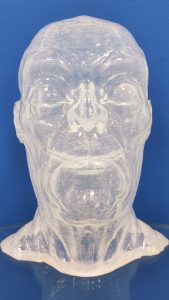 Large-scale 3D printing systems provider Massivit 3D Printing Technologies has launched the Dimengel 20-FR (DIM 20-FR)—a novel flame-retardant 3D printing material that enables customers to meet essential flammability-related safety and performance requirements—as well as the Dimengel 300 (DIM 300), offering high translucency.
The new printing materials have been developed to significantly broaden available applications for Massivit 3D customers.
DIM 20-FR is the first flame-retardant, photo polymeric gel that was developed for 3D printing. It complies with the highest standard for flame-retardant materials, the UL94-V0, that contains a dedicated section for additive manufacturing (Blue Card).
Formulated by Massivit 3D's R&D Chemistry team, DIM 20-FR has been developed as a premium printing material for use with the company's most recently launched large-scale 3D printer, the Massivit 5000. The Massivit 5000 offers a Dual Material System enabling Massivit 3D operators to print independent parts simultaneously, using a different material on each of the system's two print heads.
The new certification, issued by Underwriters Laboratories (UL), ensures that Massivit 5000 operators can produce flame-retardant applications with the security that the material has been tested, and continues to be monitored at regular intervals by UL. The new DIM 20-FR material supports a wide range of post processing options including composite materials reinforcement that are increasingly used by automotive, rail, and military manufacturers to achieve stiff, complex production parts.
DIM 300 introduces to market a new realm in translucency for 3D printing materials. Operators across various industries can utilize the new material for production of prototypes, design verification, interior design, architecture, scenic displays, and a range of advertising applications. Massivit 3D customers have available 5 proprietary print materials including DIM 90, DIM 100, DIM 110, DIM 20-FR

, and DIM 300 – according to specific requirements which may involve considerations of production speed, size, definition, fidelity, flame retardancy, translucency, or illumination.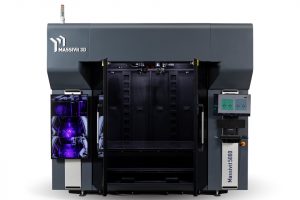 "Dimengel lies at the heart of Massivit 3D's patented Gel Dispensing Printing technology" says Erez Zimerman, CEO at Massivit 3D. "We are continuously developing new, innovative materials to broaden the scope of applications available to our customers, whether for the purpose of manufacturing railway spare parts, automotive aftermarket parts, or amusement park displays.
"In addition, it is of utmost importance to ensure our materials and technology meet industry regulations, particularly regarding safety. The new UL94-V0 certification responds to customer requests and growing industry demand for flame-retardant parts and models."
As with Massivit 3D's existing range of advanced, proprietary materials, DIM 20-FR and DIM 300 enable fast production of large, custom parts that cure on-the-fly, enabling ready-made solid objects straight off the printer.
Unlike other commonly used additive manufacturing materials, Dimengel facilitates production of complex parts with little-to-no support structures required.
—Press Release
The post Massivit 3D Launches Two New 3D Printing Materials appeared first on Sign Builder Illustrated, The How-To Sign Industry Magazine.
Published first here: https://www.signshop.com/dimensional/equipment-materials-a-software/massivit-3d-launches-two-new-3d-printing-materials/