THE WRAP GAME can be lucrative and quick, but as every creative will tell you, there is still joy to be found in enjoying the art of your craft, even if that means working "slower" to make a project perfect. That was the case for Two Awkward Birds' mobile bar wrap, a break from the norm for Wraps For Less (Orlando, FL). "We decided to work with this client because we enjoy challenging projects," owner Catherine Bacot said. "It's fun to do something different [as] it gets everyone in the shop involved and we end up with something we're all proud of that makes [us] stand out from the rest."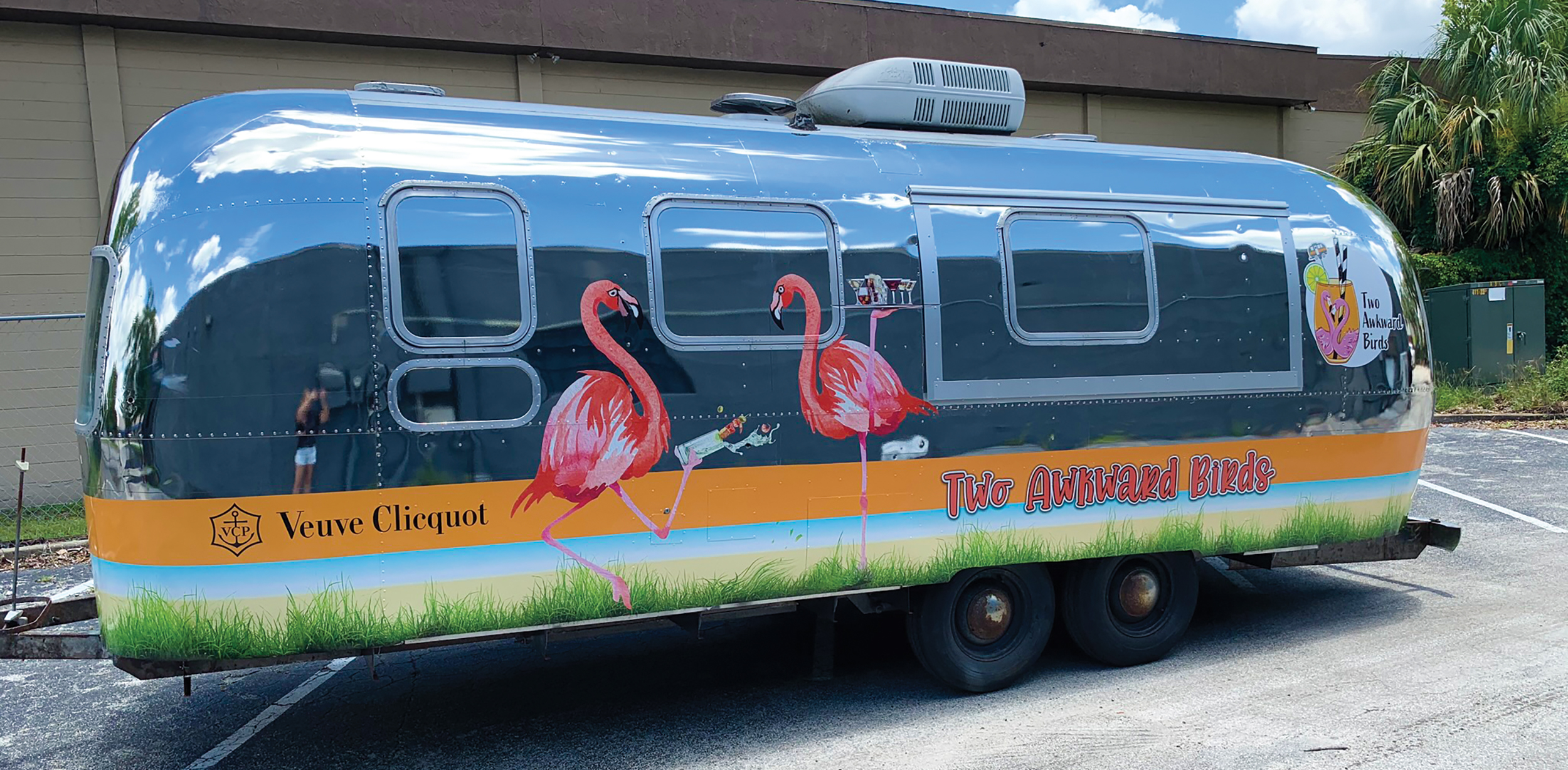 FOR THE BIRDS
Wraps For Less (Orlando, FL), recently tackled a large mobile bar/food truck project, giving an old Airstream trailer the look of newly polished chrome, via wrap. To give Two Awkward Birds the look the clients wanted, owner Catherine Bacot said she and the team researched which chrome wrap material would work best for the trailer. "Airstreams have a lot of round edges so we needed something that would conform well and could be heated and stretched around all of the curves," she said. "We [settled] on 3M Wrap Film Series 2080 Gloss Silver Chrome. It gave us the chrome color and mirror look the client was looking for as well as the conformability we needed." They then added a border of water and grass along the bottom of the Airstream using Arlon Graphics SLX+ to save money and give it a distinctive look.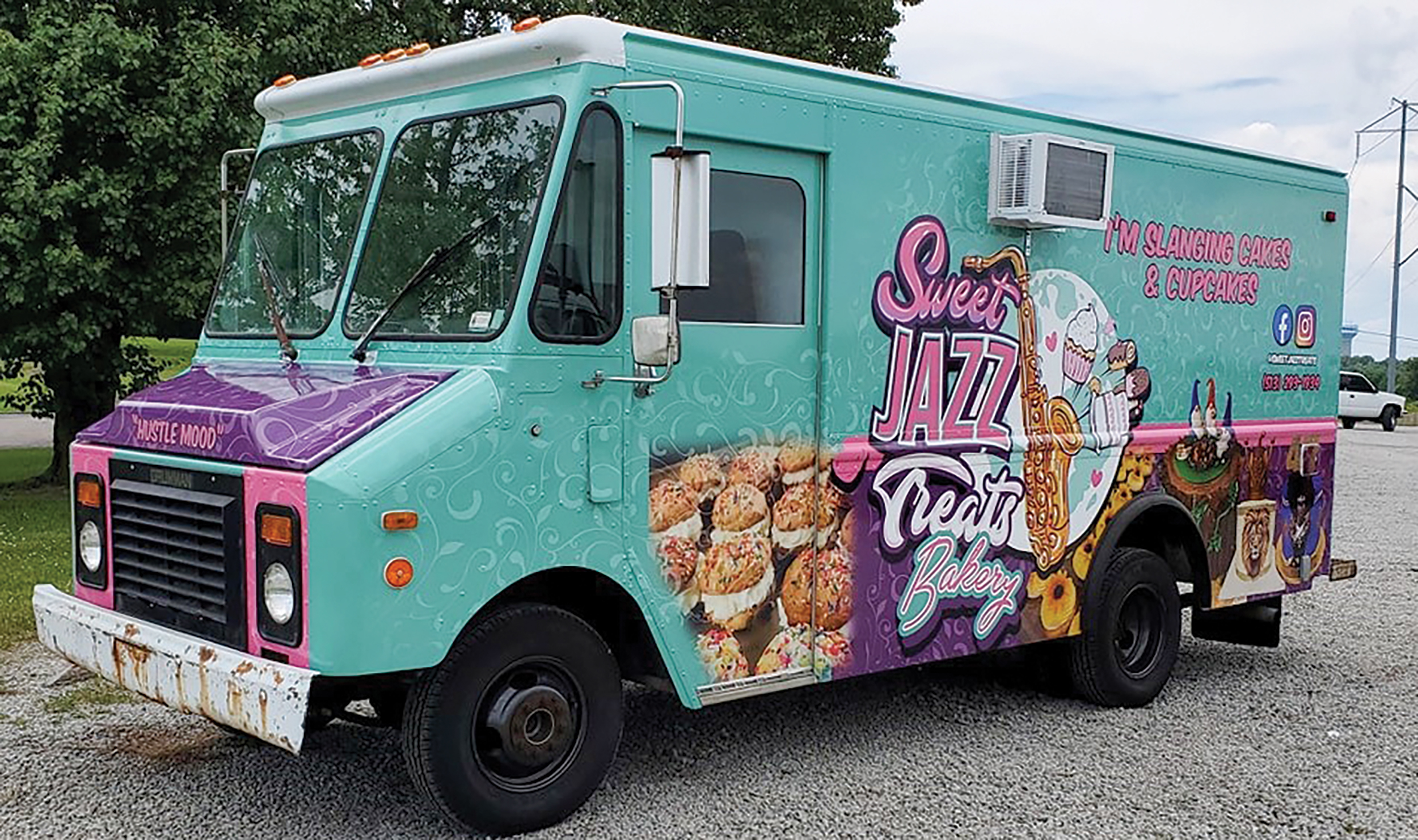 TAKES THE CAKE
To help set the Sweet Jazz Treats Bakery truck apart, Paradise Graphix (Monroe, OH), incorporated professional photos taken of the bakery's cakes and cupcakes into the wrap's design rather than use run-of-the-mill vector art, Sales and Production Manager Kaylen Marsh explained. The wrap was designed, printed and installed in-house using Avery Dennison MPI 1105 Super Cast Film material and 1360Z overlaminate, then printed on their Epson large-format printer.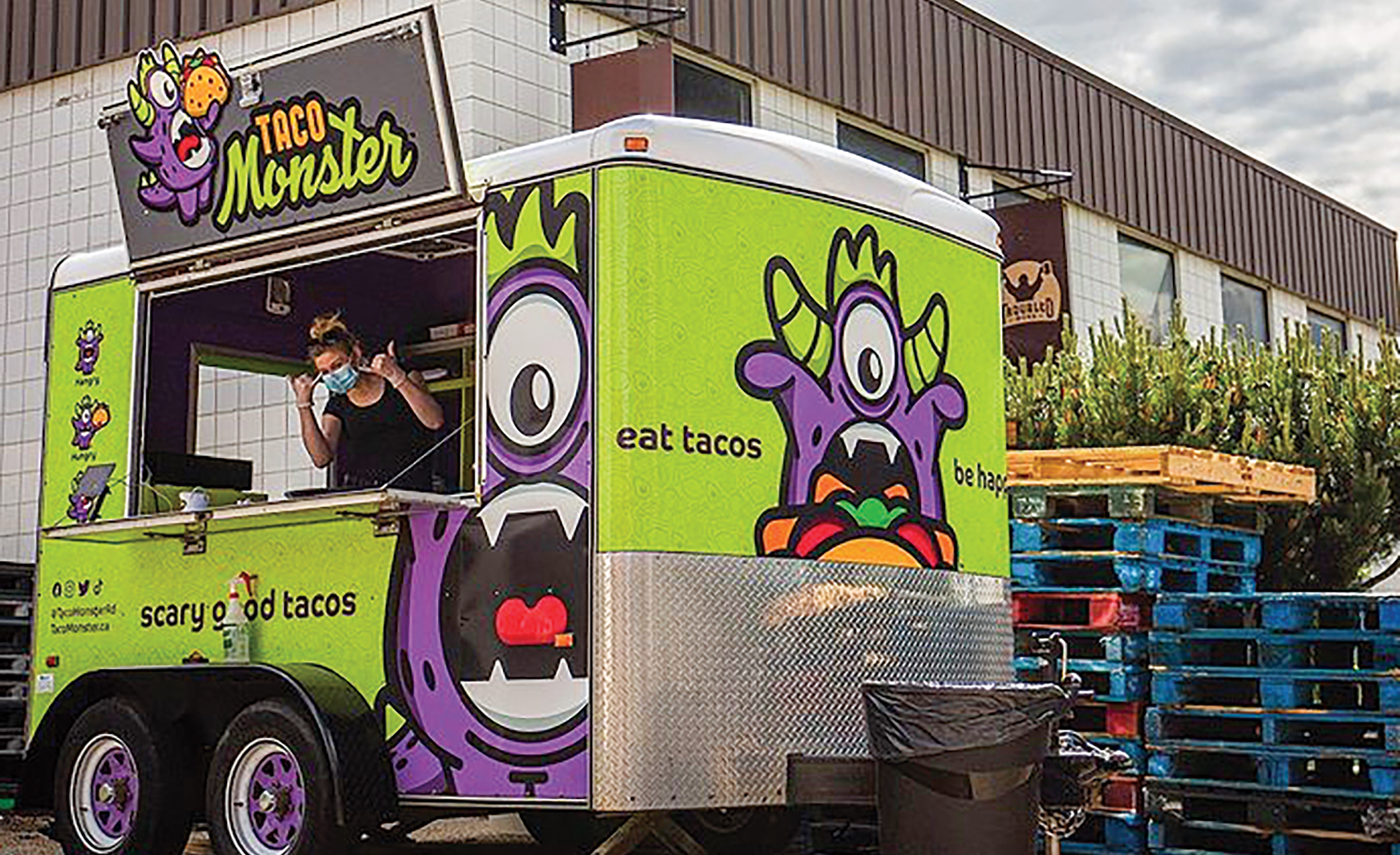 SCARY GOOD TRUCK
When Taco Monster, a Red Deer County, AB, Canada, taco joint wanted to open a mobile version of their popular restaurant, they called on local shop TNT Customs Graphics and Signs to see if they could help transform a trailer that owner Jonathan Strome had purchased, Shop Manager Margaret Chartrand-Poteet explained. Strome gave TNT the design and they were able to print it with their top-of-the-line Roland DG TrueVIS VG-640 wide-format printer and install without a fright.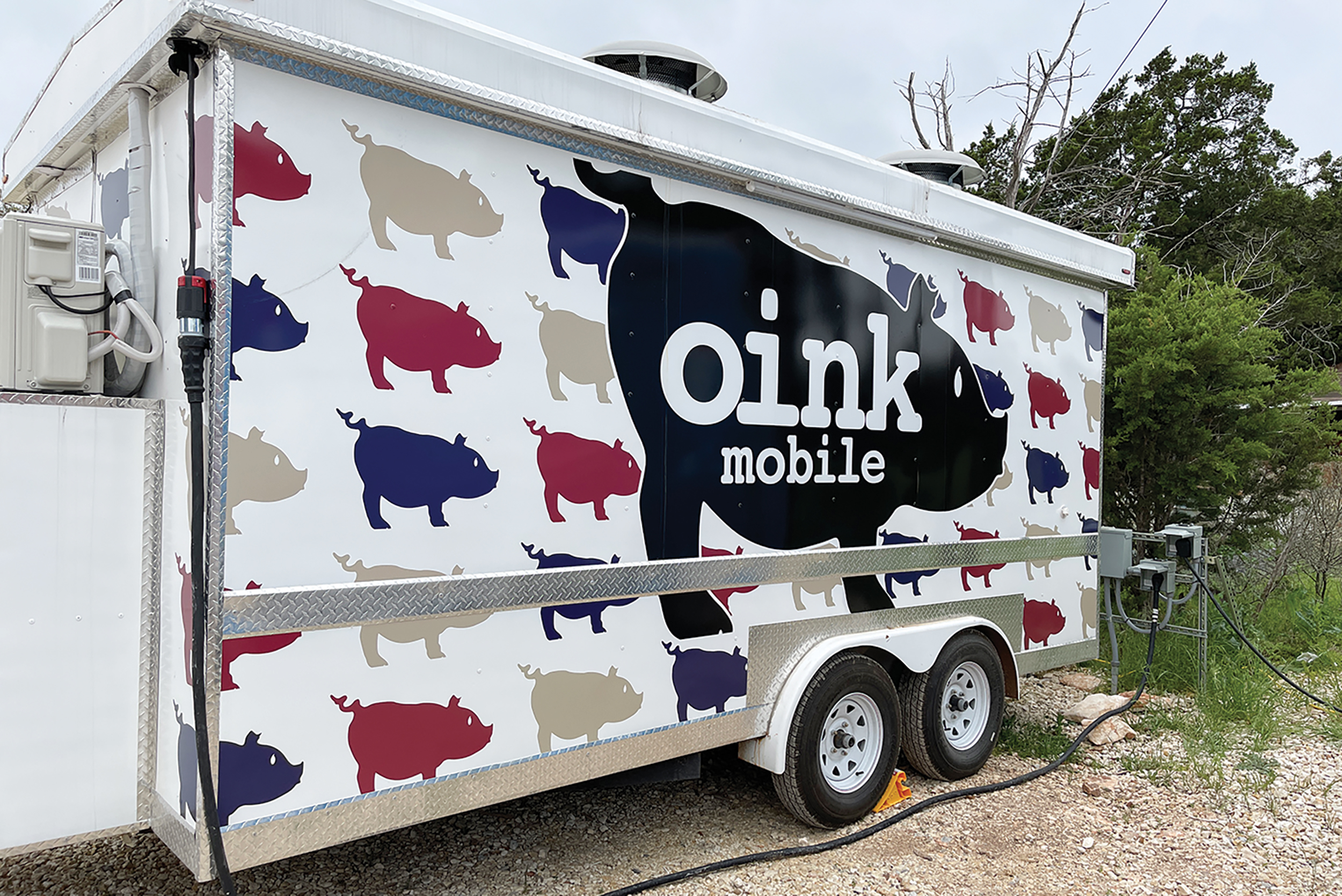 BRING HOME THE BACON
Oink Mobile is a family-run, bacon-themed food truck out of Austin, TX. While the concept was initially used to compete in Food Network's The Great Food Truck Race with Tyler Florence (season 13), the truck now rolls around North Austin serving up all your bacon-y needs. Georgetown Sign Co. (Georgetown, TX), President Mike Volling explained that they used cut graphics printed with an HP Latex 365 printer on 3M IJ35C Scotchcal Graphic Film with 3M Scotchcal 8509 Overlaminate to really make the truck… er, squeal.
BUDDY SYSTEM
"Taste Buds needed a visual identity created as they were a new business and served only private movie sets, so we started by working with them to get a feel of who they were as service providers and their personalities and [also] how to complement those details visually," Canawrap Imaging Inc. (New Westminster, BC, Canada), President Jonathan Glen said of the wrap his company created. Canawrap made the brightly colored wrap using 3M materials and overlaminates and printed it on an HP Latex.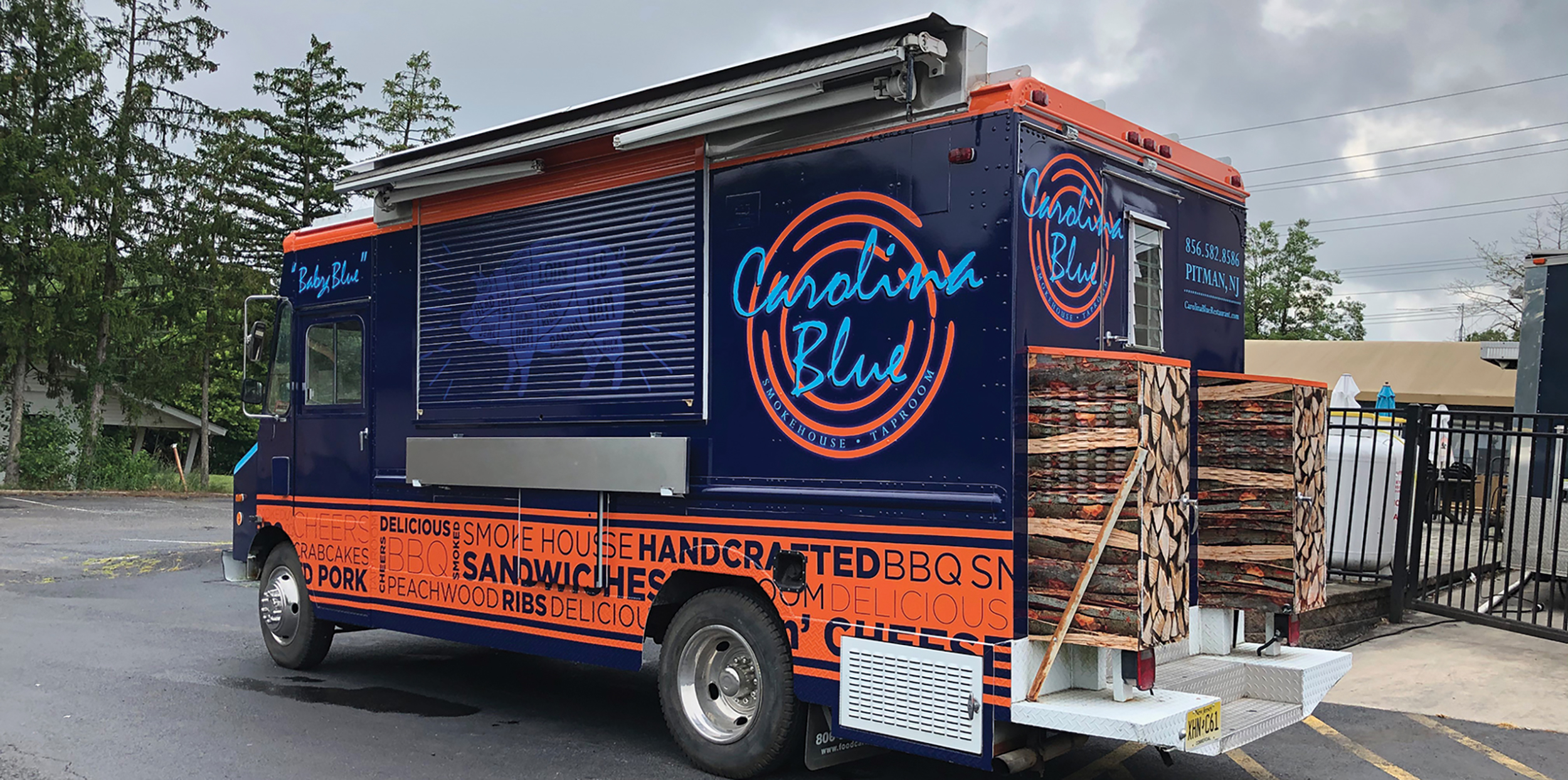 BLUE WRAPSODY
Carolina Blue Smokehouse & Taproom in Pitman, NJ, needed a food truck wrap for their new restaurant on wheels, aptly named Baby Blue. As Designer Wraps (also in Pitman) President Sean Tomlin told it, they got the job in a life-imitating-art fashion: The client drove by their location, saw their sign, and stopped in. The Baby Blue wrap design required creating "real-looking" stacked firewood on its back end, a nod to the restaurant's actual smokehouse. The wrap was printed on a MUTOH Eco-Solvent printer using Avery Dennison 1005 EZ RS film with DOL 1360Z laminate, then installed over the course of two days.
PHOTO GALLERY
(32 IMAGES)
The post These 6 Food Trucks Were Wrapped to Reel in Customers appeared first on Signs of the Times.
Published first here: https://signsofthetimes.com/these-6-food-trucks-were-wrapped-to-reel-in-customers/