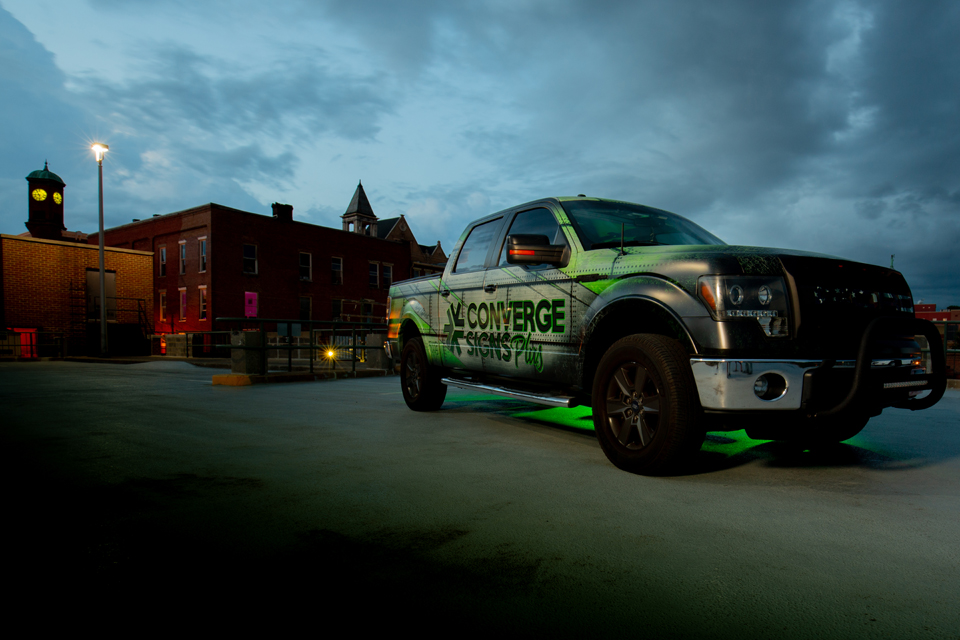 If, as Rod Stewart once sang, every picture tells a story, then Converge Signs Plus is proof that a truck wrap can tell just as many stories through the use of one continuous design.
Converge Signs Plus of Waynesboro, Virginia is a full-service sign shop and graphics provider in the beautiful Shenandoah Valley area that also specializes in creating impactful, eye-catching auto wraps for its clients' business or personal needs.
However Owner Evan Pettrey looked inward and recently decided to decorate his personal Ford F-150 pickup truck with a wrap that also helps tell stories about himself, his family, and his company. In turn, this dynamic wrap design has helped his company stand out amongst his competitors.
Converge had worked on wraps for clients' personal vehicles many times already, so Pettrey was pretty confident that his company could confidently tackle his F-150.
Interestingly Pettrey had no idea he would ever be involved in the sign and vehicle graphics industry today when he started up Converge six years ago as an agency devoted exclusively to marketing and branding. However three-and-a-half years ago, Pettrey had the opportunity to purchase the sign-making company of one of his clients and jumped at taking on those responsibilities.
What started with Converge purely printing graphics has evolved now into fulfilling any type of sign request. "There was a learning curve when we first took over," says Pettrey, "but as we've grown, I've been very fortunate to hire a mix of talented people who are new to the industry, alongside others with industry experience that have really expanded our capabilities."
Today Converge is comprised of a total of eight employees (counting Pettrey). This roster includes the chief convergence officer (who was Pettrey's very first hire), a sales person, a designer, two installers, a production person, and a director of operations who handles all the scheduling and projects moving forward. The company uses contractors to fill in any process gaps, as needed.
"We've grown over a thousand percent since the purchase," says Pettrey. "It's been a very fun journey, and I'm fortunate to have an amazing team. We're really passionate about what we do."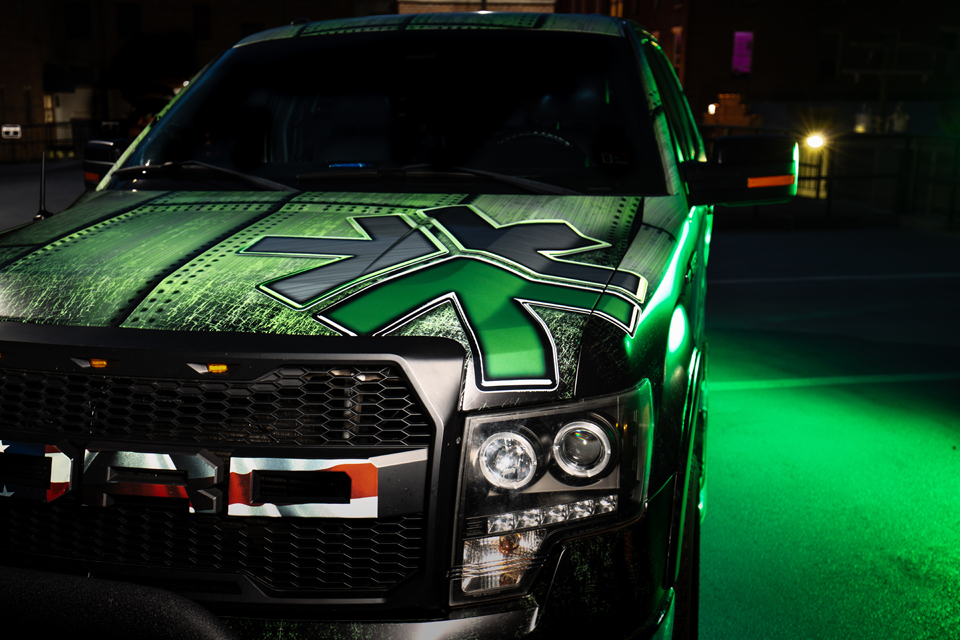 When the pandemic hit last year, instead of laying people off (as happened at other shops across the country), Pettrey used his company's marketing expertise to his advantage and successfully expanded ninety miles away into the much bigger Richmond market. "Right now, our jobs are split 50-50 between Richmond and the Shenandoah Valley," he says.
Converge already has a fleet of four wrapped and lettered vehicles lining their wheeled roster, but since the Ford F-150 was Pettrey's personal vehicle, he wanted to bring a little more personal touch to its wrap. "We were looking to create something that was totally different from anything we'd seen before and get people talking," says Pettrey. "I wanted a design that also would help build our brand."
Pettrey reached out to noted wrap specialist Daniel Nava of Travel Wraps Graphics/IBOW Training in Franklin, Indiana, for help, after being impressed by the unique designs he has created for vehicles over the years—for example, a custom truck wrapped to resemble a P-51 Mustang plane.
Nava had already played a key role earlier in helping out Converge during the pandemic's onset when one of their key employees left. Since none of Nava's training classes for the eventual replacement were available at the time, he instead sent one of his trainers to Converge. "Since then, we've been through three different sessions of training with his team," says Pettrey, "and built a nice relationship just through that."
Pettrey's original vision for the truck wrap design involved some kind of older machinery theme. With visions of rivets and metal in his head, Nava suggested going a step further and personalizing it by adding a human touch to it—in particular, incorporating things that meant something special to Pettrey.
Pettrey thought about meaningful dates in his life, so he embedded his marriage anniversary date, his children's birthdates, and the date of his father's passing twenty years ago and followed that with important names in his life. He next added Bible verses to the wrap to reflect his faith. His company's logo is even spelled out in rivets.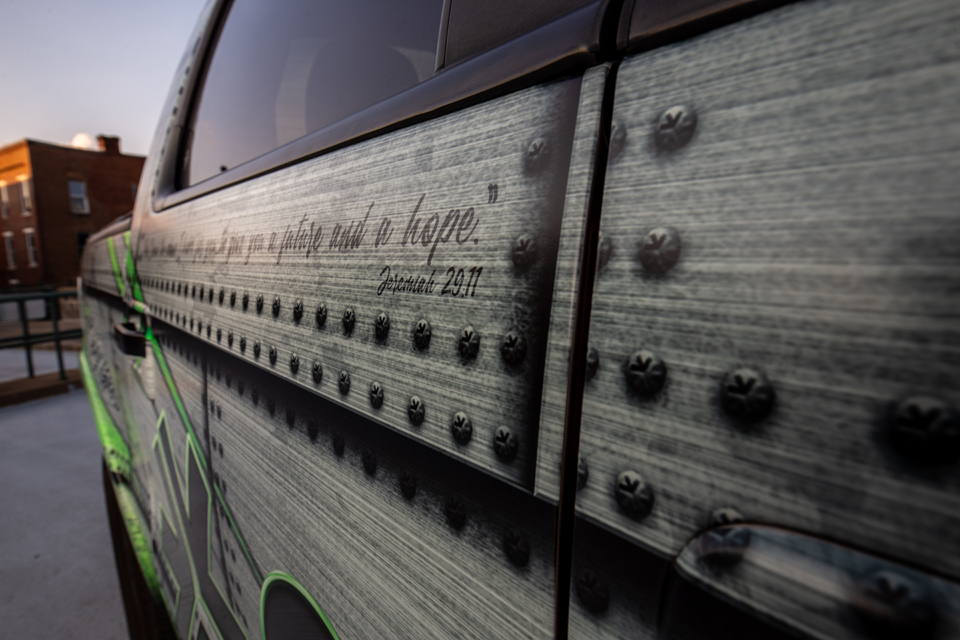 The green-tinted mechanical design was created from scratch. Nava used a mix of Adobe Photoshop and Illustrator to work up the images into one cohesive front-to-back wrap from the bumpers, the hood, and the doors to the tailgate and the roof.
Pettrey employed Photoshop to experiment with the idea of adding reflective vinyl as a second layer to the wrap and achieving a glowing effect at night. He was also able to test spacing out the faux-rivets to properly spell out his company's logo. "Then we used Adobe Illustrator to set things up for the print process," he says.
However when one has a wrap design featuring this much detail in it, the print files needed to be huge. "It was designed in such a way that everything was printed at 300-dpi," says Pettrey.
"Typically you just work in Illustrator where everything is done with vector-based artwork, and it's not really a big deal; but with some of the level of detail here, we worked with huge pixel-based artwork. Because of that, it had to be sized as it actually appears on the truck.
"It was a huge process to get the RIP software loaded up so that it would print correctly."
Nava could not be prouder of the work that Pettrey and his team put into making this wrap a memorable experience for everyone involved. "We worked so many hours on getting the smallest details right and the shadows to look as realistic as possible, along with the texture of the metal design, the rivets, and so on," he says.
Converge printed out the base layer as nine panels using its Mimaki JV150 eco-solvent printer onto Avery 1105 vinyl and Avery 1370z luster laminate, while it added two glowing panels for the top layer. This effect was achieved using 3M IJ680CR reflective vinyl with Avery 1360z glossy laminate.
The vinyl wrap was installed inside the temperature-controlled install bay at Pettrey's facility.
Application Tools Used:
Heat: Bernzomatic – TS4000 Trigger-Start Torch Head w/ Propane
Knife: Paint is Dead – ProKnife & ProBlade
Knifeless Tape: 3M – Knifeless Design Line Tape
Magnets: YelloTools – SpeedMag HD Magnets
Removal Tools (Interior Panel and Trim): ACUITY
Squeegee: Paint is Dead – ProSqueegee Elite Red
Tucking Tool: Paint is Dead – Pro Finisher
Wrap Gloves: Paint is Dead White – ProGlove HD
Another reason Pettrey looked forward to working with Nava on this project was that he has a hard time taking his internal team off of revenue-generating work.
Even though this personal truck wrap was going to be used for promotion, it was still going to be on their own dollar and on their own time. "We complete our customers' wraps as quickly as possible," says Pettrey, "but my truck took a little bit longer, because we had to wait for slower periods around the shop to occur so we could work on it."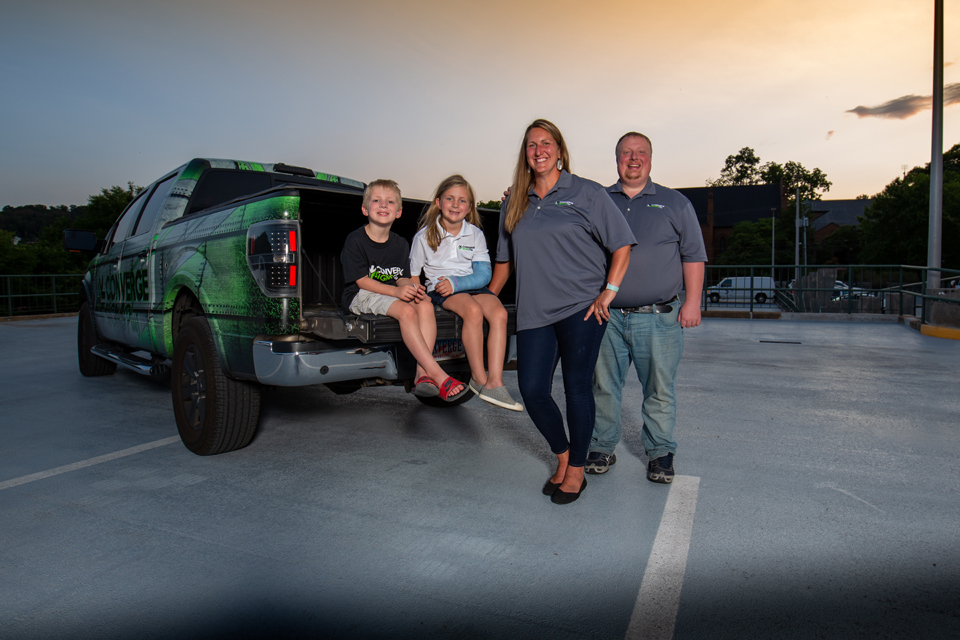 Reaction to the finished truck wrap has been overwhelmingly positive. As intended, it has proven to be a really effective conversation piece and a silent sales tool.
"It's pretty common that, when I'm out with [the F-150] at a gas station or a store, someone will ask me questions about its wrap," says Pettrey. "When I'm driving up to a client meeting, they'll see it and immediately notice that it's something different. It immediately shows off our capabilities and lets them know we are a reputable company they can trust."
Pettrey says that when their work schedule lightens, they'll begin rewrapping his other company vehicles with a similar design so that more of his story can be shared.
—Jeff Wooten
The post Truck Wrap: The Personal Touch appeared first on Sign Builder Illustrated, The How-To Sign Industry Magazine.
Published first here: https://www.signshop.com/graphic/vinyl-graphics/truck-wrap-the-personal-touch/