LET ME GET THIS straight… The client needs a new blade-and-marquee sign — for the New Palace apartments, located in downtown San Diego — that blends modern style with a 1920's twist? Oh, and they also want 1-in.-thick letters that provide both halo-glow and push-through acrylic accent lighting? No problem.
In reality, those requests represented only a small portion of the challenges. We also needed to cover a century-plus-old, wood-framed canopy that was no longer plumb or level, and sagged in the middle. Add a request for a custom handmade cornice and under-canopy ceiling panels, and this quickly became a detailed engineering undertaking despite Allgire General Contractors (Carlsbad, CA) having updated most of the property.
Armed with solid design intent from Studio E Architects (San Diego), we worked out all final conflicts and tolerances in SolidWorks, then quickly refined the intent and engineered some interesting layers onto our already-complex marquee. From that point, the design advanced to our skilled tradesperson to machine and prep for a beautiful Ultra Low-VOC metallic finish, courtesy of Matthews Paint.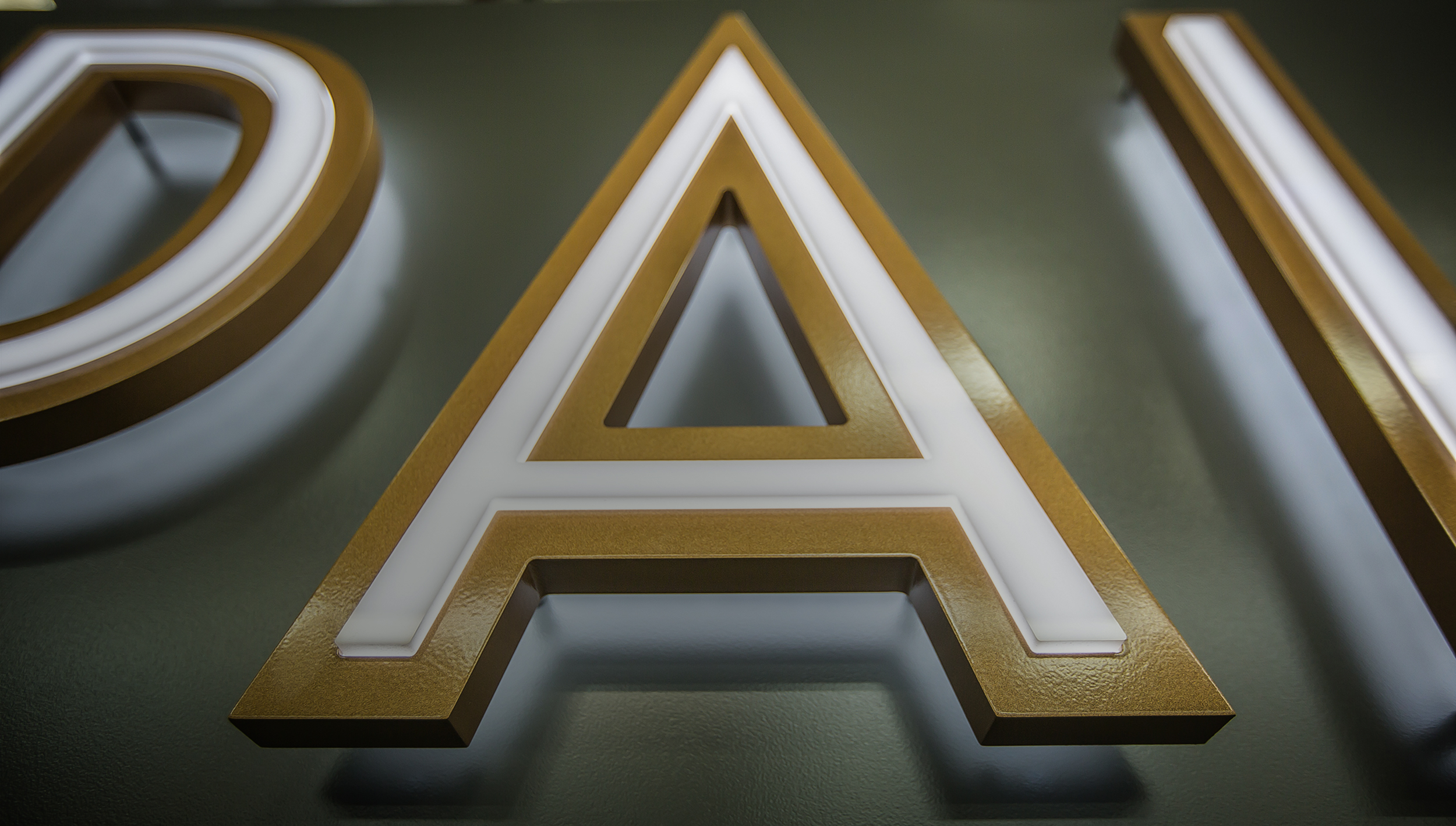 A close-up shot highlights the contrasting white push-through center as it juxtaposes against the metallic letter body and smooth gray canopy skin.
The part of the build we receive the most comments on are the slick, dual-lit letters. Due to the lack of space and low profile, we opted to machine the letters from solid 1-in. acrylic. This gave us maximum control to design the push-through acrylic attachment means, and recess for the polycarbonate backer. With less than ¾ in. to diffuse the LED modules, we specified Bitro Group's "Tracer LED tape" that provided perfect module spacing and the flexibility for 90° turns without distorting the tape or modules.
Although a great product, the Tracer series does require soldering to keep the profile low — not only a tedious process, but one of the most critical in order to prevent future service calls and hot/dark spots. We also chose to contrast the warm 3000K Edison bulbs with a cooler 5000K letter to add a bit more visual interest.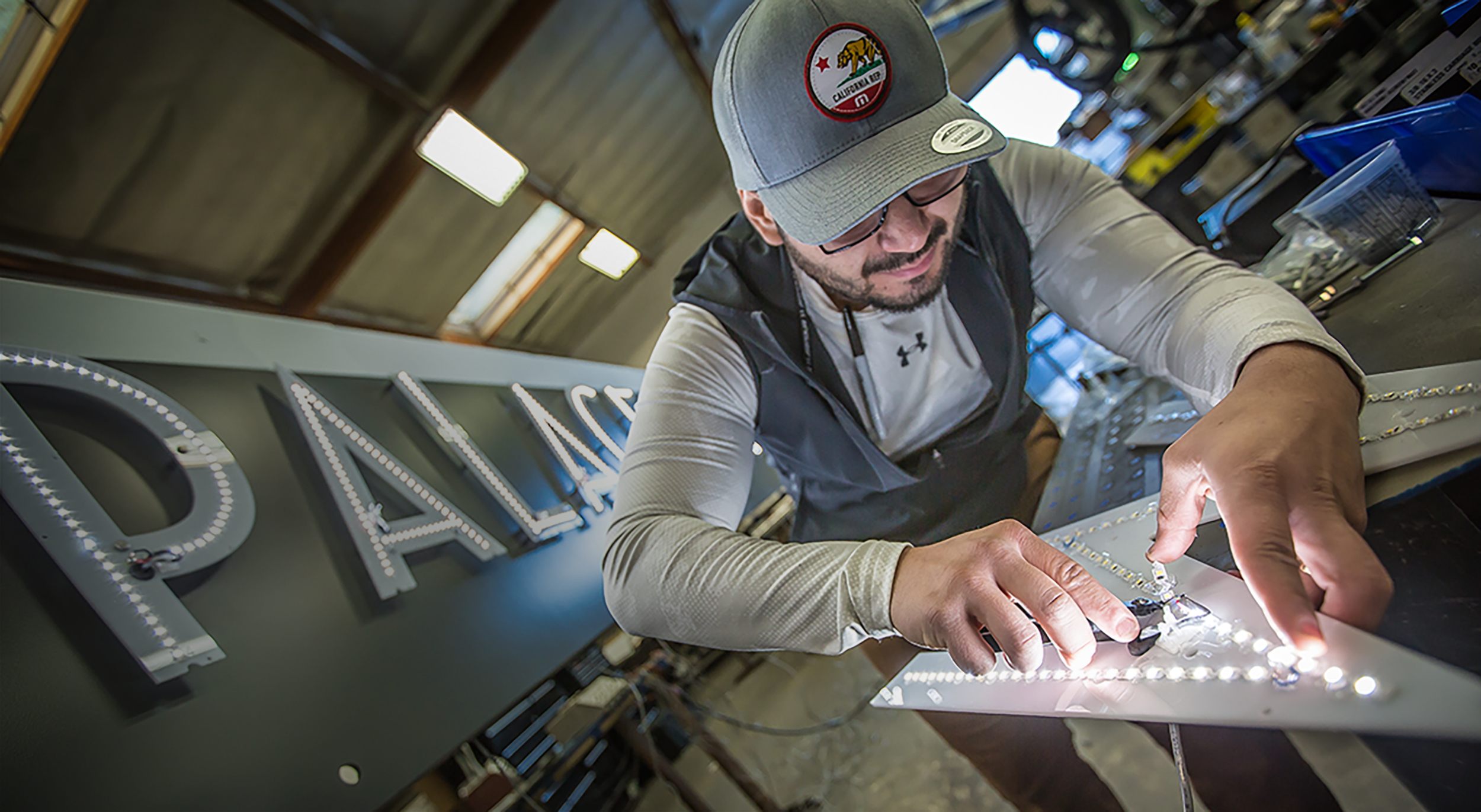 Final adjustments to protect and secure the soldering connections of the Bitro Tracer series LED tape.
To balance the modern-to-period-specific feel of the build, we custom-built a large cornice (also designed on SolidWorks), using a detailed auto-brake file that bump-bent the radius to perfection. After some careful TIG-welding and a week of Bondo and block-sanding, the 22-ft.-long cornice was complete. Coordinating with the existing architecture also required us to build a custom light track to support the LED G16 exposed filament globe bulbs.
Clear Sign & Design won three industry awards for this project, which required us to balance an era-based design with materials, processes and aesthetics with modern durability. We're pretty proud of that.
The post Clear Sign & Design Blends Classic with Contemporary for Apartment Building's Retro Sign appeared first on Signs of the Times.
Published first here: https://signsofthetimes.com/clear-sign-design-blends-classic-with-contemporary-for-apartment-buildings-retro-sign/