On October 1, some 61 sign, graphics and visual communications companies will open up their doors, showcasing career opportunities to students as part of Sign MFG Day.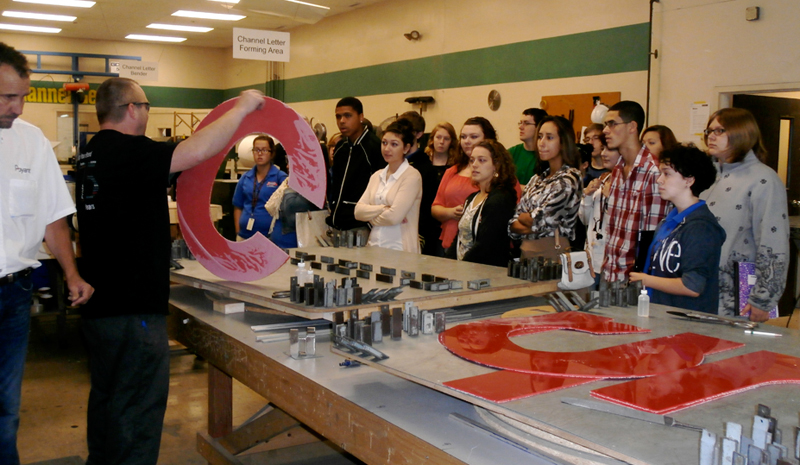 Sign MFG Day is sponsored by the International Sign Association in conjunction with the National Association of Manufacturers. It is held annually on the first Friday in October, though participants are free to choose another date to work around school schedules.
"Sign MFG Day is a key solution to the challenge of finding new workers," said Lori Anderson, ISA president and CEO. "Past participants have built ongoing relationships with local high schools, community colleges and technical schools, developing internships, co-op programs and job shadowing. This has led to many new hires, solving a critical need for these companies."
To help participating companies, ISA held a series of informative webinars and distributed a step-by-step guide to help companies make the most of the day.
Those participating in 2021 include:
3v Signs & Graphics, Torrance, CA
A B Sign Shop, Galveston, TX
ABM Signs and Services, Winnipeg, MB
Ace Sign Company, Springfield, IL
Advertise IT LLC, Trenton, NJ
Allen Industries, Greensboro, NC
Allen Sign Company, Knoxville, TN
Atchley Graphics, Columbus, OH
Atlas Sign Industries, West Palm Beach, FL
Bakers' Signs & Manufacturing, Conroe, TX
Brooklin Bulletin Signs, Whitby, ON
CAB Signs, Inc., Brooklyn, NY
Casco Signs Inc, Concord, NC
Cima Network, Inc., Chalfont, PA
Comeco Group Inc (CG Signage), Santa Ana, CA
Comet Signs, LLC, San Antonio, TX
Creative Signs, Inc., Apopka, FL
DaNite Sign Company, Columbus, OH
DaVinci Signs, Lethbridge, AB
ESCO Mfg, Watertown, SD
Extreme Signs & Lighting LLC, Huntsville, TX
FASTSIGNS 2241, Bayonne, NJ
FASTSIGNS International, Carrollton, TX
FASTSIGNS of Richardson, Richardson, TX
FASTSIGNS of North Burnaby, Burnaby, BC
Fine Line Signs, Drayton Valley, AB
Forward Signs Inc., Scarborough, ON
Hansen Signs Ltd., Moncton, NB
Hanson Sign Companies, Falconer, NY
Hi Signs | The Fath Group, Edmonton, AB
Howling Designs, Smith Falls, ON
Impact Signs Awnings Wraps, Inc, Sedalia, MO
Innovative Environments, Houston, TX
Joslin and Son Signs, Nashville, TN
Kieffer | Starlite, Mt. Airy, NC
Legacy Sign Group, Westville, IN
Media Resources Inc, Oakville, ON
Midtown Signs LLC, Kansas City, KS
Midwest Light & Sign, Inc, Farmington, MO
Oakhurst Signs & Graphics, St. Petersburg, FL
Option Signs, Alpharetta, GA
Ortwein Sign, Chattanooga, TN
P.S .Services, Anaheim, CA
Pattison Sign Group, Toronto, ON
Pattison Sign Group, Heath Springs, SC
PAUL SIGNS INC, Brooklyn, NY
Performance Signs, Ruckersville, VA
Persona, Watertown, SD
Poblocki Sign Company, Milwaukee, WI
Ramsay Signs, Portland, OR
Reliable Sign Services, Inc., McCalla, AL
Roberts Signs & Awnings, Toronto, ON
Santoro Signs, Inc, Buffalo, NY
Signex Mfg Inc., Steinbach, MB
Signtech (C.I.) Limited, Jersey, Channel Islands
South Water Signs, Elmhurst, IL
SSK Signs, Mississauga, ON
Steel Art Company, Norwood, MA
US Sign and Mill, Fort Myers, FL
Young Sign Company, Leavenworth, KS
The post This Sign MFG Day to Include 61 Companies appeared first on Sign Builder Illustrated, The How-To Sign Industry Magazine.
Published first here: https://www.signshop.com/business-mgmt/trade-associations/this-sign-mfg-day-to-include-61-companies/